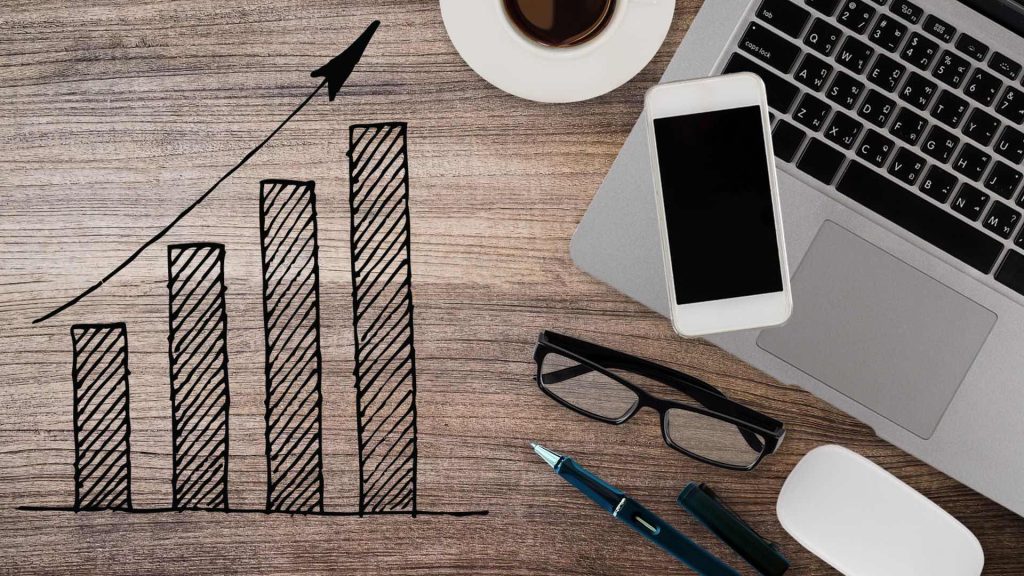 A blog is a critical component of any content marketing strategy. Blog content allows you to attract new readers and re-engage your audience. Consistently publishing articles with a good plan can translate into more leads and sales for your business.
You don't need to spend much time blogging to discover that some strategies work better than others. Applying these tips can lead to more blog traffic and help you reach key milestones in your journey.
1. Align Your Blog with Your Business
Business owners pursue any content marketing effort to generate revenue. Writing blog posts can lead to more visibility and sales, but the content must match up with your core offers.
Business owners and marketers should look at the core offer and treat it like a gravitational force. Many blog topics are within the orbit of the core offer. If you sell social media advertising services, you should prioritize writing about how businesses can leverage social media advertising.
Drifting too far from the orbit can confuse readers and create a disconnect between your blog content, their expectations, and your offer. If someone selling social media advertising services decides to write a series of personal development articles, they may attract readers who aren't interested in their services.
2. Understand Your Audience
Understanding your audience boils down to knowing what they want. Discovering which solutions your audience seeks and how they go about searching for solutions can give you a competitive edge.
Someone may want to hire a golf coach. They may want to improve their swing, learn how to read the greens, and decide on which clubs to use. This audience will type questions like "how to improve my golf swing" and search for content that answers the question.
Creating blog posts that answer questions your readers want to know will help you get more traction. Some prospects will search for a higher intent phrase such as "best golf coach in [your location]."
You can learn a lot about someone based on which pages they visited on your blog. Analytics can confirm trends and give bloggers a better understanding of what their audiences want.
3. Stick to a Publishing Schedule
A consistent publishing schedule gives your current readers a reason to revisit your blog. Putting out new content frequently also gives you more digital assets that can improve your SEO efforts. A deep library of content also helps when it's time to implement a linking strategy.
Many experts debate on the ideal blogging frequency. Many experts agree on publishing 2-4 blog posts per week, but there are caveats. Depending on your niche, you may have to publish more than four blog posts each week to keep up with the competition.
It's easier to stick with two blog posts each week if you write evergreen content. This type of content stays relevant for many years and focuses on core concepts. Blogs that focus on breaking news stories may have to publish multiple pieces of content each day to stay relevant.
Analyzing the competition will help you determine a good posting frequency. However, if you are a solo entrepreneur who is doing it all on your own, you should stick to a posting frequency you can manage.
Some creatives make the mistake of committing to daily content and then burn out after a few weeks. Daily content is possible, but it is not for everyone. One article per week is a good minimum for most industries. If you decide to publish articles every Wednesday, make sure you stick to that day of the week.
4. Know Your Keywords
Writing content for the sake of writing content has a limited impact on your brand's visibility. Additional content can serve your audience, but poor keyword research makes it more difficult to attract new customers.
Keyword planning is a core component of any blog post that you should do before writing a blog post. Searching for optimal keywords in your industry can help you discover appealing content ideas that have a higher likelihood of gaining traction on search engines.
Content marketing is a game of probabilities. No strategy is guaranteed to work, but knowing which keywords you want to use in an article increases your likelihood of generating good traffic.
Keyword tools like Semrush make it easier to dive into keyword analysis and discover under-the-radar opportunities. Good keyword planning revolves around a keyword's monthly search volume and the competition for that keyword.
For instance, a keyword like "how to make money online" gets thousands of searches each month. However, it's also incredibly hard to rank on the first page of Google for that keyword.
These are some of the companies that are on the first page for "how to make money online:"
NerdWallet
MailChimp
Time Magazine
Indeed
Shopify
Credit Karma
Forbes
"How to make money online" has great search volume, but a new blog would be competing with corporations that have 6-figure and 7-figure budgets for content creation. Using a long tail keyword like "how to make money online with an Etsy store" will have less competition.
Narrow topics tend to have less competition than broad keywords. While Semrush is a top-tier SEO tool, you can also get a lot of value out of keysearch.co if you are on a budget. The lowest plan is currently $17/mo.
5. Write Multiple Headlines
The headline is the hook of your piece that determines if people continue reading or look for something else. It doesn't take much time to come up with a headline, but it's the first impression before someone decides to read a 1,000+ word blog post.
A bad headline can squander the time and money you put into producing a 1,000+ word article. Writing multiple headlines allows your mind to think more creatively. The first few headlines may not be the best.
It only takes a few minutes to write several headlines and choose the best one. It's well worth the time, considering the effort that goes into publishing and marketing a blog post.
6. Use Internal and External Links
Many of the blog posts that rank at the top of search results have linked in their content. It's not an accident.
Using links in your blog posts presents several advantages. Linking to internal content (i.e., articles you published on your blog) keeps readers engaged with your content. They will spend more time bouncing around from blog post to blog post on your site.
Businesses can strategically use internal links to send readers to the most profitable pages on their blogs. If a product review converts well, incorporating an internal link in more blog posts can drive up sales.
External links also benefit bloggers even though these links temporarily move people away from your website. Readers may appreciate the additional value you provide, but they're not the only ones. Search engines rank content higher if it links out to relevant authority content. Your blog can gain authority by association through each external link.
While many businesses link out to the top-ranking blogs, it's also a good idea to link to smaller blogs in your industry. These bloggers may notice your backlink and reciprocate by linking to one of your blog posts in a future piece.
Contacting micro-influencers is a core element of successful influencer marketing campaigns. People with a few thousand followers are more likely to respond and engage with your content than people who have over 1 million followers. You can take the same approach with external links to grow your audience. Reaching out to bloggers when you mention them in your content can increase the likelihood of receiving a backlink.
7. Get Readers to Perform a Simple Action
Every article you write needs to have an objective. This objective allows you to measure the success of each article and determine what you can do differently in the future. Here are some common goals for individual articles:
Encourage the reader to subscribe to your newsletter with subtle calls to action
Display targeted ads on the sidebar that the readers may click
Buy the product or service you reviewed in an article
Some articles can subtly aim to perform multiple actions through efficient web design. However, if you overwhelm your readers with too many actions, fewer of them are likely to take a single action.
Before you direct readers to perform an action, consider the impact on your business. A new email subscriber is more valuable than a social media follower because a newsletter gives you more control. You can communicate with your audience more freely with less competition, and you are not at the mercy of a social media algorithm. Writing a great blog post only to end it with "follow me on social media" is wasting a good opportunity.
8. Master Your Backend
Every blog should aim to turn its readers into email subscribers. Email subscribers generate a higher ROI than social media followers, but growing your email list does not guarantee more revenue.
An effective backend allows you to systematically generate more revenue by attracting more subscribers. This backend, also known as a funnel, is a sequence of emails. Each subscriber receives a different sequence based on which opt-in form they use to sign up for your blog. Some backends are simple and only consist of 3-5 emails. Other funnels are complex and involve dozens of emails. For these funnels, the action (or lack thereof) a subscriber takes in one email will determine the next email the subscriber receives.
If you are just getting started, you do not need a complex funnel. A simple welcome email, 2-3 value emails related to the offer, and then an offer at the end is all you need to get started. Reviewing your analytics and seeing which emails your audience engages with the most can help you optimize your backend and generate more sales.
Mastering your backend allows you to put more money into your blog and justify the effort that goes into creating content. Business owners who work smarter instead of harder will look for ways to enhance their funnels instead of solely focusing on increasing their blog traffic.
9. Follow a Marketing Plan for Every Blog Post
After you hit the publish button, the real work begins. While it takes a lot of effort to produce a blog post, business owners can't let up on their marketing. Businesses publish blog posts with clear objectives that revolve around getting as much visibility as possible.
A well-written blog post that only gets five readers probably won't perform as well as a mediocre blog post that attracts 1,000 readers. It's not the best-written articles and books that get the most sales. The most marketed articles and books get the most traction. Quality content also plays a role, but a good marketing plan gives that content a chance to shine.
Blog post-marketing plans are detailed and vary for each business owner. Establishing a checklist and modifying it every 1-2 months can help you capitalize on new trends and slow down on what isn't working. These are some of the ways you can market a blog post:
Email your newsletter
Post on your social networks
Reach out to influencers who you mentioned in your blog
Collaborate with other brands in your industry
Answer questions on Quora that are related to the blog post
These marketing tactics are a starting point. Some of these tactics have multiple steps. For instance, you may post on multiple social networks instead of a single platform to increase your reach. If you want to post on Instagram, you will have to create a picture for the article. Turning a good quote from your blog post into a picture can help you get likes and visitors from Instagram.
Creating a marketing plan in advance will make your blog promotion more efficient. It's easier to remember each component of your plan and get it all done in a timely manner if you have a playbook ready to go. The marketing plan will get easier to implement each time and serve as a reliable guide.
10. Review Your Blog Traffic Data
Blog traffic data gives you a glimpse into how your audience thinks and what brings people to your brand. Knowing how your audience thinks can help you produce more articles that hit the mark and resonate with your readers.
Every piece of content you publish gives you new data points, but it's easy to get overwhelmed. There are several vanity metrics, like impressions and the number of followers you have on social media. Honing your research into understanding these metrics can lead to better insights when you analyze your blog traffic data:
Changes in your monthly traffic overall and by referral source
Traffic stats of individual blog posts — especially your most popular content
The average amount of time people spend on your website
Your site's bounce rate — a lower bounce rate is better for your SEO
Clickthrough rates and what links people click on when they visit your blog
The amount of traffic you receive from each keyword
Conversion rates for your offers
These seven points offer a great starting point for marketers who want to analyze blog traffic. Mastering these pillars and expanding into other metrics can result in more comprehensive analyses of your blog traffic data.
11. Repurpose Your Content
Businesses can turn blog posts into multiple pieces of content. Each piece of content increases the mileage of the original post and can expand your reach. Incorporating multiple types of media also allows you to establish a presence on multiple platforms.
For instance, you can convert an article into an audio file and publish it on a podcast. Resources like repurpose.io make it easy to turn an audio file into a video for your YouTube channel. 
You can use repurposed content to drive traffic back to the original. Content repurposing strategies drive traffic back to your blog while gaining more visibility on various social networks. Repurposing content can also help when business owners have difficulty filling up their social media calendars with content ideas.
12. Write More Content
Producing more content gives you more data points and can help you rank for important keywords in your industry. Corporations vying for top spots on Google invest millions of dollars per year into their content.
You don't need to keep up with the giants in your industry. Finding long-tail keywords and hidden opportunities can help you scale over time and reach your ideal customers. However, the willingness of many companies to commit high dollar amounts to content production demonstrates the value of showing up frequently.
If you can comfortably deliver one blog post each week, consider raising it up to two blog posts per week. Extra content allows you to show up in front of your audience more often and strengthen the relationship between you and your prospects.
Writing more content can help you expand your audience, but you don't want to risk burning out, either. If you commit to daily blog posts and fizzle out after a month, you can miss out on meaningful traction in the long run.
Businesses that master their backend and marketing may want to hire freelance writers to produce content. Some businesses have their blogging down to a science and know that they can profit from hiring a freelance writer. Businesses at this stage usually have effective funnels promoting their own products or affiliate links.
13. Contribute to Other Blogs
Writing content for your brand's blog can engage visitors and help you build a catalog of top-tier content. However, you shouldn't put all of your content creation efforts into your blog.
Branching out and guest blogging for others can lead to more visibility for your brand. When you write guest posts on other people's websites, you will end up with extra backlinks. Some guest posts can translate into additional sales if you write for the right audience.
Guest blogging speeds up the process of getting a large following. Blogs with millions of monthly visitors often rely on contributors to keep them afloat. Writing for these blogs puts you in front of more people who may take an interest in your writing style. Some of the people reading your guest posts may decide to read your blog.
Business owners have several ways to find guest blogging opportunities. A strategic Google search is a good starting point and can lead you directly to guest post submission pages. These are some of the search phrases you can use to find guest blogging opportunities:
[Your niche] write for us
[Your niche] submit an article
[Your niche] guest blogging
You can submit guest post proposals that align with one of the blog's core topics. Browsing through some of the blog's pages can help you understand which types of guest post ideas get approved.
Business owners can then look at the authors on the site. Putting a guest post writer's name into Google will reveal the other guest blogs that have contributed. Google can be a great competitive research tool when used effectively.
Grow Your Business with Blogging
A blog allows you to provide value and walk readers through the customer journey. Articles act as the starting point for long-term client relationships. As you write more blog posts and develop a more cohesive strategy, your website can become an effective 24/7 salesperson for your business. Scaling your content and building up a library of articles will help you reach more people and improve your revenue.