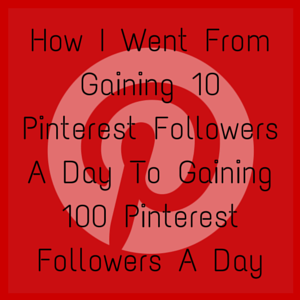 Since Pinterest is the newest social network, the rules of success are not as established. The rules of success for Twitter and Facebook are common to find on blogs and books. There are not as many established rules for achieving success on Pinterest.
One of the rules to succeed on Twitter is to follow people who are interested in your niche and likely to follow back. I used this method on Twitter and got a dramatic increase in followers. While my Twitter account was growing, my Pinterest account was only averaging 10 followers a day.
I was implementing and testing a lot of methods on Pinterest, but I was still gaining 10 followers a day. While this was happening, my Twitter account didn't miss a beat. I saw that consistently following people interested in my niche was working on Twitter. The methods I was using on Pinterest were not changing the rate I gained followers, so I decided to follow people interested in my niche on Pinterest.
The results were incredible. I was stuck at around 2,300 followers when I started implementing this tactic. I followed over a thousand people on Pinterest, and I ended up getting 100 new followers that day. On the next day, I gained another 100 followers. I no longer have to follow more than a thousand people in order to gain 100 followers. However, implementing a tactic that I use on Twitter for my Pinterest account allowed me to dramatically increase my following.
Following others is important on Pinterest. You may be the next person to go from gaining 10 followers a day to gaining 100 followers a day.