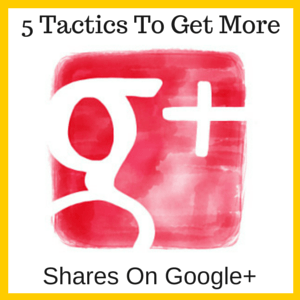 The best way to become influential on Google+ is by having a lot of people share your content. There are plenty of factors that go into how many times people share your content on Google+. If you are following the right tactics, your posts on Google+ will get shared by more people. In this blog post, I will share with you 5 tactics that will allow you to get more shares for your Google+ posts.
Post the content that people will want to share. If the posts are noteworthy, people will share them. Make sure your are only posting quality content on Google+ that is very likely to get shared by your followers. Sharing quality blog posts is better than sharing a blog post with a typo.
Have a targeted following. Having a big number of followers is not enough. In order to get more people to share your posts on Google+, you need to have a targeted following. You can get a targeted following by finding someone in your niche and following that person's followers who are very likely to follow you back.
Use Do Share to schedule Google+ posts. It is important to appear as frequently and consistently as you can on your followers' timelines so they don't forget about you. Do Share allows you to schedule Google+ posts for business pages and personal accounts as well.
Post inspirational quotes. Whether you are on Twitter, Google+, Pinterest, or any other social network, inspirational quotes reel in the shares. I recommend having 5-10% of your posts you send out on a daily basis be inspirational quotes.
Host a giveaway. A giveaway will encourage more people to share a post and follow you at the same time! Hosting giveaways exclusively on Google+ will make more people pay attention to your Google+ posts.
Those are 5 tactics that will allow you to get more shares on Google+ while building a powerful following in the process. You may not be able to see a dramatic change right away, but over the long-term, you will be able to see a big change.