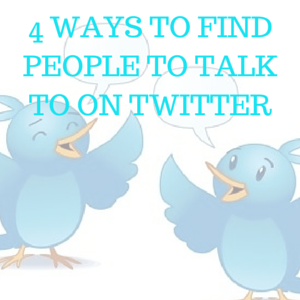 Many people use Twitter to build strong connections with like-minded people. These connections tend to lead to more business opportunities, traffic, and sales. Ironically, a big challenge on Twitter is trying to find people to talk to. Even though there are hundreds of millions of people on Twitter, some people do not know how to talk to and find like-minded people on Twitter. In this blog post, I am going to show you four ways to find the people that you need to talk to on Twitter.
Use Twitter's search engine to find individuals. If you want to find entrepreneurs, search the word entrepreneur. After the big guys and magazines come up, there will be other entrepreneurs on the list who will commonly talk with their followers. Those are the people you need to talk with.
Use Twitter's search engine to find individual tweets. If you want to see tweets in real time for a certain word or phrase, you can search for tweets with that word or phrase using Twitter's search engine. Before interacting with a tweet, be sure to look at the person's profile and determine if this is someone you want to build a strong connection with. Then, reply to that tweet and wait for the person to respond.
Follow the followers of someone else. If you find someone you want to talk to, and that person has over 100,000 followers, follow that person's followers. Some of those people will be entrepreneurs who will follow you back. When these people follow you back, start a conversation with those people.
Talk with like minded followers. Every Twitter user has a list of people who they can talk to, and that is their followers. No matter how big or small that list is, there are going to be like minded followers on that list. By building strong connections with these followers, you will learn how to develop strong connections with others as well.
Those are the four ways to find people to talk to on Twitter. What are your thoughts about the list? Are there any other tips you would like to add? Please share your thoughts below.