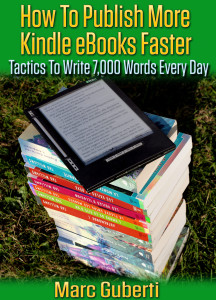 While writing an upcoming book, Lead The Stampede, I noticed that I had not published a single eBook since last year. I wanted to go into the second quarter of the year strong, and I knew that publishing a new eBook would be a great start.
The result is called:
How To Publish More eBooks Faster: Tactics To Write 7,000 Words Every Day
It will be free through Amazon's KDP Select program for the next five days.
Starting today (April 24th) to the end of Monday (April 28th), you can grab a free copy directly from Amazon.
Read on to learn more about this freebie.
How To Publish More eBooks Faster
If you are a self-published Kindle author, then you know how important it is to publish as many quality eBooks as possible. By publishing a lot of quality eBooks, you will get more returning customers, and the sales for your older eBooks will increase as well.
The problem many Kindle authors face is the ability to publish 1 quality eBook every 3-4 weeks.
With my eBook, How To Publish More eBooks Faster, I detail the best methods that will allow you to publish 1 eBook every 3-4 weeks. I go into detail on multiple case studies that show it is possible to write 7,000 words every day for your eBooks. Not only will I tell what works for me, but I will also provide simple methods that you can use to publish your next Kindle eBook faster.
Here are some of the topics that get covered:
How to become a better writer
How to find the time to write 7,000 words every day
How to eventually write more than 7,000 words every day
How successful self-published authors are able to publish 1 eBook every 3-4 weeks
How authors can split their time among blogs, social networks, and eBooks
In order to boost your sales, you need to publish more eBooks so you can get more customers. By publishing one eBook every 3-4 weeks, you will get many customers. So grab your free copy while it's still available.
It's Free, But I Need Your Help
Once again, I am offering free copies of my eBook from now until midnight on the 28th (Eastern Time). So grab your copy while it's still available.
But, I do need your help! If you find this eBook to be useful, then I would love getting a review on Amazon.
Don't Own A Kindle Reader?
There are some people who have had trouble accessing my eBooks because they do not have Kindle Readers. However, you do not need a Kindle to read Kindle eBooks. There are a variety of free ways that you can read a Kindle eBook without having a Kindle.
To sum it up, you can read Kindle eBooks no matter what device you use to access the internet. Amazon makes it simple for people to read Kindle eBooks whether they have a Mac, Android, or other device.
Anyway…
Here is the download link to my free eBook:
http://www.amazon.com/Publish-More-Kindle-eBooks-Faster-ebook/dp/B00JVAG88I/
Go download it now and let me know what you think about it.
To your success,
Marc Guberti