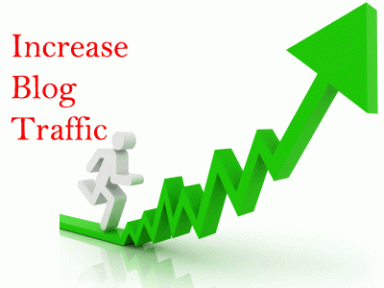 Your blog is your home on the web that allows people to know about your products and content. There are millions of blogs on the web, and a new blog gets created every half second. However, most of these blogs do not get enough visitors to generate revenue and connections. The key to being successful as a blogger is to be able to get a lot of traffic. After you consistently get hundreds of visitors every day, your methods of making money with your blog will generate more revenue. Then, as you test other options, you will be able to identify the methods that lead to the biggest income. However, in order to get to that point, people need to know about you, and you need to increase your blog's traffic. Here are 10 ways to do that.
Utilize your social networks. The best way to get more traffic than your blog is to use your social networks. As you grow your audience on your social networks, you will get more engagement and clicks. Suddenly, you will go from getting 10 extra visitors every day from your social networks to getting hundreds of extra visitors every day from the same social networks–but with larger audiences.
Make it harder for people to leave your blog. By making it harder for people to leave your blog, your blog will have a lower bounce rate. In order to make it harder for people to leave your blog, include links to older but related blog posts in your new ones. If you make it harder for someone to leave your blog, and that person likes the content on your blog, then that person is more than likely going to be a returning visitor and a subscriber later on.
Become a guest blogger. Guest blogging no longer has a strong impact on SEO, but it is still a great way to get more people to know about you. As a guest blogger, you have the ability to put your content in front of a larger audience. Some people in that audience who like your guest post will decide to visit your blog.
Interview other people on your blog. When you interview someone on your blog, that person will be very likely to send out a tweet about your blog. As a result, you get more of that person's audience to visit your blog. When you interview other people, be sure to choose the top people in your niche who have the largest audiences.
Get interviewed by other people. Have a page on your blog with contact information that allows your visitors to schedule an interview with you. This interview will get posted on someone else's blog which allows you to reach a larger audience. These interviews will also give you a way to get more backlinks for your blog.
Become a public speaker. One of the easiest ways to get everyone to pay attention to you is by being an effective public speaker. Speaking at events will allow you to build stronger connections, and get more visitors. Almost everyone in attendance will visit your blog at least once, but if you do a good job, some of the people who attended will want to subscribe to your blog and buy your products.
Engage with your targeted followers. An easy way to get more visitors is to engage with targeted people who would enjoy your blog. As a conversation develops, these people will become curious and take a look at your bio. Then, these people will notice the link to your blog and click on it. You just got another visitor!
Use Squidoo. Squidoo is a fun platform to use to get more traffic for your blog. The community there is very kind, and I learn a lot from them (before the Squidoo community, I didn't even know what SEO stood for). Squidoo will allow you to get more backlinks for your blog, and you can even include a widget on a lens (that's what they call their webpages) that promotes your blog.
Keep your content focused. One common mistake that prevents blogs from becoming popular is that the blogger writes about a variety of things. Instead of writing about everything you like from A to Z, only write about something that you know the most about and can share valuable information about that topic.
Write content that people would want to share. If you are able to get your content to spread all across the social networks on the web, your content will be able to reach more audiences–big or small. In addition, the people who shared your content will be very likely to share more of your content in the future.
By getting more visitors, you have the potential to grow your email list and get more sales. The most successful blogs that bring in a lot of revenue also happen to be the most popular ones. Although there are several things you would need to do to optimize your blog, mastering traffic will allow you to get better results every month. What are your thoughts on the list? Do you have any additional tips? Please share your thoughts and advice below.