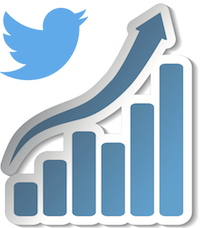 There are a wide variety of statistics that people are using to make decisions for their brands. Some bloggers look at their traffic statistics to determine what to do next while Twitter users look at their individual statistics on TwitterCounter. Another group of statistics that are at times overlooked are the statistics on entire social networks such as Twitter. Here are the statistics you need to know:
23% of Twitter accounts are in the United States.
Twitter users are three times as likely to follow a brand as Facebook users are.
42% of users learn about products and services via Twitter.
19% of users seek customer support on Twitter.
78% of Twitter users are active on mobile.
49% of Twitter users have an iPod.
Over 500 million tweets are sent out every day.
There are 271 million monthly active users on Twitter.
There are over 100 million users who are active on Twitter daily.
The average user spends 170 minutes on Twitter every month.
29% of millennials (ages 15-34) use Twitter.
29% of Twitter users check the social network multiple times every day.
There are approximately 20 million fake Twitter users
50% of Twitter users are male and 50% of Twitter users are female.
11% of Americans tweet every month.
In Q2 2014, Twitter timelines got 173 billion views.
81% of millennials on Twitter check the social network daily.
50% of UK users have tried a new restaurant based on Twitter recommendations.
The average number of tweets per Twitter user is 307.
There is also a cool website that allows you to see how many tweets are sent out in real time. You can get to this website here.
Those are the 20 Twitter statistics that you can use to make decisions for your business and identify how your target audience uses Twitter. What were your thoughts on the statistics? Did one of these statistics catch your eye? Do you have another Twitter statistic that you know of? Please share your thoughts and statistics below.