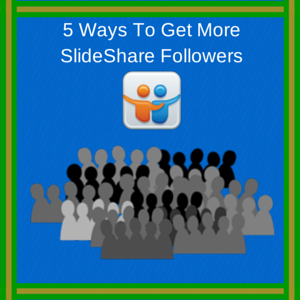 Although SlideShare is a powerful social network, few people take advantage of it. There are plenty of reasons to use SlideShare, but in order for you to utilize SlideShare properly, you need to grow a big audience. Some big businesses and companies get more traffic from SlideShare with 10,000 followers than on other social networks where they have millions of followers. That means if you really want to grow your blog traffic, get more subscribers, and boost sales, you need more followers on SlideShare. Here are five ways to get those followers.
Have a lot of SlideShare presentations. The more presentations people can go through, the more likely that person is to follow you. You do not need hundreds of presentations to grab people's attention. You only need a few dozen.
Create great SlideShare presentations. No matter how many SlideShare presentations you have, they need to be good. One amazing presentation is better than 100 crummy presentations any day of the week.
Follow other people. There are many people on SlideShare who will follow back if you follow them. Following other people will also allow you to develop strong connections with more people.
Embed SlideShare presentations on your blog. You want as many people to see your presentations as possible. Embedding a SlideShare presentation on your blog's sidebar is a great way to introduce something that will grab a visitor's attention.
Use your other social networks to tell people about your SlideShare account. Whether you have a big following or a small following, anyone in your audience can end up following you on SlideShare. While you're at it, tell your friends about your account and get them to take a look at your SlideShare presentations.
You do not need hundreds of thousands of SlideShare followers to bring in massive traffic. Based on statistics provided by big companies like Mashable, you only need a few thousand followers to get massive traffic from the site. What were your thoughts on the list? Do you have any additional tips on getting more SlideShare followers? Please share your thoughts and advice below.