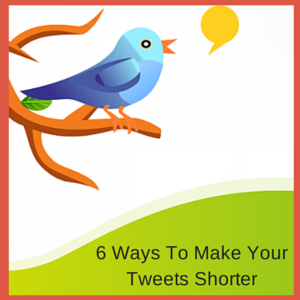 If you are just like the masses, there have been some days when you thought you were going to send out a tweet but realized it was over 140 characters. Although there are over 500 million tweets being sent out every day, Twitter's 140 character limitation has resulted in millions of tweets never being sent.
The reason why many of these tweets are not sent out is because shortening tweets is something that proves to be too daunting without the right knowledge. Even if your tweet is 140 characters, you should definitely make your tweets shorter. On average, tweets with 70-100 characters get more retweets than any other tweets of any other character length. That means making your tweets shorter is very important, and here are six ways to get it done.
Use a link shortener. I have seen many people using TinyUrl to shorten their links, and I used to use TinyUrl as well. While they get the job done of shortening the link, there are better options available. Bitly is by far the best link shortener because it saves all of the links you shortened so you can easily tweet the same link, and you get statistics that show you how many times your links got clicked and when they got clicked.
Use text message language. When you are running out of characters or have too many characters, use text messaging language. You becomes "U," before comes "B4," and the word and becomes "&." You will be able to save numerous characters this way, but only use text message language if it's the only way to get under 140 characters. Do not use text message language just to get to the 70-100 character range.
Drop the punctuation. No one on Twitter is going to accuse you of bad Grammar if you forget the comma in 1,000 or forget the period at the end of the sentence. This may sound like a silly way to save up on characters, but when you have a tweet that is 142 characters, this method is a very useful way to get under 140 characters.
Look for shorter synonyms. It is entirely possible that the reason your tweet is over 140 characters is because you are using big words. If your tweet is 143 characters, and one of the words in your tweet is "awesome," you can replace the word "awesome" with "cool" to bring the tweet down to 140 characters. All you have to do at that point is send it out.
One sentence rule. You should have a one sentence rule for a majority of your tweets in which you only write one sentence. Granted, there will be some instances when you will have to write more than one sentence for a tweet, but by practicing this rule, you will catch yourself going above 140 characters less often.
Tweet an image with the words. If you find no way to shorten your tweets, put the words in an image and tweet that out in typical meme style. This allows you to send out a tweet with well over 140 characters (in the picture) without worrying about Twitter's limitation.
Twitter's 140 character limit is a way to make it easy for people to read a variety of posts. It is easier to read 100 tweets than it is to read 100 Facebook posts that are 500 characters each. One of the unintended consequences of Twitter's limitations is that some users are prevented from sending out tweets. These five methods to shorten your tweets are designed to reduce the amount of times that problem occurs.
What were your thoughts on the list? Do you have a 7th way to reduce the amount of characters in a tweet? Please share your thoughts and advice below.