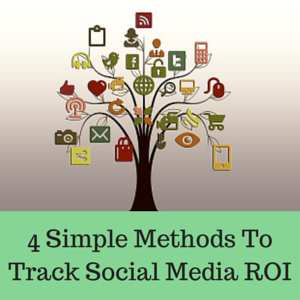 Social media has the potential to bring forth a big return on investment. Some people have made a strong income from social media. While some accounts such as the Uber Facts account has found a way to tweet the right ads, most of the highly profitable Twitter users bring in money by leading their followers to blogs and landing pages optimized to get more subscribers and sales. For the average account, the second option is the better of the two to choose from.
In order to know which social networks you need to be utilizing, you also need to identify the ROI for each of your social networks. Before you start tracking social media ROI, you must know what you are looking for in the first place. Are you looking for more subscribers, visitors, sales, or something else? Identifying what you are looking for will ultimately allow you to know whether you efforts are paying off or not.
After you identify what you want from social media, here are four simple methods to track social media ROI so you know what you are getting for all of that hard work.
#1: Use Bitly to track clicks.
Bitly allows you to see how many clicks any one of your links gets. This is important because you get to see which of your articles is receiving the most clicks and who the referrers are.
Knowing who your referrers are will allow you to identify where you need to focus the majority of your efforts. Out of all of the places where I put my Bitly links, Twitter brings in the most traffic. That is why I spend more time on Twitter than on any other social network. I recognize that the time I invest in Twitter is going to pay off.
#2: See what kind of interaction you get.
Interaction is huge on social media. The people who you interact with may end up subscribing to your blog and buying your products. In fact, some of the people I have interacted with ended up buying my books and leaving reviews for them as well. The better the interaction is, and the more times followers start the conversation with you, the more likely your efforts are going to pay off.
The larger your audience is, the longer it will take for you to interact with the people who mentioned you and shared your content. On some days, it takes me 30 minutes to go through my feed and have conversations with my followers. All of this interaction is worth it because my audience controls my success on social media.
I couldn't be successful on Twitter unless everyone who is following me decided to click the follow button. My content would not spread as far if it weren't for all of the people sharing my content and telling their friends about it. Having conversations with the individuals allows me to know them better. Instead of treating your followers like a number, treat them like people. Be social. That's what social media is all about.
#3: Share coupons exclusively on social media.
Sharing a coupon exclusively on social media has its benefits. The main benefit is that people will follow you on your social networks just to stay updated about the coupons. There may be some people who are reluctant towards getting followers with this method because the theory is that the followers care about the coupons, not the content.
In reality, if someone is following you on your social networks for the coupons, that person enjoys the products you create. If people are following you for this reason, you already have a strong influence over them. This strong influence is important because it will boost the amount of conversations you have with your followers.
Be sure to let your blog visitors know that your coupons are available on social media. That way, if a visitor enjoyed your blog post, that visitor may decide to follow you on your social networks to get notified about any coupons.
Another benefit to sharing coupons exclusively on social media is that the results are easier to track. If you use a custom coupon for your social networks, and you can track how many sales a coupon gets, you will be able to identify whether you are getting a good return on investment or not. The more you experiment, the more likely you are to getting a good ROI from this method.
#4: Give yourself the stepping stones.
Your desire to improve your social media ROI is a goal. The main problem with most goals is that they often look impossible to reach. It's like crossing one side of a large body of water to the other without a bridge of any kind.
Giving yourself the stepping stones will allow you to create that bridge for yourself. One of the most important tips for goal creation is to have a sense of direction. Your social media ROI strategy is not going to work unless you have that sense of direction and a general idea of where you are heading.
This sense of direction allows you to truly identify whether you are doing a good job or not. The key to the stepping stones strategy's success is you being honest to yourself when you ask if you did anything to move forward on social media.
In Conclusion
We spend a lot of time on social media. In fact, the average user spends over three hours on social media every day. Unfortunately, a majority of that time is not bringing in a good return on investment. Your time is valuable, and you need to get the best out of your social networks.
Interacting with your followers and giving them a good experience when they see your social media presence will help out towards getting a better ROI. Most of the ROI generated from social media comes from long-term connections and conversations.
The time you put into growing your social media audience now will be very rewarding as your journey continues. Did one of these tips resonate with you the most? Do you have another tip for boosting social media ROI?