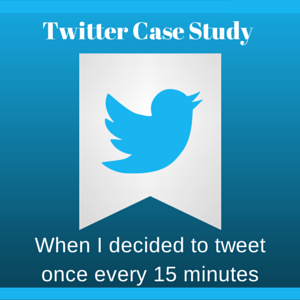 This is my third case study about tweeting at a greater frequency. A very long time ago in a galaxy farther away than the Death Star, I tweeted once every hour and got a few blog visitors. Then, when I doubled my tweeting frequency to 30 minutes every day, I got double the number of visitors. After that, I decided to send out one tweet every 20 minutes and got more visitors.
Then, I decided to send out one tweet every 15 minutes, and as I expected, it has produced the best results out of all of the tweeting frequencies.
When I tweeted once every 20 minutes, over 300 visitors got referred by Twitter every day. Before going from tweeting every 20 minutes to tweeting every 15 minutes, I guessed that my traffic from Twitter would increase by 50-100 daily visitors and just miss 400 daily visitors from Twitter.
I ended up getting 454 visitors from Twitter on the first day I implemented the change. This was a 51% growth of Twitter traffic in just one day. In one month, that's an extra 4,500 visitors and over 50,000 extra visitors every year! The best part is that since my Twitter audience continues to grow, I will continue to see gradual increases in traffic.
There is great potential in tweeting more often. However, I see tweeting once every 15 minutes as the fork in the road. The amount of people who unfollow my account on a daily basis slightly increased after I made the change. In the end, I always gain more followers than there are people who unfollow me (I almost always have a net gain of over 300 followers per day).
Tweeting frequently is definitely worth it because it results in more blog traffic. The two goals of my Twitter account are to interact with my audience and lead people to my blog. Tweeting more frequently makes those three goals happen more often. That's why losing a few more followers per day does not bother me, especially when I gain more than I lose.
When I started this journey and created the case studies, one of my biggest fears was that I would annoy my followers with too many updates. A common practice on Twitter is to avoid sending so many updates in a short period of time (i.e. Sending out 10 tweets in two minutes, which is still something to avoid). Each time I increased the consistency and frequency of my tweets, my followers were still sharing the tweets and engaging with me more than usual.
Since I was tweeting more often, they were seeing me more often.
What are your thoughts on this Twitter case study? How frequently do you tweet? Please share your thoughts below.