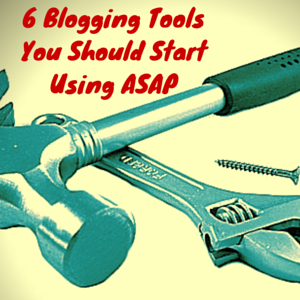 Blogging tools have the power to give your blog more functions, make it more valuable, and get more blog traffic. However, with a variety of options, many of the good blogging tools get overlooked. Some of these blogging tools may sound unfamiliar to you or too good to be true.
All of these blogging tools provide some value in a different area. When combined together, these tools have the power to enhance your blogging experience and get better traffic at the same time. Here are the six blogging tools that you should be using.
#1: Google Webmaster Tools
If only there was a tool that allowed you to see why your blog posts are not getting search engine traffic. This is the tool. Google Webmaster Tools explains why your blog is not getting much SEO traffic and how you can fix it.
An example of this is that http and https sites are two different things. Google will see http://yoursite.com as duplicate content of https://yoursite.com. In addition, Google sees your blog differently from you do. You also need to make it easy for Google to crawl on your blog.
To the typical newbie, all of this information sounds just like another headache. For the most part, Google Webmaster Tools comes along with valuable articles that take a part of the mystery out of SEO. If you want to get more SEO traffic from Google and ensure your articles are indexed on Google the way you want them to be, then Google Webmaster Tools is the right blogging tool for you.
#2: Optimize Press
Optimize Press is arguably one of the most powerful WordPress plugins out there. It allows you to create landing pages that match up with your emailing service (Aweber, Mailchimp, iContact, Infusion Soft, etc). These landing pages are easy to edit with the live editor. You get to change the button color of your subscription button, and what the text says. The best part is that you do not even need to know a lick of code!
In addition to coming with a variety of landing pages, Optimize Press also allows for membership site and training course creation. That means Optimize Press can bring in a big chunk of your revenue.
Just like almost every piece of technology, Optimize Press takes some time to get used to. That is why there are many tutorials that the people from Optimize Press provide for their users. If you are confused about something, chances are there has already been a tutorial done for that particular issue, and the tutorials are explained in an easy-to-understand manner.
#3: Canva
One of the most common practices is using a picture without asking for permission. Although some of these pictures have no licenses, there are other pictures that have copyright protection, and you don't want to use those.
Instead of looking for a picture on the web and possibly (accidentally) using a picture with copyright protection, you can create your own picture. Many people, when presented with this opportunity, think of having to learn graphic design or something similar which involves a big investment in your time.
The great news is that you do not necessarily need to be a graphic designer to create stunning pictures for your blog posts. Canva is a free tool that makes picture creation easier. Canva allows for better looking pictures that when customized, can appeal to your article's content.
One strategy that can now be utilized because of Canva is including the title of your blog post in the picture. The reason including the title of your blog post in the picture is important is because pictures grab our attention more than text.
Some people skip over the text and go straight to the picture. When this happens, your visitors can see the picture, read the title in the picture, and then know the title for your blog post. Including this picture also allows people to know what your blog post is about when they see it in Google Images or anywhere else on the web before seeing the actual blog post.
#4: Topsy
For every blogger on the web, there comes a moment when thinking of content becomes difficult. This is what has become known as writer's block, and it is one of the worst experiences a blogger can have.
There are many suggestions to breaking writer's block such as writing the ideas the night before or reading other people's articles. However, there is another way to break writer's block and get access to numerous ideas.
Topsy is a tool that allows you to see any tweet ever sent out. You may be wondering why Topsy qualifies as a blogging tool let alone a way to cure writer's block. The answer is that since Topsy contains every tweet ever sent, it also contains numerous ideas. There are over 1 billion tweets sent out every 2-3 days which means there are trillions of tweets to choose from.
It is impossible to read all of the tweets ever sent. Life is simply too short. That is why Topsy allows you to find specific tweets by entering specific keywords. Then, you can see all of the tweets within a certain time range.
When I search phrases like "social media" and "blogging," I get to see the headlines that other people are tweeting. If I see an article named "3 Social Media Tools For Success," I may create a blog post called "6 Blogging Tools That You Should Be Using ASAP."
Although I do not remember whether Topsy was the exact tool I used to come up with this blog post, I have used it to come up with several blog post ideas over the years.
#5: iContact
Although any emailing service that allows you to easily communicate with your subscribers will do, I would give a slight edge to iContact (probably because of experience). iContact gives you many emailing formats, and editing the emails you send out is incredibly easy.
One thing you can do with iContact and most emailing services is send out emails with a summary of your blog post and then the ability for your reader to click on a link to read the rest of the blog post.
Another option that iContact and most emailing services present is your ability to create any email with any type of text as long as it is neither spammy nor inappropriate. This gives you the option to notify your subscribers about product launches. You can create the buzz for your products (that you possibly create with Optimize Press) using iContact.
#6: WordPress Editorial Calendar
The more blog posts you schedule, the more difficult it will be for you to know whether all of the days are accounted for. There are many bloggers who schedule blog posts weeks or even months in advance.
This is a great strategy to get more comfortable with blogging (always being consistent will not be as much of a concern since you are already being consistent for a long period of time). This strategy becomes a problem when the blogger checks their email and does not receive a new blog post.
One of the problems I had when I was writing two blog posts every day is that when I first implemented this change, I did not realize that on some days, I was sending multiple articles to my RSS subscribers at the same time.
This problem existed for a while until I got the WordPress editorial calendar. This calendar allows me to see all of the blog posts I have scheduled along with the dates and times they will be sent out. The best part about this editorial calendar is that its function is exactly what it sounds like: you can see the titles of your blog posts on a calendar that correspond with the day the blog post is scheduled to be published.
The WordPress Editorial Calendar is a great way for you to stay organized, especially when you are writing blog posts several weeks in advance.
In Conclusion
With the right tools, you can turn blogging into a full-time income that brings in thousands of daily visitors and turns you into an influential person in your niche. The quicker you can get comfortable with your blogging experience on a technological scale, the easier it will be for you to write more content for your blog and create products along the way.
Which blogging tool is your favorite? Which tools do you use?