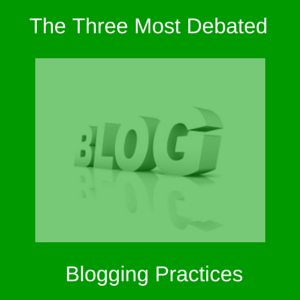 Millions of blogs now dominate the web, and over 150,000 blogs are created every day. Throughout this strong run blogging has had over the years, thousands of tips, books, and training courses have been created to empower people with the knowledge they need to become successful bloggers.
However, some of the advice in products and articles about blogging contradict each other. In many cases, contradictions occur because both sides of the argument can lead to better results. These contradictions have led debate around a bunch of blogging practices for several years. In this article, I am going to discuss my thoughts on the three most debated blogging practices.
#1: Blogging Frequency
I could probably write an entire book on this one blogging practice. Many people say you should blog consistently while a few people say you should blog inconsistently. People have mixed opinions about whether to publish daily, weekly, or at a frequency in between. Few bloggers suggest only publishing one blog post every month, but some bloggers succeed by writing at that frequency. Few bloggers suggest publishing multiple blog posts every day, but some bloggers publish new content at that rate, and get phenomenal results from it.
My blogging frequency has been around all of those spectrums. My Red Sox Blog was updated inconsistently. Sometimes, I would update it every day. At other times, I would update it every week or month, but never in a consistent pattern. That blog was basically my crash course to blogging in general.
Then, I wrote a Lego blog that got updated every week or two depending on how many other obligations I had. Then, I wrote a blog called Yugioh Philosophy that got updated every day. Once this blog you are reading surpassed the Yugioh Philosophy Blog in traffic and my overall passion went to digital marketing, I decided it was time to focus all of my efforts on this blog. In a few months, I went from daily posts to one blog post every 12 hours. Now, I only update this blog three times every week.
Here are the five reasons I decided to update my blog only three times every week:
If you write longer blog posts, readers stay on your blog for a longer period of time. This is great for SEO.
Longer blog posts tend to get shared the most, and most of the articles on Page 1 of Google are over 2,000 words long.
Writing fewer blog posts makes writer's block less likely because I only have to think about three ideas every week instead of 14 (writer's block was a commonplace back then).
I can go more in depth on the topics I choose to write about.
It is less time consuming. Writing longer blog posts is less time consuming than writing shorter blog posts but spend most of the time struggling to think of the next sentence.
My recommendation is to write one blog post every day to get a feel for blogging, and once you become a passionate blogger, write three lengthy blog posts every week.
#2: Blog Post Length
I touched upon this debated blogging practice earlier, so I'll be more brief than before. Seth Godin is one of the few people who gets away with short blog posts (that's because he has a powerful influence over millions of people). However, the blog posts on QuickSprout (QuickSprout gets hundreds of thousands of monthly visitors) indicate that longer blog posts are the ones that become popular on the search engines and get shared more often.
Typically, the longer blog post gets more traffic than the shorter one. Search engines detect more keywords (but don't overstuff your blog posts with keywords since that hurts SEO), and people read the longer blog posts for a longer period of time (this results in more engagement and subscribers). Just by writing longer blog posts, I almost doubled the amount of time people spend on my blog.
#3: Pop-Ups and Advertisements
One thing I am against is putting advertisements on a blog. Many people see advertisements as distractions that don't bring in enough money (if you're getting paid $1 a day for advertisements on your blog, then that's more than most people). Instead of promoting ads on your blog, you should promote your products and subscription box so you can build valuable relationships that turn into more revenue than a pesky ad that brings in a few pennies per click.
At first glance, pop-ups look like giant ads. Pop-ups used to annoy me, but I have come to appreciate them. In fact, I use a pop-up on this blog to promote my free eBook 27 Ways To Get More Retweets On Twitter (you can grab your free copy here). In fact, if you haven't seen it already, you may see it soon enough. Pop-ups are not giant ads; they are giant calls to action. Pop-ups allow your readers to know in a nutshell what they get for entering their name and email address. If you are looking for a reliable pop-up, then look no farther than Pop-Up Domination. I used Pop-Up Domination to create my own pop-up, and the entire process of creating your own pop-up and connecting your email service is simple and straightforward.
In Conclusion
Out of all of the blogging practices I have implemented and seen others implement, these are the three practices that have received the most debate. I myself have debated these very issues multiple times throughout various blog posts, and as I continued to write blog post after blog post, my views of these topics slowly changed.
I used to believe in short and simple daily blog posts, but now I only write three long, information-packed blog posts every week. I used to think that pop-ups were evil, but now I run them on my blog (and they increase subscribers quite nicely). I knew right from the start that advertising was evil, and I can never imagine a day when a pesky ad finds its way on my blog. I do use Adsense for my YouTube videos, but putting those ads on my blog would be too much for me to bear.
In the end, your views on these blogging practices will change based on how you implement these blogging practices and how your needs change. You may never implement advertisements, but you may realize it's time to put a pop-up on your blog.
What are your thoughts on these three blogging practices? Do you have any other blogging practices that you would like to open for debate? Please share your thoughts and other blogging practices below.