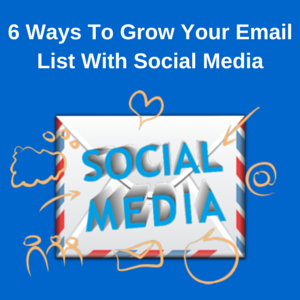 Did you know that your email list reflects your income? This is a powerful statement that has been backed by marketers throughout the industry. Some of the marketers who back this statement have tens of thousands of subscribers. Others have over 1 million. Their earnings don't lie. The people with tens of thousands of subscribers are making six figure incomes, and the people with millions of subscribers make millions of dollars in income every year.
Many people who focus their time on growing a large social media audience may feel silly, wondering where all of those hours went. I know the feeling. Before I optimized my blog to get more subscribers, my income level would be the same even when my Twitter audience started to grow at a rapid pace. At some points, I wondered why I didn't just entirely switch from growing my social media audience to growing an email list.
The truth, I quickly realized, is that they both help each other grow. Trying to grow a social media audience and growing an email list at the same time allows those two areas to grow faster than they would if you focused on one area at a time. You can promote your social networks to your email list, and you can promote your landing pages on your social networks.
This article will discuss six of the methods you can use to grow your email list with the help of social media. Stumbling across these methods allowed me to more effectively utilize my Twitter presence. Twitter is now one of my streams of indirect revenue that continues to build my email list, a direct source of revenue. The same can be true for any social networks, but only if you implement these six methods:
#1: Pin Your Landing Page To The Top Of Your Social Media Feeds
Twitter and Facebook give its users the option to pin one of their posts to the top of their feeds. These posts automatically get seen by everyone who visits your social media account's page which gives those pinned posts more visibility. You can use these pinned posts to promote your blog's landing pages that are designed to get more subscribers.
If you don't have a landing page for your blog yet, then you need to create one. I use Optimize Press for my landing pages.
#2: Promote Your Landing Pages Every Day
Even if your landing page is pinned to the top of your feed, not everyone will check out your feed. Some people who view your tweet or Facebook post may decide to read the post but not click on your name. In these cases, the pinned landing page never gets seen.
That is why it is important to promote your landing page every day. Some social media marketers tweet promote their landing pages 10 times every day. Promoting your landing page every day will give that landing page more attention. The extra attention your landing page gains from constantly getting reposted over a long period of time will lead to more subscribers.
#3: Offer An Irresistible Free Prize On Your Landing Page
Landing pages with irresistible free prizes convert better than landing pages without irresistible free prizes. You want your free prizes to align with your niche and your audience's interests. On this landing page, I give away my eBook 27 Ways To Get More Retweets On Twitter. You want to lead people to a landing page that converts well, not a landing page that simply begs for a name and email address.
#4: Create And Promote Multiple Landing Pages 
Once you create one landing page, you can create another landing page with its own free prize, and then another one after that. As you increase your library of free prizes, one of those free prizes is bound to get a visitor's attention. If you write one book about SEO, another book about social media, and another book about growing an email list, then you will have more free offers that can potentially lead to more subscribers.
You can lead repeat subscribers through different autoresponders based on which list they subscribe to. You can use these autoresponders to provide value and eventually promote one of your products that is related to the free prize. This is a great strategy to get more sales. Kim Garst utilizes this strategy very effectively. She has multiple landing pages that she promotes on Twitter every day, and each of those landing pages has its own autoresponder sequence that promotes her own products that are related to her free prizes.
#5: Grow Multiple Social Media Audiences
Once you grow a large audience on a social network, look for the next social network to master. The more social networks you master, and the larger those audiences grow, the more visibility your landing pages will get. More visibility for a landing page never hurt any marketer. You can use some of the revenue you generate from your new subscribers to promote your social networks to the next level. I have been experimenting with buying visibility from Twiends to grow my Twitter audience (this is different from buying fake followers. I would never do that to my reputation), and by the end of 2015, my goal is to utilize Facebook Ads. No matter how large your social media audience is now, it can always grow.
#6: Provide Valuable Content
Consistently providing valuable content over a long period of time is what entices people to enter their name and email address on your landing pages. Numerous people who visit your landing pages will have read some of your blog posts. When your potential subscribes decide whether the free prize is truly worthy of an email address or not, those potential subscribers will think of the value you provide in your blog posts.
Providing valuable content for free is okay. It allows you to build the long-term relationships that lead to returning customers.
In Conclusion
Social media is the best source of indirect revenue on the web. Where you lead people on your social networks determines how much of your revenue your social networks are responsible for. One of the most powerful ways to generate revenue with your social networks is by promoting landing pages so you can grow your email list. Promoting the landing pages you currently have and create others in the future so you can get more subscribers and put your current subscribers into new autoresponder sequences.
What were your thoughts on the methods discussed in this article? Did you have a favorite? Do you have an additional method that you use to grow your email list with social media? Please share your thoughts and advice below.