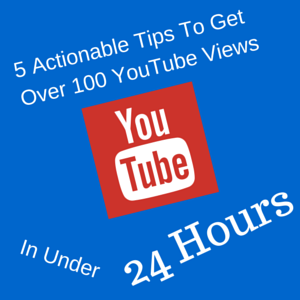 Wouldn't it be awesome if every YouTube video you publish from here on got over 100 views on the day you published them? For most YouTubers, this would be a dream come true. After crossing this hurdle, it would be easier for YouTubers to cross the 200 views/day hurdle, and other hurdles as well. Getting 100 views on the day of a YouTube video's publication seems to be the big number that many people go after.
As new YouTubers quickly realize, putting a video up on YouTube does not ensure that a video will get hundreds of views, let alone a single view. It your YouTube videos can get over 100 views right when they get published, that would give you good social proof, and in some cases, it only takes a few hundred views to set off a chain reaction of views. If you want your YouTube videos to get over 100 views on the day they are published, follow these tips:
#1: Build An Email List
Building your own email list gives you the power to send emails to a group of people who would love to view and share your content. Promoting my YouTube videos to my email list alone ensures me over 100 views on the day the video gets published. Growing an email list takes a long period of time, but it's well worth the time. A large email list provides other benefits such as more blog traffic and successful product launches.
#2: Get More YouTube Subscribers 
Out of all of the viewers your YouTube videos get directly from YouTube, most of those views will come from your subscribers. That is why the channels with 100,000 subscribers do better than the channels with a few hundred subscribers. You can get more YouTube subscribers through a variety of methods such as including an annotation in one of your videos that asks people to subscribe, asking people to subscribe in your video's description, and posting valuable videos. You can read this article to learn more methods to get more YouTube subscribers.
#3: Make Your Videos Longer
Video length is one of the most under appreciated methods of getting more YouTube subscribers. Although YouTube is the third most popular search engine on the web, few people think of YouTube as a search engine. Just as you do on Google, you find what you want by typing keywords into the search bar. Then, the search engine brings up results. The only difference is that YouTube exclusively brings up videos in its search results.
What does this have to do with making videos longer? The answer is SEO. In YouTube's SEO algorithm, they use minutes watched as a critical component to determine your video's placement for its keywords. If you search keywords like social media tips and self-publishing tips, you'll see that most of the videos are over five minutes long. Some of these videos are over an hour long.
Most of the long videos are watched for a longer period of time than the short videos. You can skim through an hour long video and only watch five minutes of it. However, that's more minutes watched than any four minute video on the web (unless you watch that same four minute video multiple times).
With that said, the value that your videos provide is still important. You can't produce a subpar 30 minute video and expect people to stick around for all 30 minutes. You won't get any returning viewers that way either. Most of the views people get from their new YouTube videos are from the returning viewers (and most of those returning viewers are your subscribers). The only way your viewers will become returning viewers is if they like the first video they see from your channel.
[tweetthis twitter_handles="@MarcGuberti" url="http://bit.ly/1E5GsAi"]If you want people to spend more time on your #YouTube videos, make them longer.[/tweetthis]
#4: Promote Your YouTube Video On Social Media
Let your Facebook friends and Twitter followers know about your YouTube video. In fact, tell all of your social media audiences about the new video. One way YouTube videos spread is when people share them on their social networks. Some of your social media followers may decide to tweet your video or share it on Facebook. All of this sharing results in more exposure for your YouTube videos, and as a result, more traffic.
If you get 10 people who each have 1,000 followers to share your YouTube video, then your potential reach is 10,000 people. Then, some of those people's followers may decide to share the content on their social networks, and it starts a chain reaction of social sharing.
#5: Submit Your YouTube Videos To StumbleUpon, Digg, and Reddit
Sometimes, the content posted on these three sites can suddenly go viral. One of my blog posts I submitted to StumbleUpon routinely got a dozen or so daily visitors. A day after I submitted that blog post to StumbleUpon, it got over 4,000 visitors in just 48 hours. I used Reddit to promote a free coupon to one of my training courses (it was new, so I needed to have the social proof), and the course got over 500 sign-ups in two days. All of those sign-ups came without an email list, promotion on my blog, or a social media campaign involving my other social networks.
Your YouTube videos have a chance to pick up a lot of views. Although the amount of minutes these videos get watched is just as important, a video with 10,000 views looks more attractive to the average YouTube viewer than a video with 50 views. Submitting your YouTube videos to these three websites is typically a hit or a miss. The YouTube videos will either go viral or only get a few viewers from this method, but getting a few viewers is always better than getting no viewers.
In Conclusion
YouTube, with the help of its users, has made more videos available on the web than any other website. With countless videos uploaded to YouTube, an algorithm is needed to determine which videos get the most attention. Although knowing the algorithm is helpful towards getting more views and subscribers, you cannot rely on the algorithm because they constantly change. What's stopping YouTube from launching a Penguin or Panda of its own? YouTube's algorithm updates don't cause as much panic as the Google updates (the sky is falling, the sky is falling), but its algorithm does have updates. At one point, the success of a YouTube video was measured by its views. Currently, that success is measured by minutes watched.
You need to grow an audience outside of YouTube and promote your YouTube videos to that audience. Some of the most successful YouTubers also have large audiences on their other social networks and giant email lists. Many of these YouTubers get thousands of views on the days they publish new videos.
Which of these methods was your favorite? Do you have any other method for increasing views? Please share your thoughts and advice below.