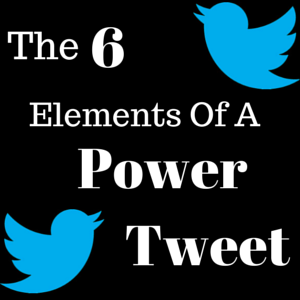 Over 1 billion tweets get sent every three days. Out of all of those tweets, a small fraction of a small percentage of those tweets attract large attention and possibly go viral in the process. Most tweets half-lives span for a relatively short period of time. Power tweets are the tweets that attract large attention and possibly go viral in the process. They spread far and wide on Twitter.
Power tweets are crafted in such an effective manner that they are optimized for retweets, favorites, and interaction with your followers. Some of the people in your audience will almost feel obligated to share one of your power tweets or interact with you after reading it. In order for a power tweet to spread and get more attention, there must be a foundation behind the tweet. Certain factors beyond the 140 characters you have to play with go into how far a tweet spreads.
Creating power tweets is not as hard as it sounds. You don't need millions of followers to send a tweet that reaches numerous people. You just need to have these six elements:
#1: A Message Worthy Of Our Attention
For a tweet to be a power tweet, there must be a story or message behind the 140 characters. The most successful tweets are the tweets that contain messages worthy of our attention. The second most retweeted tweet of all time was Barack Obama's "Four more years" tweet. Regardless of whether you are a Republican, Democrat, or don't care for American politics, that is a message worthy of the attention of many people.
The most retweeted tweet of Ellen with celebrities at the Oscars was worthy of many people's attention because there are few pictures with that many celebrities in one picture. Although some people may not find that attention worthy, many people watching the Oscars on that day found it attention worthy, and plenty of people find that tweet attention worthy to this day.
You don't have to host the Oscars or win a presidency to have a message worthy of our attention. Maybe you wrote a valuable article or have a cool story. Those may be worthy of our attention. If you don't believe you have anything worthy of our attention (and that's not true at all. You do have expertise and talents that are worthy of our attention), then tweet some articles about the latest news (I don't tweet about the news though, especially with all of the bad things happening lately).
#2: The Right Character Count
Do you know how many characters your tweet should have if you want to get more retweets. According to the HubSpot's social media scientist, the sweet spot is 70-100 characters. This is slightly more than in between the character limit, and that would make sense.
[tweetthis twitter_handles="@MarcGuberti" url="http://bit.ly/1x7hk4m"]The sweet spot for getting more #retweets is 70-100 characters.[/tweetthis]
You may wonder why the average 90 character tweet would do better than the average 120 character tweet. It's just 30 characters. The length of that last sentence is close to the difference between a 90 character tweet and a 120 character tweet. Most short tweets don't have strong enough messages while most of the long tweets are so long that people wouldn't want to read them. 70-100 characters is long enough to provide a message but not too long for readers to read.
#3: Eye-Popping Picture
The most retweeted tweet and the second most retweeted tweet both have pictures. That's not an accident. Social media posts with pictures have been proven to get more engagement than social media posts without pictures. Maybe Obama's tweet about four more years still would have gotten over 100,000 retweets, but without the picture, Ellen's tweet doesn't make sense.
The next time you send a tweet, include a picture in that tweet. You may decide to start off with a picture from Google Images (that you are allowed to use). Eventually, start using your own pictures. You can use pictures from your camera or create pictures with Canva. Regardless of how you get pictures in your social media posts, those pictures need to be added. We are visual learners.
#4: Use The Right Hashtags At The Right Frequency
Tweets with 1-2 hashtags typically perform better than tweets without hashtags or tweets that consist of too many hashtags. When someone clicks on a hashtag, that person is automatically led to a Twitter search of tweets containing that hashtag. If you see someone's tweet with #Twitter, and you click on that hashtag, you may see one of my tweets in the search results for "#Twitter" as your look through the search results. Including 1-2 hashtags per tweet allows you to show up in more of those search results.
With this knowledge, many people get carried away and decide to bombard their tweets with hashtags. The more hashtags you include in your tweets, the more difficult it will be for people to read your tweets. No matter how many search results you show up for, if it is difficult for people to read your tweets, they won't retweet you, and they probably won't follow you either. Some of your followers may even decide to unfollow you after trying to read a tweet filled with hashtags.
[tweetthis twitter_handles="@MarcGuberti" url="http://bit.ly/1x7hk4m"]Use hashtags in your tweets, but don't overuse them.[/tweetthis]
#5: Relationships Built In Advance
If you want your audience to share your content, then you have to take the time to know your audience. Interact with them and engage with their content. One of the easiest ways to interact with your audience and know more about the individuals in that audience is to thank them for sharing your content. I have developed numerous relationships in advance, but it is important to note that you are not building these relationships to simply send one power tweet that spreads far and wide.
You are building these interactions to learn, serve, meet other people, and possibly get opportunities. I consider many of my Twitter followers as good friends who I interact with plenty of times each week. I get to learn more about my niche when my followers ask me questions or recommend certain articles. I serve my followers by providing them with the content they want to read and by answering their questions. Some of the friendships I built on Twitter led to opportunities such as guest blogging on various guest blogs and getting featured on well-known websites. The relationships you build now will lead to friendships and more interaction in the long-term.
#6: You
Are you the type of person who others would want to retweet? Are you an inspiration, a humorous tweeter, someone who shares valuable content, or provides any type of value to your followers? Are you a good person or business that people would use as a role model or an example of excellence in a certain area?
You need to be someone who others would want to retweet. When people retweet someone, part of the thinking process is whether it would be socially acceptable for them to retweet your tweet on their timeline. Would you rather have the retweet of a cruel dictator's tweet or an inspirational quotes account on your timeline? Which one would your friends prefer to see?
In Conclusion
Power tweets spread far and wide. Although millions of tweets get sent every day, few of those tweets earn the title of power tweet. There are ways to optimize the tweet itself and set up the foundation you need prior to sending the tweet. Popularity is a factor to getting hundreds of retweets, but you don't need millions of followers to get that many retweets. Although having millions of followers like Ellen and Obama helps out, it is possible for any tweet with these six elements in play to emerge as a power tweet.
What were your thoughts on the elements that make up a power tweet? Do you have any additional tips on crafting a power tweet? Please share your thoughts and advice below.