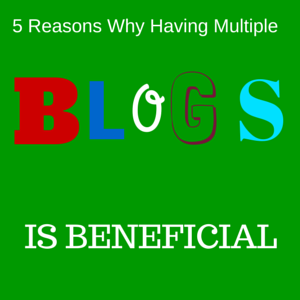 I envision more people creating more blogs. I'm not just talking about more bloggers creating their first blogs. I am talking about a growing group of bloggers who manage multiple blogs, write the content for those blogs, and have guest contributors. Some people will have two blogs, others will have three blogs, and other people may even have dozens of different blogs.
When most people think of having multiple blogs, they often think of the extra workload. Imagine managing five blogs and making sure they all get updated on a regular basis while managing all of the other things that you do. That is in part why many bloggers who follow this strategy have guest contributors. Neil Patel runs multiple blogs. He writes everything on the QuickSprout blog, but he often has contributors write the content for his KISSMetrics and Crazy Egg blogs.
Why would a blogger want to give himself more work? Why would a blogger want to take time away from creating products and services? Behind every action is a reason, and there is definitely a good reason to have multiple blogs. In fact, I will discuss five of those reasons in this article.
#1: Your Blogs Can Promote Each Other
Are you looking for more backlinks? Create multiple blogs and have them backlink to each other. You can reference articles from one blog in the articles of another blog. In some of the blog posts on QuickSprout, Neil Patel promotes articles from KISSMetrics and Crazy Egg. He does the same on KISSMetrics and Crazy Egg for QuickSprout. This is one of the easiest ways to get more backlinks. If you use this method to get more backlinks, then you must build up all of the blogs you create. You don't want to create dozens of blogs and have most of them look spammy. Having spammy backlinks will hurt your blog's SEO.
#2: You Can Offer A Greater Range Of Products
By offering a greater range of products on various blogs, you could potentially bring in more revenue. The self-published author Steve Scott has one blog about habits and another blog about making money on the web. Having two blogs based on different niches allows Steve to publish books in both of those areas. He has one Amazon author page for his habits books and another Amazon author page for his books about making money on the web.
The only objection I could think of is that since there are so many product options (training courses, membership sites, books, eBooks, coaching, etc), it is possible to stick with one niche and just create products for that one niche. Some of the blogs you create can be blogs that only promote affiliate blogs. Although I don't update them as much as I used to, I still have blogs about Legos and Yugioh Cards that still bring in some revenue. I have built a decent passive income for myself from these blogs by promoting other people's products.
If you don't want to promote other people's products but still find yourself in a time crunch, you can outsource for your products. I know of several successful self-published authors who outsource for their content. Some self-published authors get outsourced content that they wouldn't be able to write themselves. Some authors who don't have enough knowledge about health to turn their knowledge into a book hire someone else to write the book. With this outsourced book written and published, this type of self-published author now has another book in another niche that can bring in revenue.
#3: More Passive Revenue
Having more blogs and offering a greater range of products on your blogs has the potential to result in more revenue, especially if all of your blogs promote each other. You can make affiliate sales and create your own products. Although I don't like running ads, it wouldn't hurt to run ads on one of your blogs that promotes low-priced affiliate products if you have already created a couple of blogs.
You can't expect to update dozens of blogs every day and still find a way to create new products and make more revenue. What you can do is create short blogs that explain basic information and promote your main blog. You can also have contributors write content for your blog just like Jeff Bullas does for his blog. The Huffington Post does this as well. I, along with many other contributors, write guest posts for Business2Community. If your blog has an authority on the web, many contributors will write content for you for free. These contributors will only ask for a backlink to your blog. Some blog owners almost never update their blogs anymore. They have contributors update the blog instead. All of the income that blog generates is now passive income.
#4: You Become A Better Writer
Contributors are not going to rush over to your blog the moment you create it. Before your blog becomes an authority, you will have to write most of the content (unless you hire writers to write the content). The more content you write on a daily basis, the more your writing skills will improve. Becoming a better writer will make it easier for you to write valuable blog posts and books.
#5: You Get To Reach Out To Different Audiences
If you have numerous blogs, you will reach out to a larger audience. Some of the people within that audience will see that you write other blogs, and those blogs will get more visibility. If you have read Neil Patel's content, then you could have first seen his content on QuickSprout, KISSMetrics, CrazyEgg, or a guest post he wrote. With more blogs, there are more chances to be seen.
[tweetthis twitter_handles="@MarcGuberti" url="http://bit.ly/1ES2WDX"]Creating multiple #blogs allows you to tap into different audiences.[/tweetthis]
In Conclusion
Having multiple blogs serves as a big advantage, but the advantage you get from managing multiple blogs depends on what those blogs are about. Chances are few people would know me for having a blog about Legos. Legos have nothing to do with digital marketing. However, I have multiple Lego blogs that promote each other and get a decent sized audience. I also have smaller blogs about digital marketing, and those blogs tend to do better than the ones about Legos (people know me for digital marketing, so the transition is easy to make from one of my blogs to the other). QuickSprout, KISSMetrics, and Crazy Egg all have content that serves bloggers. That's why the transition from one of those blogs to the next is so easy for readers to make. Both of Steve Scott's blogs show us how we can become more successful in various areas of our lives which leads to the perfect segue.
If you want to branch out into an entirely new, unrelated niche with no easy transition from one blog to the next, then you need to create multiple blogs about that new topic. It is possible, and it can also be very rewarding. You can create smaller, condensed blog posts on some of your blogs and have contributors write the content for your other blogs.
The key to making all of this work is having a large audience on social media and your email list. With large audiences in those two areas, you will have the potential to make any blog on the web become popular. All of your blogs can start off with a big pinch in traffic that continuously builds momentum. Which of these tips was your favorite? Do you think the work of managing multiple blogs is worth it? Please share your thoughts and advice below.