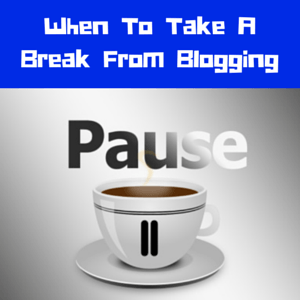 At some point this year, I took a month off from writing blog posts. My blog still got updated three times each week, and I responded to blog comments and tweets. Basically, it was an invisible, unnoticed absence that did not require me to sacrifice my consistency.
I pulled it off by scheduling numerous blog posts in advance because of my policy of always having one month's worth of blog posts scheduled in advance. Having this many blog posts scheduled allows me to focus more of my time on writing the content and less time stressing about the deadline. I had over two months to write this blog post, but I still wrote it well before the deadline. If I wrote this blog post on the day before the deadline, I would have stressed, and the quality of my work would have suffered. When I take a break from writing blog posts, I make sure it is possible without the risk of me losing my audience or publishing subpar content.
Why I Took My 1 Month Break
The break I took from blogging was used to reassess my strategy and see what I could do differently to reach more people and generate more revenue. Part of the strategy was to take Udemy seriously again. After the first two months of creating my Udemy account, I created two training courses that did well. For some odd reason, I stopped creating training courses and didn't update my old ones, and I lost a lot of ground.
Now, I update my training courses often, and I have plans for several training courses. I have created a course about productivity and several about social media success. I also devised a plan for publishing books in a more effective manner to get more sales and publish them in bulk. I will publish several books by the end of the year, and I have already published a couple of books in 2015.
I did my research in the same manner I started my research a few years ago to discover how I could get more Twitter followers. I read dozens of articles about getting more Udemy sales and even took several courses where successful Udemy instructors discussed how they got more sales.
Basically, my one month break was not one of those breaks where I avoided my computer and stopped working like an entrepreneur. I put in more work during this month than I put in most of the previous months. This one month break helped me catapult forward when I continued writing blog posts and started to take Udemy seriously again.
Was It A Complete Break?
I did not write a blog post for an entire month, but that doesn't mean I did nothing for my blog. I outlined some of the blog posts that I knew I would write after the month was over. I wrote a list of key points I would write about. That way, I gave myself a foundation for when I wrote blog posts again. Creating an outline for a blog post takes as little as five minutes, but it saves you from a lot of thinking while you are writing the actual blog post.
It takes me anywhere from 30 minutes to an hour to write a blog post, so only taking five minutes to create an outline saved me a massive amount of time. I used this extra time to do my research.
Would I Ever Take A Break Just For Fun?
I consider writing blog posts a fun activity, so I wouldn't take a break just for the fun of it. The only two reasons I would take a break form blogging would be if I need to do extensive research on something or if I am on a vacation. When I am on a two week vacation, I like to embrace the vacation, and my productivity dips for obvious reasons. I can't do any videos since I don't bring the massive desktop with me (I don't know the exact dimensions, but it is bigger than my suitcase, and it is fragile) and my microphone equipment is at home. That's okay, and I don't mind. I bring my Mac Book Pro with me to interact with people on social media, but that's just about it. If I am at my house, then I am always doing something for my business.
You Never Know When You Need The Break
Some events may pop up, and you may not feel like writing blog posts for an extended period of time. It happens, but you have to be ready. Scheduling blog posts for at least one month in advance will allow you to take those unexpected breaks without sacrificing the consistency of your blogging. You may burn out one day and want to take the week off. Those small burn outs occasionally happen. Having blog posts scheduled in advance will allow you to take a break during the small burn outs without you worrying about your blog getting updated.
In Conclusion
There comes a point when writer's block takes the joy out of blogging and a time when we must shift our attention to other things. We must be prepared at any moment to not write blog posts for an extended period of time. That is why I schedule numerous blog posts in advance. As I mentioned before, I always have over one month's worth of blog posts scheduled. However, I also have a bunch of blog posts that I already wrote but did not schedule. In some cases, I could have as much as three month's worth of blog posts scheduled at one time.
Having the blog posts scheduled in advance allows you to take a break without sacrificing the consistency of publishing a certain number of blog posts every week. Many dedicated bloggers may view taking a break from writing blog posts as sacrificing the commitment needed to become a successful blogger. However, if you write blog post outlines and make the transition back to a blogger (which is easy if you write blog posts often), then that won't be a problem for you.
In some cases, the break you take from blogging can be more beneficial than if you were to continue blogging. When I did research to learn more about Udemy, I learned an entirely new method to generate revenue, and now Udemy is emerging as my top revenue source. I learned valuable lessons from taking the small break that I would not have learned if I was blogging at my rapid pace. Sometimes, especially in our busy world, a break every once in a while can be a good thing. With automation, you can take a break, and your audience still gets the content as if you never left.