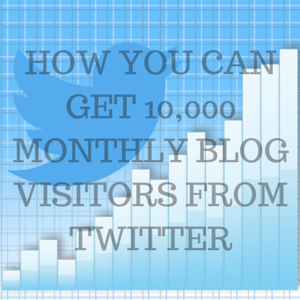 If you are not utilizing Twitter for your blog's growth, you are making a mistake. A BIG ONE.
Twitter is the main reason this blog became popular and I established myself as an influencer in my niche. Sure, I got opportunities that further established my credibility, but let's go back to how I got those opportunities. I won't deny that having over 100,000 Twitter followers does open up some doors that were previously closed.
Perhaps the most visible way to see Twitter in my business growth is my blog traffic. I routinely get tens of thousands of monthly visitors from Twitter alone. Some of these visitors have become subscribers and purchased my training courses.
Twitter isn't responsible for many of my direct sales, but it plays a big role in indirect sales. Take, for instance, someone reads dozens of my tweets and then subscribes to my blog. After reading dozens of posts, that person is more likely to buy one of my products than the average visitor. In other words, Twitter allows me to build long-lasting relationships that I wouldn't have had otherwise.
So how would you get 10,000 monthly blog visitors from Twitter (over 300 every day)? Having a large audience does help, but your large audience is only part of the story. Here is how you can get 10,000 monthly visitors from Twitter:
Increase Your Tweeting Frequency
I have written multiple case studies about tweeting frequency, and another one is coming soon (spoiler alert!). Tweeting frequency is a common topic of discussion, and you will hear varying answers from different experts.
Tweet four times every day. Tweet 12 times every day. Tweet 20 times every day. You'll get different answers on what the "magic number" is. The truth is that there is no standard magic number. The magic number is the number that works for you.
100+ works for me.
Every day, I send over 100 tweets on my main account @MarcGuberti alone. The two accounts I am currently working on as part of a secret case study each send out a tweet once per hour. Since I send over 100 tweets per day, each link needs four clicks, and then I'm set. I am getting 10,000 blog visitors from Twitter every month.
What I will discuss more in the case study is that it is okay to send 100 tweets, but if you send too many (yes, 100 isn't too many), you risk losing traffic. Believe it or not, there was a point that my blog traffic from Twitter decreased even as I was gaining hundreds of daily followers.
After investigating the issue, I concluded to mix up my tweets by tweeting other people's content. I still tweet my own blog posts 80-90% of the time, but now I send more tweets of Inc and Entrepreneur articles.
If you decide to send dozens of tweets every day, don't manually schedule them. That takes up too much time. I use HootSuite Pro's bulk scheduler to schedule a day's worth of tweets in six clicks. This one feature alone allows me to save four hours of my time every day.
Interact
For a long time, I made one of the biggest Twitter mistakes known to mankind. I focused on broadcasting my own content and didn't take the time to interact with my audience. I got into a bad habit of not checking the notifications tab.
I scheduled tweets on HootSuite and never went on Twitter. I would then move onto writing more content for my blog and Squidoo (Squidoo was booming when I first joined. HubPages acquired it in 2014).
There were two problems with me not interacting with my followers. The first problem was that I probably missed out on opportunities and building relationships. The second problem is that an account that sends a lot of tweets, follows a lot of people, and unfollows a lot of people but doesn't bother engaging will look like a bot.
So, for a few months, my account looked like a bot. Within that short time frame, Twitter gave me the ultimate slap—suspension. You read that right. Not a typo. Oh, and it wasn't any suspension. It was a New Year's Day suspension (time to throw those Twitter resolutions in the trash).
I would have lost all 10,000 of my Twitter followers because I wasn't tweeting smartly. I looked like a bot and never bothered interacting with my followers. The only saving grace was that Twitter recognized that for the most part, I was a good user. I got my account back in a matter of minutes.
I tell people to interact with their followers to build relationships and get opportunities, but not everyone listens. They focus on the media part of social media without focusing on the social part. When I mention the word suspension, the outlook changes.
I am not the only account to have been suspended in this manner. I have witnessed accounts with hundreds of thousands of Twitter followers briefly getting suspended and then being reactivated. For the most part, these accounts didn't interact often, but they tweeted many times throughout the day.
It would be unfair to end off this section with an "interact or get suspended" slogan. This slogan undermines how significant interaction is for knowing your audience and getting opportunities.
Getting suspended was a wake-up call. I won't deny it. I saw what I built from scratch leave me in a matter of seconds. The wake-up call was the best thing that could ever happen to me.
I suddenly made it a habit to look at the notifications tab and respond to my followers every day, without fail. If no one interacted with me in the notifications tab, I started conversations with other people. Twitter alone led to many of my speaking engagements, guest posts, and connections.
Tweet About Yourself More Often
Tweeting about yourself gets just as much discussion as tweeting frequency. One of the most common pieces of advice is to only tweet about yourself 20% of the time and spend the other 80% of your time tweeting other people's articles.
That's not how I roll. I tweet my own blog posts more than the Cookie Monster eats cookies (hey Siri, Cookie Monster has cookies and I have friends).
Now that I spend more time interacting with my audience, I know this strategy works well because people thank me for my value. When your followers thank you for the value you provide in your tweets, you know that you are taking the correct approach with your Twitter strategy. For the most part, it doesn't matter who wrote the articles you tweet about. All that matters is that the people in your audience value and appreciate them.
It is okay to tweet your content more often if enough of your followers show appreciation and a desire to read more of your content.
Grow A Targeted Audience
Just because your Twitter audience grows does not mean it's good for your business. The number of followers you have is just a small part of the Twitter Domination equation.
One metric the equation includes is the number of targeted followers you have. Based on importance, the amount of targeted followers you have by far surpasses the number of followers someone has.
If you could have 100,000 Twitter followers who don't care about your niche or 10,000 Twitter followers that are passionate about your niche, which group would you rather have. I'd choose the 10,000 Twitter followers any day of the week.
Growing a targeted audience allows you to get the type of engagement you would want to see when people engage with your tweets. To grow your own targeted audience, do the following:
Find influencers in your niche who gain a lot of followers every day (preferably, they also follow a lot of people every day)
Follow their followers who are likely to follow back.
That's it. Growing a targeted audience doesn't have to be complex.
In Conclusion
Twitter is a P O W E R F U L tool that will continue growing in importance. The best part about growing a Twitter audience is that there is no such thing as being late to the party. If you wanted to create a billion dollar search engine idea, you're too late. Google now dominates that area and is practically invincible.
Anyone can grow a large Twitter audience, regardless of whether someone joined Twitter seven years ago or seven days ago.
How do you use Twitter to get more blog traffic? What kinds of opportunities do you get from Twitter? How do you hope Twitter will transform your business? Sound off in the comments section below!