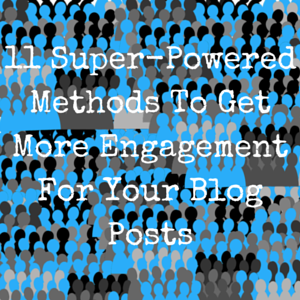 Remember when engagement didn't matter? That's a trick question. Getting more engagement for our blog posts has always mattered, but with content piling up fast on the web, people have more places to go as they rapidly go from one blog post to the other.
With millions of blog posts getting published every day, it has become difficult for us to keep track. How long do you think it will take you to read all of the content that gets published on the web today? If you are extremely lucky, you might survive to tell the story to your great-great grandchildren.
Content has dominated the web, but not all content gets remembered. You may go on a blog after this one and forget the name of that blog a few days later. It happens to me as well.
How do you go about being remembered? The answer is to create engaging content. If your content engages with the reader, that reader will want to read more of your content, and it's only a matter of time before they come back to your blog every day.
With engagement established as the main way of getting people to remember your content and to come back for more, here are some methods you can use to get more engagement from your blog posts.
#1: Use Shorter Sentences
I recently learned about this tip from Jeff Bullas. In case you don't know, Jeff is a digital marketing expert with over 300,000 Twitter followers and a blog that gets over 4 million views every year. To sum it up, he's crushing it.
I decided to submit a guest post request to him, and he liked the idea. However, instead of simply saying that he liked the idea, he offered me some guidelines. One of them was to write shorter sentences. That makes sense. The longer your sentences are, the harder it is for your readers to understand them. If it takes a reader too long to understand certain sentences, that reader will ditch your content for someone else's content.
Writing shorter sentences makes your content easier to read. Easy readability encourages people to stick around. When readers stick around, engagement increases.
#2: Utilize More Pictures
Another tip Jeff gave me was to use pictures throughout my blog posts. This tip has been more difficult for me to implement on this blog, but I implement it for other guest posts that I write. Using more pictures also serves to make your content easier to read and understand.
If your pictures highlight key points from your blog post or show your visitors how to do something, then those pictures are helpful for your readers and you as the blogger since your readers stick around.
#3: Ask Questions Throughout Your Blog Post
How do you normally start a conversation with someone? Maybe "How was your day?" or "What's up?" Maybe you say something else when starting a conversation.
Most conversations start with a question, and once a conversation starts, it lasts. Regardless of whether that conversation lasts for 10 minutes or 10 seconds, the conversation starts with a question. Asking questions throughout your blog posts allows a mini conversation to take place as your visitors read the blog post.
#4: Utilize Jokes When Appropriate
We remember the funniest jokes we hear and events that involve us. Each time we think of a funny moment, we tend to laugh and think about that moment for a while. If you read something funny, you are bound to remember it every once in a while and then remember what you were reading at that moment.
Your blog visitors are no different. If they stumble across something funny, they will remember it. That is why you must utilize jokes within your blog posts when appropriate to make your visitors laugh. Your visitors will then continue reading your blog posts and taking in the value—but they will also be on the search for another hidden joke. The more humor you include in your writing, the more your visitors will remember you.
#5: Start Your Blog Post Off With An Irresistible Headline
The headline is the make or break point of a blog. A good headline entices visitors to stick around and read your content. A bad headline will do the exact opposite.
The best way to master the headline is by looking at blog posts on other blogs related to your niche. Look at their headlines and see which ones grab your attention. Also observe the headlines of the most popular blog posts related to your niche.
#6: Take The Conversation To Social Media
Some people will find one of your blog posts on social media and visit your blog that way. Having conversations with these people on social media is a precursor for having a conversation in the blog post's comments section.
Social media conversations will also allow you to build relationships. Having a series of conversations on social media with the same people will entice those same people to constantly visit your blog and engage with the content. Some of these people will have a deeper appreciation for what you do with each interaction. That appreciation will translate to more engagement for your blog posts.
#7: Go Where Your Audience Goes
What a classic! But still important. In the real world, going where your audience goes means networking at events. The digital world is a different story. In the digital world, you can know where your audience goes by looking at what they share on social media. Look for common sharing patterns, and those patterns will let you know where your audience goes.
Knowing where your audience goes makes it easier for you to keep in touch with them. Do all of the people in your audience like a blog related to yours? You can comment on several blog posts so people who engage with that blog will remember who you are (and probably go to your blog). If the blogger allows, you can also write guest posts on that blog so your old and new readers get to see your content.
Find where your audience goes and then make yourself a big part of that community. You will attract more people to your blog and learn more about the people who make up your audience at the same time.
#8: Respond To Comments
Want your visitors to know you better? Respond to their comments. When you take the time to respond, you make the visitor a part of a conversation that can build into a strong relationship. Every friendship, business connection, and relationship starts with an introduction where people greet one another. Those types of relationships can start by you responding to a visitor's comment.
#9: Give Your Most Loyal Visitors Some Control Over Your Next Topic 
One way to boost engagement for your content and build loyalty at the same time is to give your visitors more control over your content. Simply ask your visitors what they want your next blog post to be, and then write the blog post that most of the people in your audience vote for. You can either create a poll with a few choices or allow people to comment with any idea they want you to write about.
The great thing about this strategy is that you get your audience involved (they help to choose what you write) and you can get out of writer's block at the same time (you can potentially have dozens of new blog post ideas right in front of you). It's a win-win, and that type of bond will encourage your visitors to return to your blog and engage with the content more than before.
#10: Have A Conclusion
The conclusion is a way to briefly summarize your blog post while asking a series of questions to entice discussion in the comments section. A conclusion is essential to every blog post, and most conclusions are only a few sentences. After you are done reading the final tip, take a look at the conclusion I used for this blog post as a guide.
#11: Blog Consistently
The key to getting engagement on your blog is to get returning visitors who remember your content and appreciate what you do. The visitors who appreciate what you do are the ones who will engage with your content the most.
By writing blog posts at a consistent rate, your most loyal visitors will know when to come back for new content. Each time your visitors read through your new content, that is another chance to have those visitors engage with your blog.
In Conclusion
Getting your visitors to engage with your blog posts will boost the chances of those visitors returning to your blog and eventually buying your products. Most of the engagement your blog posts will generate comes down to the written content, but there are some outside factors that also determine how much engagement your blog posts get.
How much engagement do your blog posts get? Do you have any additional tips for getting more engagement? Which of these tips was your favorite? Please share your thoughts and advice below.