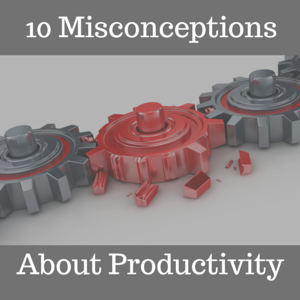 One of the questions on everyone's mind is, "How can I be more productive?" We go about our every day lives trying to get more accomplished so we can be "more productive." However, in our pursuit to becoming more productive, we often make mistakes. Some of the mistakes we make are because of common misconceptions associated with boosting productivity. These are the 10 worst ones.
#1: Taking Breaks Is Bad For You
I see fewer people taking breaks. The common theory is that taking a break means taking yourself away from your work. People who believe in this theory also believe that taking themselves away from their work means less productivity.
Part of the reason people don't like taking breaks is that our world moves so quickly. We don't want to sit still because the moment that happens, we may miss something. We may fall behind.
However, you need to recharge. Taking regular breaks allows you to refuel, get healthier, and stay on schedule.
#2: Create A Five Year Plan
Many productivity experts have hailed the five year plan as critical. They see the five year plan as a roadmap to your future. The logic behind the five year plan is that it is supposed to serve as inspiration. You are supposed to look at the plan, envision your future five years from now, and then go after it.
The problem with a five year plan is that many things can change in just one month. According to John D. Krumboltz's Happenstance Learning Theory, unplanned events are inevitable and to be expected. These unplanned events may require a change in direction that impacts the likelihood of you accomplishing a goal on your five year plan.
A long time ago, I created a five year plan. I envisioned surpassing 100,000 Twitter followers in five years. When I created that five year plan, I was gaining a few dozen Twitter followers every day. A few months after I created the five year plan, I learned more about Twitter.
It turns out I started gaining hundreds of Twitter followers every day. I reached my milestone with three years to spare. Now that part of my five year plan was invalid. As I continued growing my business, other goals on my five year plan became irrelevant as my interests changed.
While having a vision is helpful for inspiration, a five year plan can change too often. One day you may want more Vine followers. The next day you may be after Periscope followers.
#3: Sleep Less
Most people live on a sleep deficit. It's so bad that 30% of adults from 2005-2007 got less than six hours of sleep every night. Insufficient sleep has been associated with many car crashes, industrial disasters, and medical errors.
Part of the problem is that successful are praised for getting a very small amount of sleep. Leonardo Da Vinci only needed two hours of sleep every day. Thomas Edison needed five hours of sleep every day. Marissa Mayer, the CEO of Yahoo, worked hard when she was a Google employee. She still works hard to this day, and only on 4-6 hours of sleep every day.
While a few successful people find it possible to do well on little sleep, they are the exception, not the rule. Getting an insufficient amount of sleep has been linked to health problems—and we know the difference between how we feel after sleeping for eight hour compared to sleeping for two hours.
Getting more sleep also helps out with productivity. If you get the right amount of sleep, you will wake up feeling more refreshed. Waking up and feeling refreshed will help you have a more productive first hour. That first hour sets the barometer that determines how productive you are throughout the day. Getting a good night's sleep helps you feel better and productive during the first hour. That translates to an entire day of productivity and achievement.
#4: You Must Accomplish All Of Your Goals
Biggest lie in the book. I am a 17 year old entrepreneur who gets more work done than most people. The funny thing is that for some reason, I never accomplish all of the goals I give myself each week.
That's not a deficiency on my part. I just choose which goals are more important and more deserving of my time. I may write down a goal today and realize it is irrelevant tomorrow.
Some people say that adding one word to a sentence can make a big difference. Let's give that a try:
You must accomplish all of your important goals.
Goals with close deadlines and/or big impacts are the goals that matter the most. When you choose to put in work for a goal, only choose to put in the work if you are passionate about the process. The moment you no longer enjoy putting in the work is the same moment that goal might no longer be the right one for you.
#5: Do It Yourself
We have embraced a DIY culture. We constantly look for life hacks and ways to do things on our own. If we can save $20 by doing something alone, most of us would take up that offer. Anyway to save money and embrace the DIY culture.
It's funny that we embrace the DIY culture even though the most successful people aren't the DIY types. The most successful people have a team behind them. Derek Jeter was a great baseball player, but not even he could have won World Series after World Series by himself. Tim Cook alone can't keep Apple in business. He needs employees in the stores, product creation teams, and people to ship out the products.
The most successful people don't live in the DIY culture, so why do so many of us live in that culture with our productivity? If you outsource some of your work to other people, you will have more time to do other things.
Find yourself on social media too often? Outsource the work. The more you outsource, the more time will open up. Suddenly, you may end up writing that book or launching that product quicker than expected.
#6: Being Busy Is The Same Thing As Being Productive
Not every hour in your day is created equal. On some hours, you are productive. During other hours, you may find yourself busy doing something that won't help you achieve one of your goals.
When I schedule my tweets with HootSuite's bulk scheduler, I am not being productive. Scheduling tweets on HootSuite doesn't help me create a training course or write a blog post quicker. Scheduling tweets helps me provide value to my Twitter audience, but it isn't productive.
Part of the reason I don't see scheduling tweets as productive is because of the way I define productivity. My definition of productivity is writing blog posts, writing books, creating training courses, and marketing. Scheduling tweets isn't in that definition. That's why I view it as busy work instead of being productive.
Your definition of productivity will most likely differ from the people around you. That's because people pursue different interests which impacts their definitions of productivity. Once you establish your definition of productivity, everything else is busy work—busy work that can be outsourced.
#7: Naps Are Terrible For Productivity
Naps get a bad rap for productivity. Some people think that napping makes them fall behind. Part of this belief goes back to the fact that some superhumans only need four hours of sleep instead of the usual eight.
Naps are actually great for our productivity. Leonardo Da Vinci only needed two hours of sleep every day. That two hours was the sum of six 15-20 minute naps that he took throughout the day. He took one nap every four hours.
Napping is one of the best ways to refuel yourself without calling it a day. According to ABC News, dozens of studies have confirmed that a 30-60 minute nap in the early afternoon increases a person's productivity, alertness, and sometimes even their mood.
#8: Saying Yes To All Opportunities
All successful people have one thing in common. They like to say no. According to Warren Buffett, "The difference between successful people and very successful people is that very successful people say no to almost everything."
Yet most of us say yes to any type of opportunity we get. The truth about opportunities is that not all of them are created equal. The next time you are presented with an opportunity, consider these two things:
Your desire to put in the work
The impact of the opportunity
Getting on a podcast with 100 listeners is different from getting on a podcast with thousands of listeners. Getting the $50K per year job that you hate is different from getting the $30K per year job that you love. The last thing you want to do is say yes to an opportunity at the expense of your happiness.
Each opportunity you choose has a certain time commitment. You want to make sure you are getting the best possible results from the time you commit towards an opportunity.
#9: Most Work Gets Done Under Pressure
Many people believe that the only way they will get their goals accomplished is by waiting for the last minute. Some people start working on the report the night before. Other people play catch-up during their lunch breaks.
The problem with constantly working under pressure is that your stress will build. Maybe you get your work done while working under pressure, but as the stress builds up, the long-term impact can be deadly. Constant work stress results in health and relationship problems. It won't take long for these problems to creep into your work and productivity.
According to Inc Magazine, happiness increases productivity. Even if it didn't increase productivity, who can imagine a day when they wouldn't want to be happy? Stress isn't a part of that equation. While working under your pressure may work, it sets you up for disappointment over the long-term.
#10: Multitasking Is The Greatest Thing Since Sliced Bread
Multitasking is seen as a way to save time by getting two or more things done at the same time. The way multitasking actually works is quite different.
Multitasking your work is a way to poorly do two things in the same amount of time it would take for you to effectively do one thing. Here is a quote that perfectly describes multitasking.
"If you chase two rabbits, both will escape." —Anonymous
You can't chase two things at the same time. If you want to catch two rabbits, you chase one rabbit at a time. If you want to accomplish your goals, you accomplish one goal at a time.
Multitasking is not only bad for productivity, but also bad for our brains. Taking some inspiration from Taylor Swift's Blank Space, multitasking is a nightmare dressed like a daydream. When you choose to multitask, you also choose to hurt your brain.
In Conclusion
We all want to be more productive. While we discover different tactics to boosting productivity, we must be wary of which methods work and which methods are false. You don't want to implement a misconception that hurts your productivity.
Which of these misconceptions have been tricking you? Have you risen above these misconceptions? Do you see any other misconceptions in productivity? Have any tips for us? Sound off in the comments section now!