What makes certain blogs so special? I'm talking about the blogs that we stay on for hours upon hours. We lose track of time and find ourselves reading blog post after blog post. What makes them tick?
As a blogger visiting other people's blogs, I often find myself stuck on certain blogs for a long period of time. However, as a blogger, I also ask myself why these blogs were so addictive.
All of these blogs follow a common pattern. Some of these blogs also have a secret sauce to them (I'll spill the beans in this can't miss blog post).
Without any further adieu, here are the seven power tips to make your blog crazy addictive.
#1: Behold: Your Blog Posts Are Now Picture Books!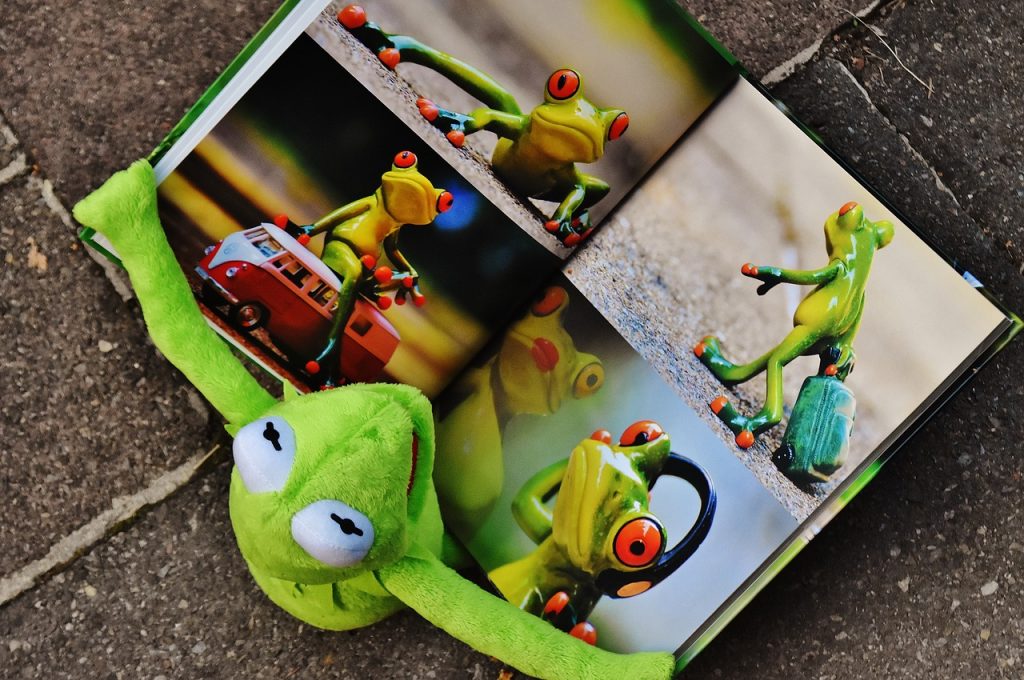 Remember the time when bloggers could get by with writing a short 250-500 word blog post without any pictures? Few of these bloggers exist today.
While it's still possible to write viral blog posts that are only a few hundred words long (take a look at BuzzFeed), many people have now shifted to writing 1,000+ word blog posts.
Neil Patel inspired me to make that shift in a fascinating blog post that explained why word count matters in search engine traffic.
Good thing I took his advice to heart. Now I have more fun writing my blog posts because I get to go more in-depth.
But there is another shift taking place. In fact, we are in the middle of it.
Blog posts are now becoming picture books!
One picture per blog post is no longer enough. We are visual learners whose minds can process images 60,000 times faster than text.
Pictures can clearly illustrate concepts that you can't convey with text. For instance, it's better to draw a circle than describe what it is. What exactly does that sentence mean? This picture will help illustrate the concept.

Adding pictures throughout your blog posts will make them easier for your visitors to read through. Therefore, they will stick around for a longer period of time. You can get advanced with incorporating pictures into your content by following these data driven tips for using pictures in blog posts.
#2: Did You Watch The Superhero Movie Teaser?
It's difficult for me to decide which Avenger is my favorite (right now I am deciding amongst Captain America, Thor, and Iron Man. UPDATE: Probably Iron Man). I wouldn't have cared much about them before Marvel started releasing their movies.
Now I eagerly await to see them in action yet again. Why? For many reasons, but here's one of them:
Good marketing.
What started as the beginning of Iron Man has evolved into an extravaganza in which we can expect several Avengers movies to get released every year. Marvel even posted a list of movies that we can expect to see between now and 2020 (now past 2020).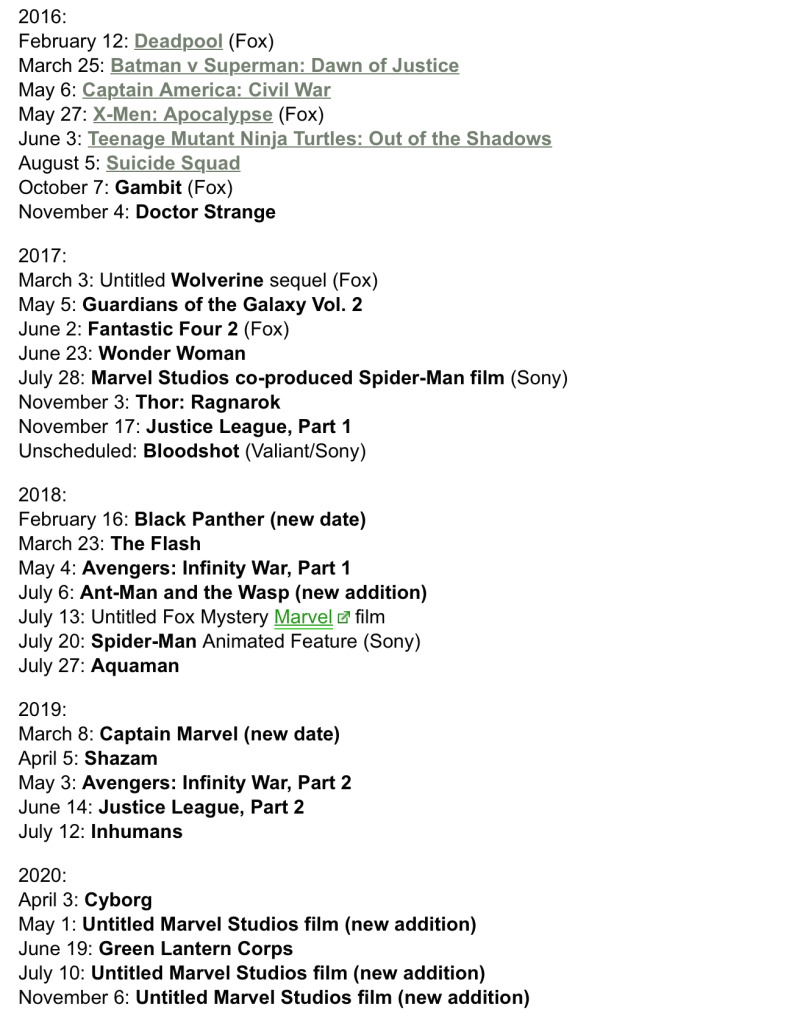 Personally, I prefer DC Comics and The Dark Knight is by far my favorite superhero. In recent memory however, Marvel has done a much better job at marketing their heroes.
At the end of each Marvel movie is a teaser leading into the next movie. Since this is the teaser section, I won't go into spoilers. However, if you have watched any of the recent Marvel movies, you know one of those teasers.
You know the status of Odin, who the big villain is after watching the first Avengers, and what Captain America intends to do at the end of the second movie.
And if you are like most Marvel fans, your mouth is watering as you think about how awesome the next movie will be.
Blogs work in the same way, and few people are capitalizing on it.
At the end of all of your blog posts, you can provide a teaser to your upcoming blog post. The teaser builds anticipation and reminds people to return to your blog for more content.
Imagine a blog post that ended off like this:
"In next week's blog post, you will learn how Warren Buffet invests in stocks. Buffet allowed me to stop by at his mansion in California and ask him a few questions about some of his most important stock decisions."
Guess where you'll be next week.
The important thing to note is that you don't have to meet famous people like Warren Buffet and interview them to have a great teaser. Here's a typical teaser you can find on Bryan Harris' blog: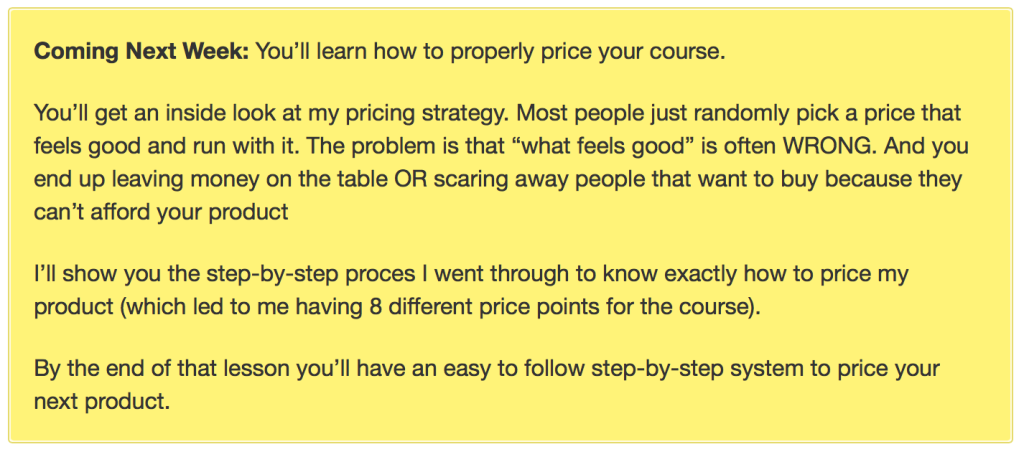 This is the strategy Marvel uses to get you mouth watering at the end of their movies. You can use this strategy to make your readers eager for more.
You can apply this for old and new content. While I believe that consistently creating new content is overrated, I am a big advocate for going back and updating your old content. That way, you strengthen your library of existing content.
You don't want to be a mile wide but only an inch deep.
But anyway, you can let your audience know what blog post they'll get next even if it's an old blog post that you plan to bring back to life.
~FREE BOOK: Content Marketing Secrets (grab your free copy here)~
#3: Last Time On Justice League… 
I occasionally watch the animated Justice League series (I have a lot of DVDs for Justice League and DC Comics superheroes in general). I only occasionally watch that series because watching it turns into a binge.
One interesting approach the producers used for Justice League episodes was frequently incorporating two-part episodes to boost engagement for the following week.
The second episode would begin with a recap of the first episode. The first episode would be briefly explained in less than two minutes. It's nothing unique. Many TV producers follow that pattern for two-part episodes.
This same strategy TV producers use is hard to find in blogging. I almost never see it happen. Most bloggers think that "Previous Page" does the trick
Nope. Not enough.
At the beginning of all of your blog posts, you can briefly summarize what your previous blog post was all about in less than a paragraph. I got this idea from Bryan Harris who I mentioned earlier.

He's got some magic going on with his blog. It's the perfect blog-post-sandwich:
The summary of a previous blog post to start off
The valuable content from the actual blog post
The teaser for what the next blog post will be
This works better if you write a series of connected blog posts on a similar topic. You can plan your content calendar and blog post updates around an overarching theme to get the best results from this strategy.
I'll talk about providing valuable content soon. However, there's one important tip that needs to be discussed first.
#4: Creating The Chain…To The Rhythm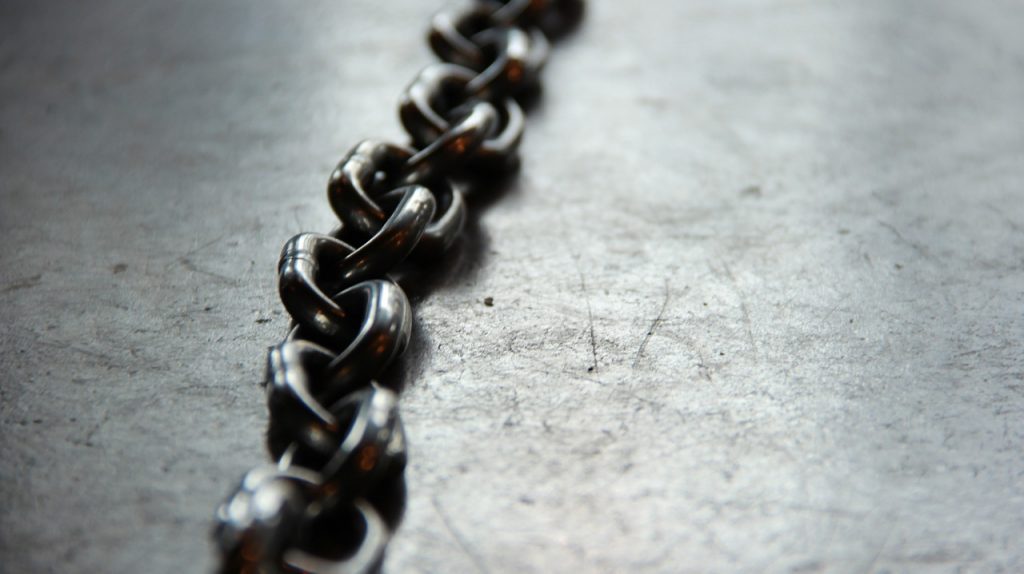 Yes, I like Katy Perry, and I also like Taylor Swift. But going on with the blog post…
If you only implement the second and third tip to one of your blog posts, your blog won't be addictive. Only that one blog post will result in more people sticking around. The rest of your blog posts won't have the same amount of power.
The more blog posts you write that follow this approach, the more people will stick around. People will go back to a previous blog post you wrote and then decide to visit the other previous blog post on your blog.
Some visitors may end up going through dozens of your blog posts in one sitting. Creating the chain makes that possible.
No matter where one of your readers starts on your blog, that reader can advance to the very beginning or very end of your blog just by reading previous or more recent blog posts.
#5: Provide A Lot Of Valuable Content
Once you have the chain in place, the next step is to grab people with your content. If you do a good job at summarizing past blog posts and introducing upcoming blog posts, then you will get people to browse through some your content.
However, the only way people will browse through your content for a long period of time is if the content is valuable.
Valuable content adds the wow factor that makes people happy they spent time on your blog. The actual Marvel movies grab our attention because we know they are going to be awesome.
Once they have our attention, they know how to keep it and make our mouths water as we await the next movie.
Providing a lot of valuable content allows you to get the attention. Everything else allows you to keep that attention and make your readers' mouths water as they await your next blog post.
It's great to provide valuable content. It's even better to provide a lot of valuable content. However, providing a lot of valuable content can potentially create a problem.
~FREE BOOK: Content Marketing Secrets (grab your free copy here)~
#6: Make Sure Your Blog Is Easy To Navigate Through
Having a lot of content on your blog can potentially make it difficult for your readers to navigate through your blog.
You can easily solve this problem by creating categories so your readers can easily access blog posts about specific topics.
Then you need to clearly display those categories so your readers know how they can access your blog posts about a specific topic. Few people do this better than Jeff Bullas.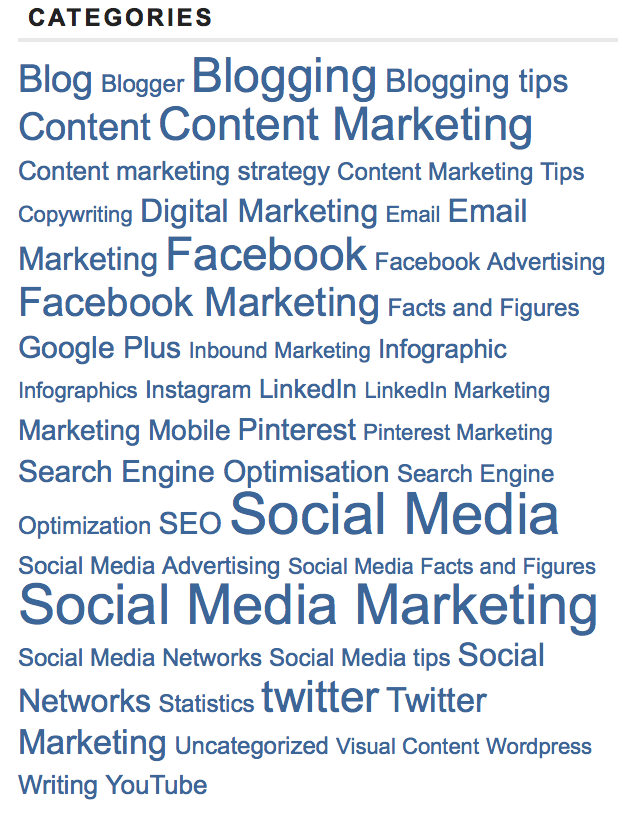 Click on any of those links and you will only see blog posts associated with the category you chose. It's a simple but ingenious way to make it easier for people to navigate through your blog.
You can also make it easier for people to navigate through your blog with a menu bar that focuses on categories. Mashable is one of the websites that places a strong focus on providing categories in its menu.

Once you have these six tips down, it's just about smooth sailing. But there's one more tip that provides the icing on the cake.
#7: Cap It Off With A Great Story
As readers spend more time on your blog, they will become curious about who you are.
If you spent an hour on someone's blog, wouldn't you want to learn a little more about that blogger?
If you are like most people, the answer is yes. And it's easy for readers to access your story (that you provided on your blog). Many blogs use "About Me" as the page name for the bio.
Readers understand this. They will click on the About Me section and read through your story.
If you have a captivating (and true) story about your journey, then people will remember you for your story and your valuable content. That's the perfect combination.
Some people at this point will argue that they don't have a captivating story. My argument back is that no matter who you are, you have a captivating story.
Some people refuse to admit their greatness. Don't be one of those people. Let people know about your story, and then they'll come back for more. You may even go viral for your story.
Also, storytelling is one of the most important skills you can ever learn as a marketer and for life in general.
In Conclusion
Making your blog crazy addictive requires a crazy (but doable) amount of work. You get what you put into it.
The most successful blogs are the ones we can't get away from. We think about them every day and eagerly await new blog posts. We look forward to receiving an email blast each time new methods get discussed.
Most importantly, we enjoy reading through the blog posts. We either get empowered or entertained. Choose which of the two paths your blog will take, pursue that path, and be sure to make your blog crazy addictive.
Which of these tips was your favorite? Do you have any other tips on making a blog crazy addictive? Which blog do you find yourself coming back to again and again (if it is not this one, I will not be offended. We can still be friends)? Sound off in the comments section below.