Getting more traffic has been engrained into every blogger's mind. We want more people to see our content. We want to double our blog traffic only to then want to double it yet again.
This idea of constantly wanting to double your blog traffic is the Ambitious Blogger's Mindset. However, if bloggers only focus on getting more traffic, then they are missing the entire point.
If your traffic keeps on doubling month after month and you eventually get hundreds of thousands of visitors per month, then your blog is in phenomenal shape.
However, if you focus more on the number of visitors than who is actually visiting your blog, then you are missing a grand opportunity.
Getting a lot of visitors but not knowing who your visitors are is just like having the key to a Lamborghini and driving it into a brick wall.
To best serve your visitors with your content and products, you must know who these visitors are. Knowing a handful isn't enough.
You need to know certain things about every ideal visitor who goes on your blog. These are the three most important things to know:
#1: Their Interests
What do your visitors want to learn more about? The answer to that question must impact the types of blog posts you write. People who go on this blog want to learn more about digital marketing.
However, I want to get as specific as possible. What digital marketing advice do they want the most? Do they want more about Twitter or more about Facebook?
There are several ways to discover what your visitors are interested in. You can give them a quick survey with 1-3 questions where you simply ask them what they want to learn more about.
If you don't want to go through the hassle of creating a survey (it's really easy on Survey Monkey), you can go ahead and create a Twitter poll.
Twitter polls are great ways to engage with your audience and get their opinions about virtually anything.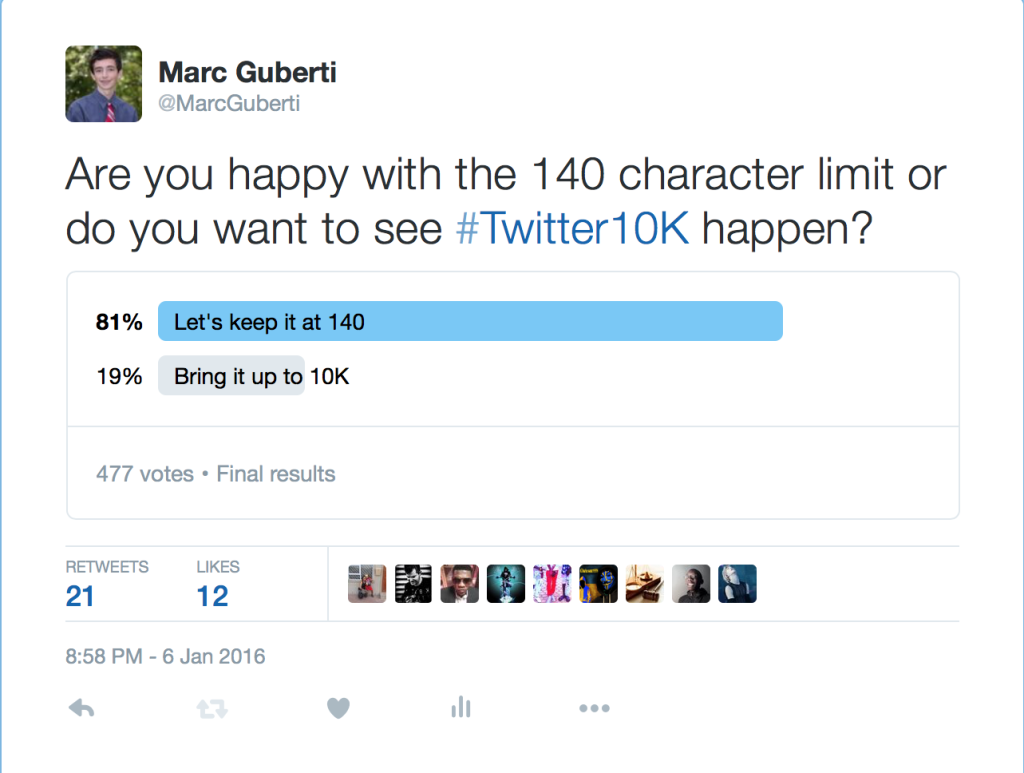 Creating the right polls will allow you to learn more about what your audience wants. You'll also get a lot of responses in a short period of time. While writing this blog post, I decided to create a Twitter poll just to test it out.
In less than five minutes, I had a few dozen votes.
But not only do you want to know what your audience is interested in. You also want to know what they want from you.
And also what they think when they hear your name.
There are few better ways to discover what your audience thinks about you than by conducting a Google search of yourself.

I see "Marc Guberti Udemy" and "Marc Guberti Twitter" as the two main Google searches. That means people primarily know me for what I do on Udemy and for what I do on Twitter.
Since Udemy showed up on top of Twitter, I decided to conduct a search in Udemy's search engine to see what showed up for my name. I was SHOCKED to say the least:

"Instagram Marc Guberti" was one of the top search terms. Not Twitter, Pinterest, or any other social network. The top search term (other than just my name, which by the way is spelled with an "i") included the word Instagram.
And the Twitter poll suggests something completely different. We live in a funny world.
I then tried typing "Instagram M" to see what would come up. Sure enough, "Instagram Marc Guberti" was one of the top three search terms.
I have written a few blog posts about Instagram. Never have I created a training course about Instagram. If I had a training course about Instagram, I would appear as the top course for one of the most searched terms with "Instagram" in it.
Here's my interpretation: People want to watch a course created by me about Instagram so badly that they will search for it using Udemy's search engine even when they don't see an Instagram course in my profile.
So creating an Instagram course is now a top priority. If I did not conduct this search, I would have never known that so many people wanted me to create a course about Instagram.
Until I create that course, courses created by other people will rank high for the search term "Instagram Marc Guberti." The irony is blaring, but the solution is obvious.
#2: Their Desires
Once you know about your visitors' interests, then it is easy to pinpoint their desires. A business owner would be interested in Instagram because that business owner wants to use Instagram for his/her business.
Finding specific interests is the hard part. Once you discover what your audience is interested in, finding their desires is much easier. You simply ask why your visitors would be interested in a specific topic.
The business owners interested in social media want to use it to generate social proof, grow their audiences, and get a strong ROI.
It doesn't take long to connect the dots once you know what your audience is interested in. Once you connect the dots, you create products and write blog posts that match your audience's desires.
#3: Where They Go
Even your most dedicated visitors will not be on your blog 24/7. They have other commitments in their lives.
I wish I could read Seth's Blog forever, but when I have to write my own blog posts (or my dog barks a few times at the door indicating she has to do her thing), I have to stop reading his blog posts.
We can't account for the times when our visitors leave our blogs to do things like write their own blog posts or walk their dogs. However, we can see which blogs they visit.
While I spend a good amount of time reading Seth's Blog, I also spend time going through Jeff Bullas' Blog, the Kim Garst Boom Social Blog, and a few others.
That's the type of data you need to know about your visitors. Which blogs do they visit before and after yours? Alexa lets you see this type of information, but for a monthly fee (but you'll get a lot of other valuable info too).
The free way to see where people go before and after visiting your blog is by seeing what your followers share with their audiences.
They may be sharing your blog posts, but what other blogs are they promoting? You can either figure this out on your own by going through all of the people's accounts that mentioned you, or you can outsource the work to someone else.
When a task involves a good portion of my time, I go with outsourcing. Every. single. time.
In Conclusion
Getting blog traffic is good, but who is actually visiting your blog? Once you know more about your visitors, you will know how to better serve them and get them to come back for more of your content.
Getting traffic is at the forefront of many bloggers' minds. This goal, combined with knowing who your visitors are, will result in returning visitors who come back for your blog posts again and again.
What piece of information do you believe is the most important thing to know about your visitors? Do you believe we must know other information about the people within our audience? Sound off in the comments section below!