Pinterest has emerged as one of the premier social networks on the web. With over 100 million monthly active users who typically spend 1.5 hours on the social network every day, Pinterest is a critical social network for all bloggers to focus on.
Pinterest has a completely different set up from all of the other social networks. While Twitter and Facebook continuously copy each other, Pinterest has an approach that no social network can rival.
The way pins can be organized into boards makes it easier for your followers to find exactly what they are looking for. Think of blog categories on steroids.
The visual cues Pinterest generates can lead to a big increase in blog traffic. Not only does the design of Pinterest encourage traffic, but it is also easier to go viral on Pinterest.
While on other social networks you typically need thousands upon thousands (if not millions) of followers to go viral, it is possible to go viral on Pinterest with only a few hundred followers.
All you need is a powerful picture that catches people's attention.
But let's now shift gears and focus on using Pinterest as generating a consistent stream of blog traffic. Imagine getting dozens of daily visitors from Pinterest. Then imagine that traffic growing to hundreds of daily visitors from Pinterest alone.
It's possible, and it can happen for you. In order to get more blog traffic from Pinterest, follow these four tips.
#1: Pin Consistently And Frequently Throughout The Day
For a long time, I took every article I read seriously. Then, after reading enough articles, I ran across some articles that were contradictory to one another.
One article said tweet four times per day while the other article said tweet 10 times per day. It is impossible to agree with both articles. At that point, it's one or the other.
Confused about what to do next, I experimented and decided to tweet once every 15 minutes. Each time I increased my tweeting frequency, I got more blog traffic.
So I decided to apply the same methods to Pinterest and see what would happen.
When I started to pin more often throughout the day, I saw a significant increase in my blog's traffic. Within days of trying this out, I was averaging 50+ visitors per day just from Pinterest.
I started this strategy when I had less than 10,000 Pinterest followers. But in my experience, you don't need a massive amount of followers to gain a lot of traction.
One of the pins I sent went viral and got hundreds of likes and repins. The funny thing. I only had 500 followers when I published that pin, and it went viral a few days after I pinned it.
#2: Use ViralWoot To Get More Followers
The size of your audience does impact how many people see your pins. Therefore, your audience size also impacts the blog traffic you get from Pinterest.
However, deciding to buy 100,000 fake Pinterest followers doesn't mean your blog will get thousands of visitors from Pinterest overnight.
You need real people who will look at your pins and engage with them. You need those people who will click on the picture and read your blog posts.
Following people who are likely to follow back is the best way to get targeted followers. However, if you follow too many people and not enough of them follow you back, then you right your ratio going out of control.
At one point, I had 13,000 targeted followers and was following 50,000 people. While it beats having no followers, it took me several months to bring the ratio back to a 1:1 ratio.
The best way to get REAL followers in bulk is with ViralWoot. The way ViralWoot works is that you follow people and get awarded with some points (these points are referred to as seeds on ViralWoot). The more points you have, the more people can follow your account.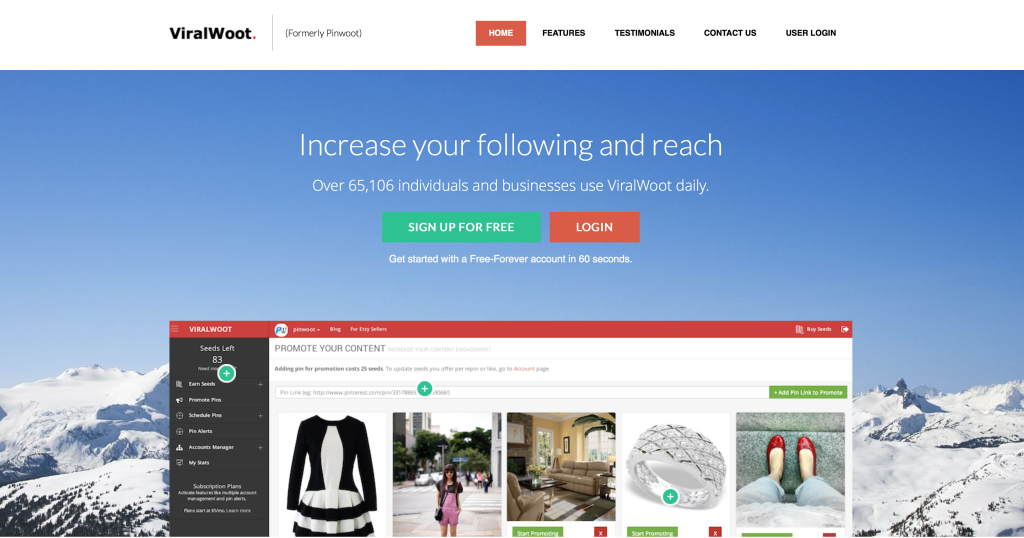 The more points you have, the more followers you can get. The cool thing is that some of the people who you do follow to get the points may decide to follow you back.
If you don't have the time to follow people on ViralWoot, or you want to maintain a certain ratio, then you can buy points from ViralWoot. This is different from buying fake followers since ViralWoot is a website that real people use to follow other users.
#3: Include A CTA In The Description
Not all of your followers will know that by clicking on the picture, they will get led to the blog post. Some people go on Pinterest to look at the nice pictures and share the pictures that they like.
Not all Pinterest users are thinking, "Let me see what this blogger wrote."
However, many people are used to clicking links on social media that lead to blog posts. Most of us are so comfortable with clicking links that we don't even think about what we are doing before the link gets clicked.
The way you entice people to click on your pictures is with a call-to-action. In the description of my pins, I will either write the title of the blog post or a brief intro that leaves the follower waiting for more. After I write that part of the description, I will tell the person to click on the picture to read the rest of the blog post.
Here's one of my pins where I did that: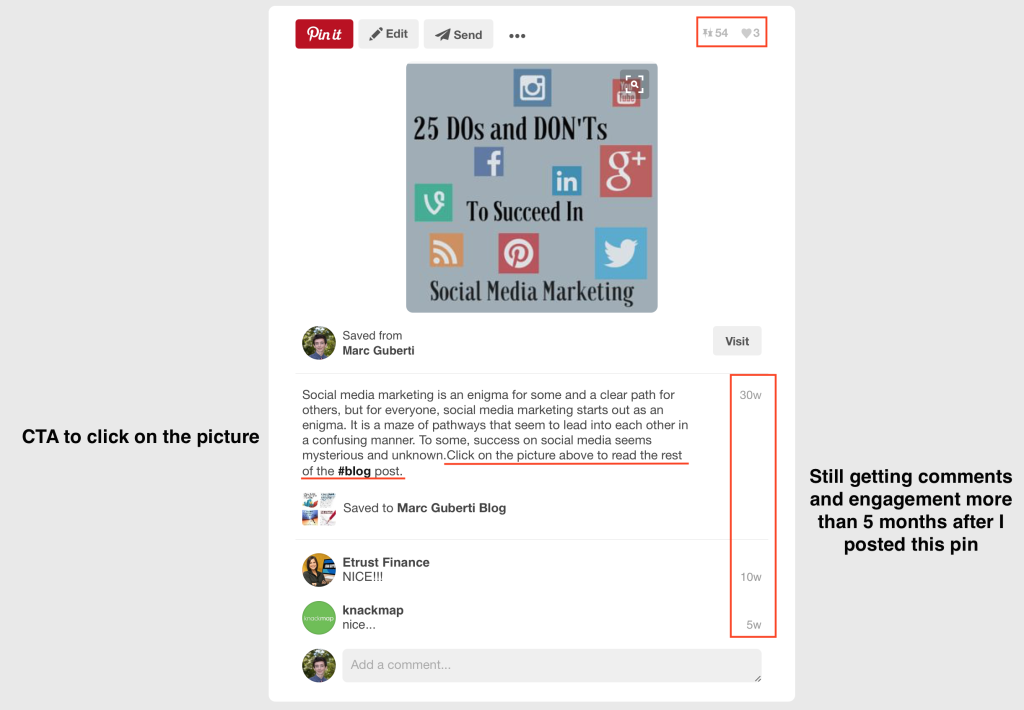 As you can see, the pin picked up more engagement than my average pin. Part of the reason that pin generated more engagement was because of the CTA within the description.
The CTA's main function is to simply tell your followers what to do next. How can you expect one of your followers to click on the picture if that follower is not told what to do next?
Remember that this is Pinterest we are talking about. The typical user experience is to browse through pictures and stay on the platform for as long as possible. A CTA encouraging your followers to visit your blog will get your followers off Pinterest (temporarily) and onto your blog.
#4: Pin Your Content On Group Boards
I know what some people are thinking right now.
"But Marc, I don't have a large Pinterest audience. How am I ever going to get blog traffic from this thing?"
Everyone starts out with no audience—even the famous people. So for any social network, including Pinterest, you just have to put in the work and grow your audience.
But Pinterest is, in part, special exception. It is the ONLY social network where you can get tens of thousands of followers OVERNIGHT.
I'm sure that got your attention.
All you have to do is get invited to become a contributor on a group board with tens of thousands of followers. You don't get all of those followers for your account, but as a contributor, you can pin anything relevant onto those boards that you want.
You can even pin your blog posts onto those group board.
The next time you are looking through popular boards in your niche, look for the boards with a lot of contributors. If you see this icon next to a board, then that board is a group board.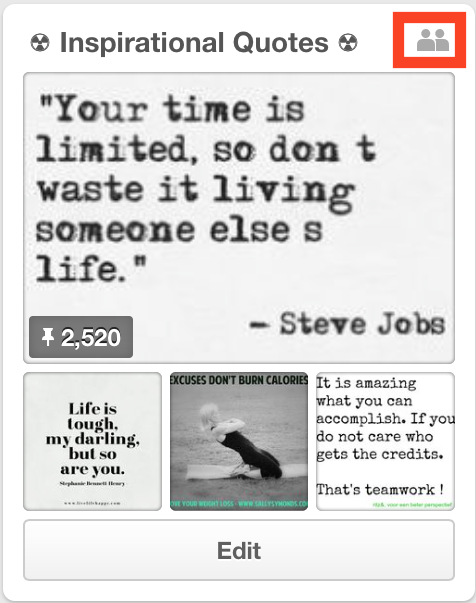 At that point, you must get the person to accept you as a contributor. Some of these group boards will have descriptions that give you an email address or form you can use to submit your request.
If not, the next approach you should take is messaging the owner of the group board and ask if you can become a contributor.
The very final approach would be to comment on one of the pins asking if you could be a contributor. The worst thing that can happen is that the owner of the group board says no and then deletes the comment.
While you shouldn't rely on contributing to other people's group boards for having a large audience, incorporating group boards within your strategy will expose your pins to a larger audience.
In Conclusion
Pinterest is a mammoth of a social network. It's growth has outpaced the other social networks by a landslide, and Pinterest is continuing to gain momentum.
While Pinterest may not be as big as Twitter and Facebook, my belief is that Pinterest will eventually reach the same user numbers as Twitter and Facebook. All of the top social networks will eventually hit the one billionth user milestone.
Facebook was the first to reach that milestone, and it won't be the last. My belief is that Pinterest will eventually surpass that milestone as well.
Pinterest is rapidly growing. If you aren't using it seriously now, then it's time for you to start.
What are your thoughts about using Pinterest for getting blog traffic? Which of these tips was your favorite? Do you have any other tips for boosting blog traffic with Pinterest? Sound off in the comments section below.