Did you hear? Twitter came out with another epic update. Maybe you saw it in action in 2015. This year is the time for you to use those Twitter Polls for your business.
Out of all of the methods of boosting my Twitter engagement, never before have I seen something as powerful as creating a Twitter Poll.
In less than three minutes of publishing my first Twitter Poll, over 20 people engaged with it. None of my tweets have ever received that much engagement in a short amount of time.
What was that first poll? I'll reveal it to you in the first of five ways that you can use the new Twitter Polls.
#1: Discover What Product Your Audience Wants
Since I am a digital marketing expert, most of the products I create are digital marketing related. I decided that I would create a course about a social network, but which one to choose…
I narrowed the list of potential courses to four. I would either create a second Twitter course or create a course about Facebook, Instagram, or YouTube. What course would I create next?
Twitter Poll to the rescue!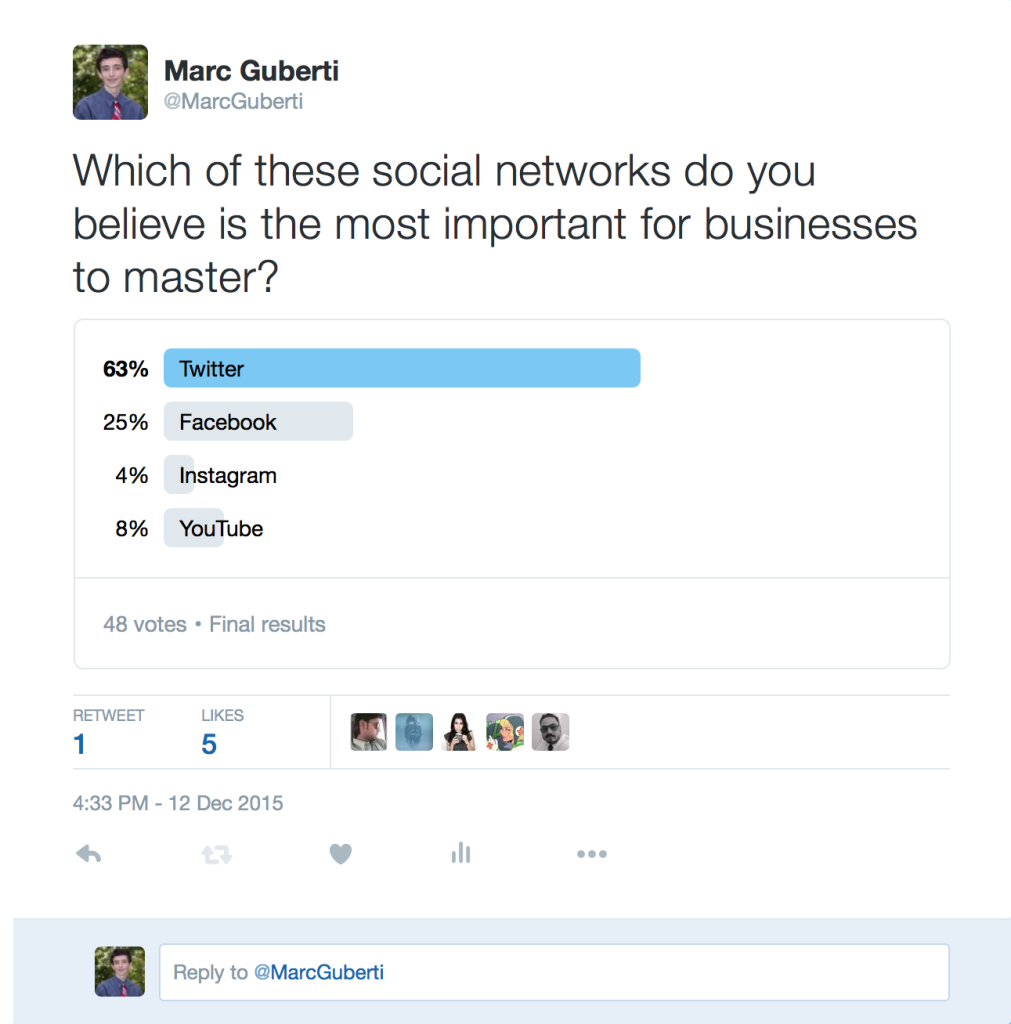 The data from this poll revealed that most of my Twitter audience believed that Twitter is the most important social network for business owners to master.
Now I know what the majority of my audience within that sampling wants. They want a Twitter course.
All I have to do now is create a course that focuses on a more specific area of Twitter (I already have the Twitter Domination course on Udemy).
#2: Have Fun With Your Audience
People like to use polls to focus on their professional side. Some of your polls should be polls that have nothing to do with your business.
These types of polls further connect you with your audience. Asking questions like if your anyone in your audience owns a dog, cat, or both allows you to spark conversations and get more engagement.
You may wonder what the point of creating these types of polls is (other than connecting you with your audience). The additional reason these polls are beneficial is because the people within your audience will remember who you are.
You are not going to forget the social media expert who asked you if you would rather have a hot dog with mustard over a hot dog without mustard.
If you post too many of these types of polls every day, they will get annoying and your audience will get confused about what your message is.
However, if you post these types of Twitter Polls only once in a while, then you are more likely to get strong engagement while ensuring that your audience knows exactly what you do on the professional side.
#3: Blog Post Ideas
Every blogger at some point struggles to think of blog post ideas. To get more ideas, you can now use Twitter Polls and ask your audience what they want.
You can ask them what topics they want to see more often in your blog. But here's where strategy comes in.
Twitter Polls are currently limited to four choices. The first three choices are actual topics related to your niche. Here's what the 4th choice must be word for word:
Other (please specify)
Asking your Twitter followers to provide you with a specific answer will encourage those people to engage in a conversation with you. You can make the conversation go further by thanking your individual followers for giving you suggestions.
The best part is that you will get many of these suggestions the moment you tweet the poll. In just a few minutes, you could suddenly have several new blog post ideas that you can build content around.
#4: React To Live Events In Real-Time
Oreo shook the social media world with its famous tweet about dunking in the dark. The context behind the tweet was the first blackout in Super Bowl history.
For the first time, we understood the power of real-time social media.
But now we are armed with more capabilities than before. We can now use Twitter Polls to get people's opinions about something that recently happened.
Whose performance did you like better at the Oscars? Did the umpire make the right call? What do you think happens in the next episode?
All of these questions can be turned into Twitter Polls that get massive engagement.
When Twitter talked about extending the character count to 10,000 characters, the reactions were mixed. It trended as the hashtag #Twitter10K. Since it was a trending topic related to my niche, I decided to create a poll.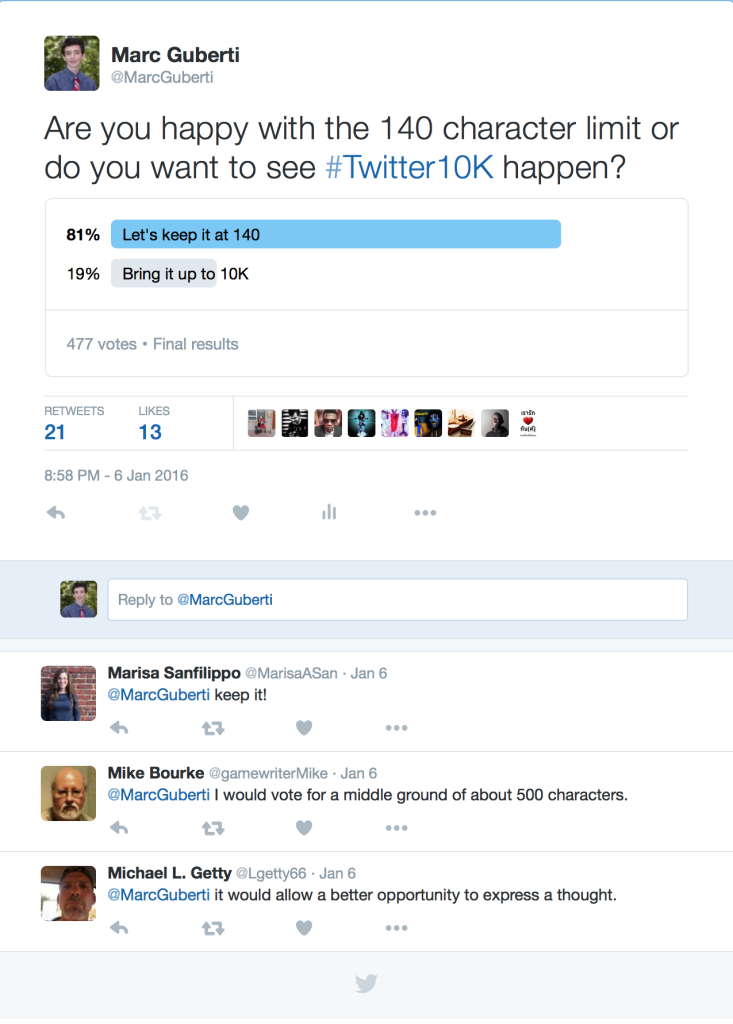 Let's just say I was very happy with the engagement the poll received. Especially since the decision to put up the poll was spontaneous on my part.
#5: See Which Of Your Social Media Content Your Audience Likes The Most
Chances are your social media posts cover a wide range of topics. You can create a Twitter Poll asking your audience which social media posts they like the most.
Instead of wondering if your audience likes your blog posts about Twitter more than your blog posts about Facebook, you can ask them with the Twitter Poll.
In Conclusion
When used right, Twitter Polls allow you to learn more about your audience. You can discover what they want more of. Once you discover that and then give your audience more of what they want, they will appreciate you more.
They will return to your blog more often and buy your products. All because you know what they want and are willing to give them what they want.
What are your thoughts about Twitter Polls? Do you envision yourself using them this year? Are there any other ways to use Twitter Polls that you know of? Sound off in the comments section below.