Every blogger wants more subscribers. They put in the effort to create landing pages, promote those landing pages, create pop-ups, and do anything else possible to grow the email list.
Growing the email list makes sense. That's where the money is. In addition, an email list allows you to know who your visitors are. Knowing who your visitors are allows you to write blog posts and products tailored to them.
Some bloggers gain a few new subscribers each day. Only a handful of bloggers gain dozens of subscribers every day. An even smaller number of bloggers gain hundreds of daily subscribers.
What if I told you there was a way for you to gain over 1,000 new subscribers in one day. Imagine taking your email list from zero to 1,000 in less than 24 hours.
This isn't wishful thinking. This goal can be easily achieved.
The way you gain 1,000 subscribers in one day (regardless of your audience size) is with Udemy. Udemy is a platform that allows you to create your own training courses.
You can get students to join these training courses and learn from you. The cool thing about the students is that you can send them all email blasts just like any other service.
Udemy also provides options that allow you to segment which students receive your email blasts.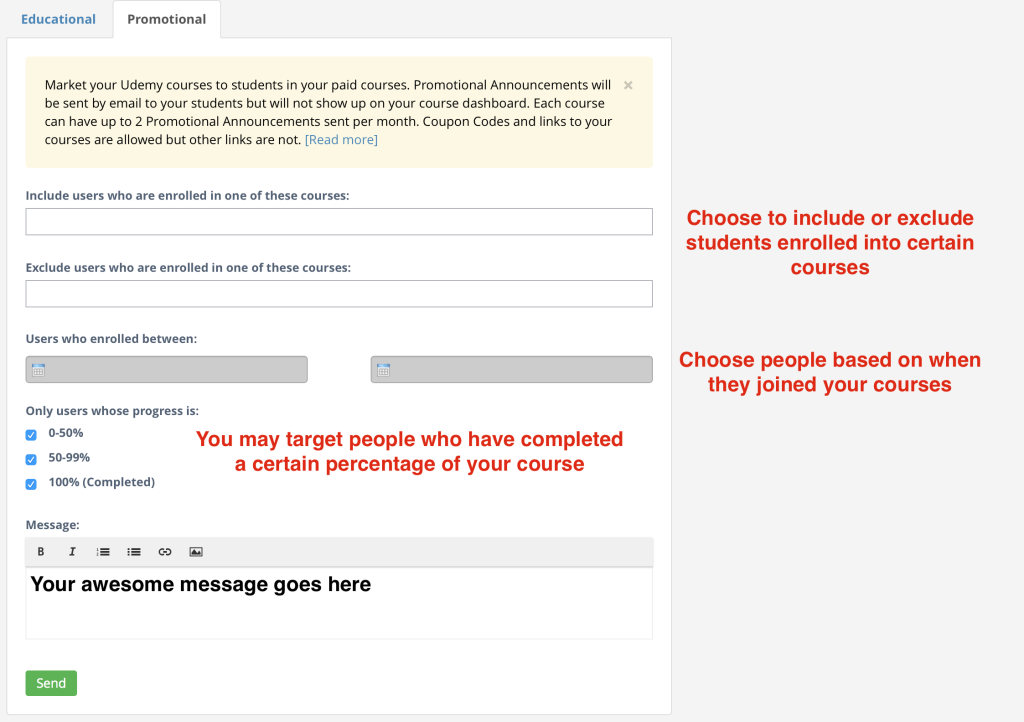 For the newcomer to Udemy, students are just like subscribers. The only difference is that these students are also enrolled into one of your training courses.
But how do you get 2,000 of these students in just one day? The answer is by creating a free coupon for your course and promoting it to the mountain tops.
I recently created a new training course with Joe Parys about developing a winner's mindset. It only took us a few hours to create the course.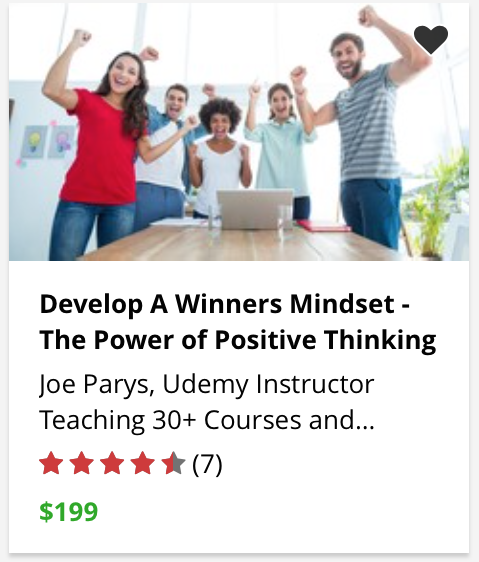 Then we went to work promoting the free coupon that we used for the course. Creating free coupons for Udemy courses is important for social proof and growing the email list that you have on Udemy.
We had to promote the free coupon to the mountain tops. It's funny that when it comes to free coupons for Udemy courses, marketing them is the easy part.
For most products, marketing the products is more time consuming than actually creating the product. It takes less than 10 minutes to promote a free coupon. After those 10 minutes, the students come flooding in.
Our course currently has over 2,000 students. Most of those students came within the first day the course was created.
Here is how we promoted the course (this is the same method you can use to promote virtually ANY Udemy course).
#1: Promote The Course To Facebook Group Pages
Udemy is well-known for its discounts and free coupons. This reputation is so strong that many Facebook Group Pages have emerged in which instructors post free coupons to their courses.
Some of these Facebook Group Pages have over 10,000 members. All you have to do is post the link to your free coupon, and then hundreds of people will enroll into the course.
You may be offering a lot of content for free, but you are getting more students on your list. Think of offering a free coupon to one of your courses as promoting a landing page with a massive offer.
Here is one of the Facebook Group Pages that I am a part of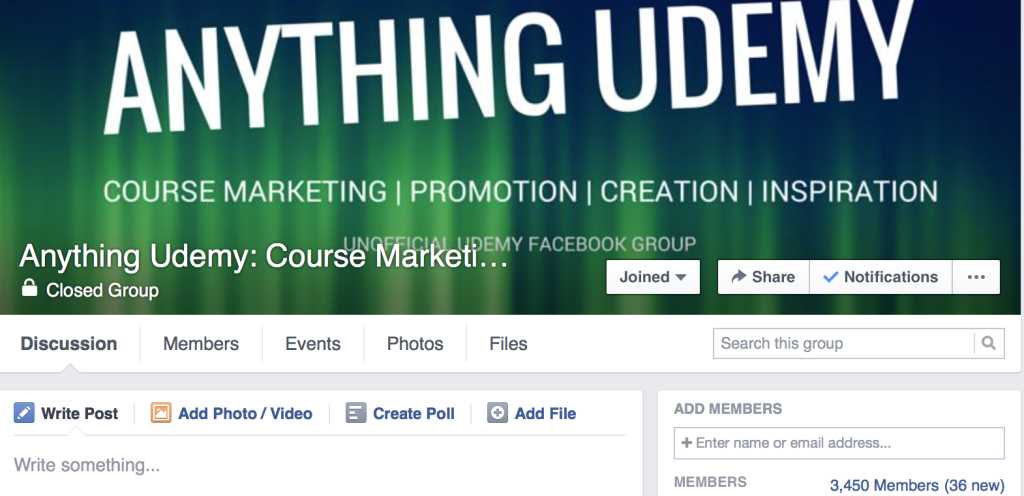 The best part is that the audience is right there waiting for you. It doesn't matter how many likes and followers you have. Post a free coupon into several Facebook Group Pages like this one, and then the magic happens.
#2: Promote The Course In Forums and Bargaining Sites
Promoting the course in Facebook Group Pages is a great way to easily get hundreds of new students. Some people who use this method even manage to get a little over 1,000 students.
But in this blog post, I promised methods that would let you get 2,000 students from one of these coupons.
The truth about Facebook Group Pages is that they are just one part of the equation. For all of the work we put into Facebook, we got a few hundred visitors from Facebook.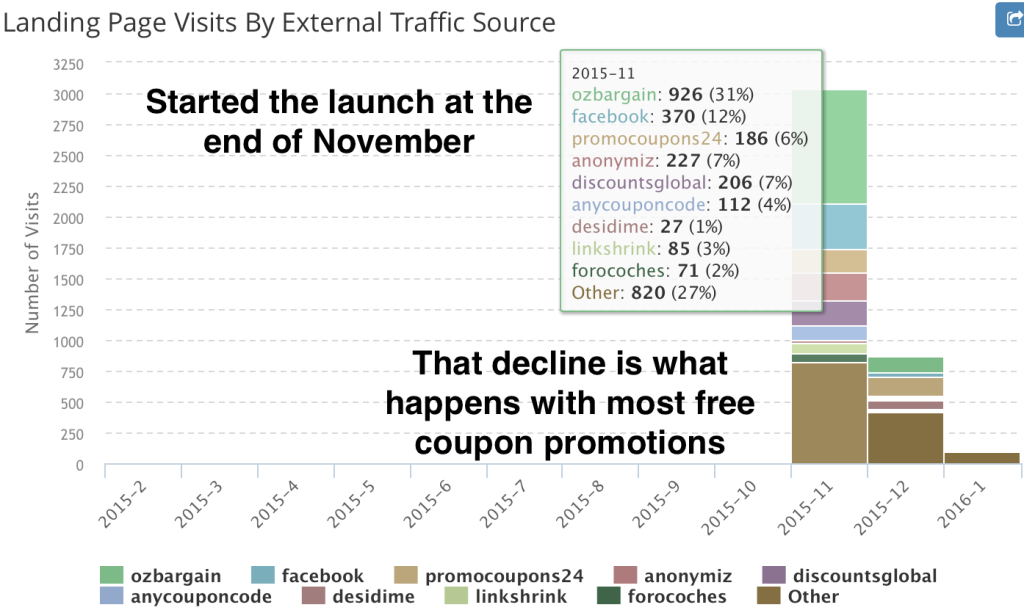 Facebook gets the wheel rolling. Some people who see your free coupon may decide to promote it in other places such as popular forums and bargaining sites.
But promoting the course on your own guarantees that your courses get promoted in forums. Moreover, there are forums specifically for Udemy coupons.
The one forum that you must get your course on is the OzBargain forum. Out of all of our sources of traffic, OzBargain brought forth the most visitors. In that same graph picture above, OzBargain is the green bar on the stacked bar graph.
And it makes sense that OzBargain would be the best source of traffic. Take a look at that beautiful Alexa rank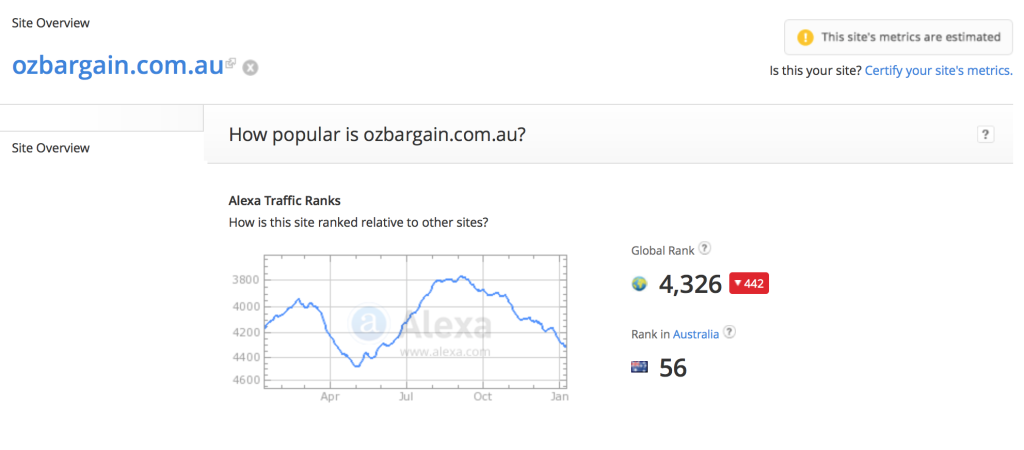 Udemy instructors can't promote their courses directly on OzBargain due to OzBargain's terms, but if you create a really good course, someone may promote it on OzBargain for you.
So now you know how to promote your course so it gets over 2,000 students in one day. You will then be able to communicate with those students in almost any way you please.
Udemy has some restrictions, but these restrictions are not severe.
The most notable one is that you can't promote any paid products other than your Udemy courses. In addition, you can't promote landing pages. Udemy doesn't want their students to have to enter an email address somewhere else to access something.
Other than that, Udemy promotion rocks. You can promote your blog posts even if your blog includes a pop-up or has an opt-in box in the sidebar. You would suddenly have 2,000 extra people to send the email to.
Imagine how much extra blog traffic you would get. 50 extra visitors? 100 extra visitors? 500 extra visitors? That all depends on the click-through rate.
In Conclusion
Growing an email list is made easy with Udemy. While there are some restrictions in place, Udemy lets you do most of the things you can do with something like iContact or Aweber.
I personally use iContact and Udemy jointly since I believe they are both good to have. However, if you are on a small budget, then it is better to exclusively focus on Udemy.
That's because one of the coolest parts about Udemy is that it's all free. It doesn't cost a penny to put up a training course. You and Udemy share the profit.
Email subscriber fees? No problem with Udemy. They have you covered too. Imagine how much you would have to spend if you had 10,000 subscribers. Here are iContact's rates: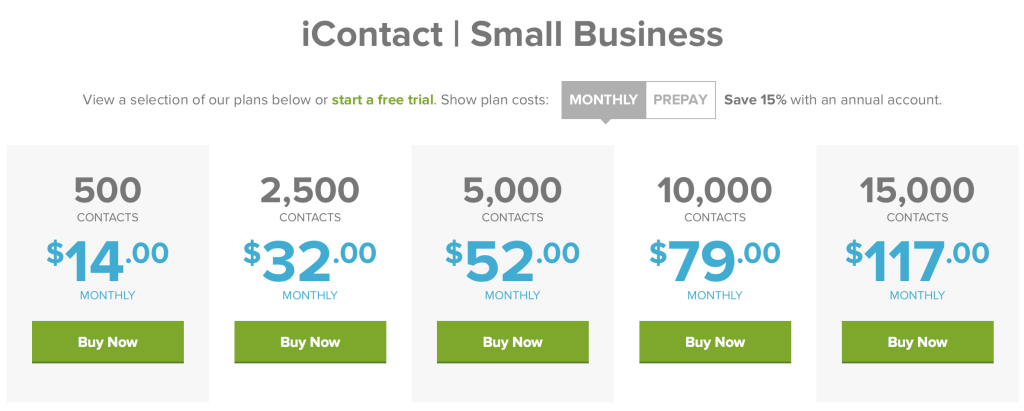 I highly recommend something like iContact in joint with Udemy if you can fit it within your budget. However, if you replace the word subscriber with students and use Udemy instead, it costs you $0.00/month to have 10,000 people on your list. You don't get autoresponders or that advanced type of stuff, but Udemy is a reliable place to grow your email list.
What are your thoughts about using Udemy to grow your email list? Do you have any other tips for getting more free coupon sales? Sound off in the comments section below!