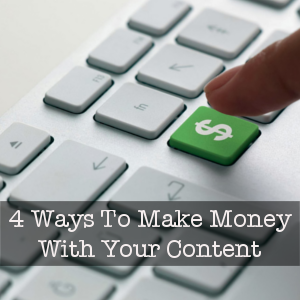 Writing is a lot of fun. You get to convey your thoughts on paper or in an online document. Then you share those thoughts with the world.
There are plenty of things to write about, but for some writers, writing becomes a passion. They want to write for the rest of their lives.
It is possible to write for the rest of your life, but why not also make money from it. Ditch that 9-to-5 job and do what you love instead.
Making money with your content is a process. Not only do you have to write the content, but you have to publish that content on the right places and promote that content.
In all challenging journeys, it is always beneficial to give yourself a basic roadmap. The basic roadmap just gives you an idea of where you have to go. Then it gets modified later based on your progress.
When creating your roadmap, consider these four methods of making money from your writing.
#1: Write Books
It's far easier than ever to publish your own book. Before the internet, you had to pursue a publisher and make a deal. Now all you have to do is self-publish your own books (I self-publish my books with KDP and CreateSpace).
The only thing about writing books is that in the beginning, you won't get many sales. That's true about any product, but I had to let you know.
Unless you already have a large email list, chances are you won't get many sales in the beginning. But in some ways, that's good.
Not receiving many sales will motivate you to make more sales. You may decide to write multiple books (great idea) and see that one book start to take off.
The other books will eventually get consistent sales.
If you want to pursue the life of a self-published author, you'll need to publish as many books as you can for lower prices (think $2.99 for the Kindle book). That's the advantage self-published authors have over the authors who got a deal from a publisher.
#2: Write Blog Posts And Monetize Your Blog
If you are looking for the best way to improve your writing, then look no further than blogging. If you write blog posts every day, you will become very comfortable with writing content.
I wrote about 1,000 blog posts across all of my blogs before I wrote my first book. The more content you write, the more comfortable you become with writing.
So that's all great. Blogging improves your writing. Now, show me the money!
The fact of the matter is that the content alone won't make you money. You need to have your blog optimized for monetization. There are a wide variety of ways to make money with a blog:
Create products and promote those products. This is my go-to for making money with a blog. I promote my products each time people subscribe through my landing pages and promote direct product links at other locations on my blog. If you don't have a product, you can offer consultation sessions as you create that product.
Affiliate links. Only promote affiliate products on your blog that are relevant to your audience's interests. I wouldn't promote an Amazon affiliate link to a LEGO product here because that wouldn't go well with my audience.
Advertisements. These are overrated and I don't like them. You should be getting over 10,000 visitors per month before you even consider ads. However, you can make more money by giving your products the same space that the ads would have received.
Those are the three main ways to make money with a blog. But there is one thing a blog gives you that can't be overlooked.
Credibility.
Having your own blog filled with rich content will establish you as an expert within your niche. And if you've been writing enough blog posts, it will become effortless for you to write that rich content.
#3: Become A Ghostwriter
If you want to make money with your content without having any type of platform, then ghostwriting is a great option.
All you do is set up an account on UpWork and let people know you are a ghostwriter. Then, apply to people's jobs where they ask for a ghostwriter.
The only challenge with UpWork in the beginning (and ghostwriting in general) is building credibility.
There are ghostwriters who (even if you are better than them) have more credibility than you. They've been hired more often and have more five star reviews.
In the beginning, you may have to charge a lower price for your services than you want just to attract clients. You can then scale up as you get more jobs and reviews.
However, that beginning will be tough. My best advice is to apply to as many ghostwriting jobs as possible (as long as you can do them) so you get enough credibility to raise your price per hour.
#4: Contribute Your Content To Other Websites
We have all heard of guest blogging. You can put your content in front of a larger audience. However, some websites that ask you for your content will pay you to write for them.
Some of these websites will pay you as much as $100 per article.
While this isn't a way for you to make a living, you can definitely make thousands of dollars from your writing. Just make sure you can write content that these websites want.
I haven't explored this opportunity much because most of these types of blogs are outside of my niche. For the curious writer, here is a list of these types of blogs and how much you make for each piece of your content.
I prefer to get paid by putting some of my content on places like HubPages and Zujava. I don't write for them as often as I once did, but I'll occasionally publish a new article on one of the two.
In Conclusion
All writers deserve the opportunity to make money from their content. After putting in all of that work, we should see some type of reward that creates positive reinforcement.
The best way to make money with your writing is to build a platform (your social media audience, your blog audience, and your email list).
The platform gives you an audience that you can always communicate with and occasionally promote products to.
Regardless of which opportunity you choose to make money with writing, there will always be more involved than simply writing the content.
Which of these methods of making money as a writer do you like the most? Are you writing to make money or just for fun? Sound off in the comments section below.