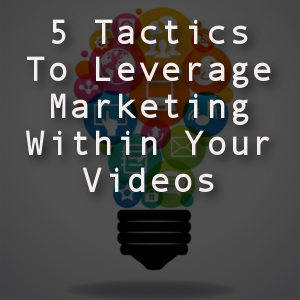 Video was and still is huge. After years of consistently getting praised as one of the best ways to share your message, countless people have created their own YouTube channels and training courses.
Maybe you've heard a lot about the power of videos. Maybe you create video after video or are itching to get started.
The best videos are the captivating ones with subtle marketing added in. You have to market yourself and some of the products that you offer within your videos. However, you don't want to be annoying.
The challenge is how. Here are five ways to subtly leverage marketing within your videos.
#1: Promote Your Platforms Within Your Videos
Your platforms are where you have an audience—social networks, your blog, and others.
You can subtly promote these platforms at the beginning of these videos with a footer. In the footer (the bottom of the video), you can include text (displaying your username) and pictures of social media icons.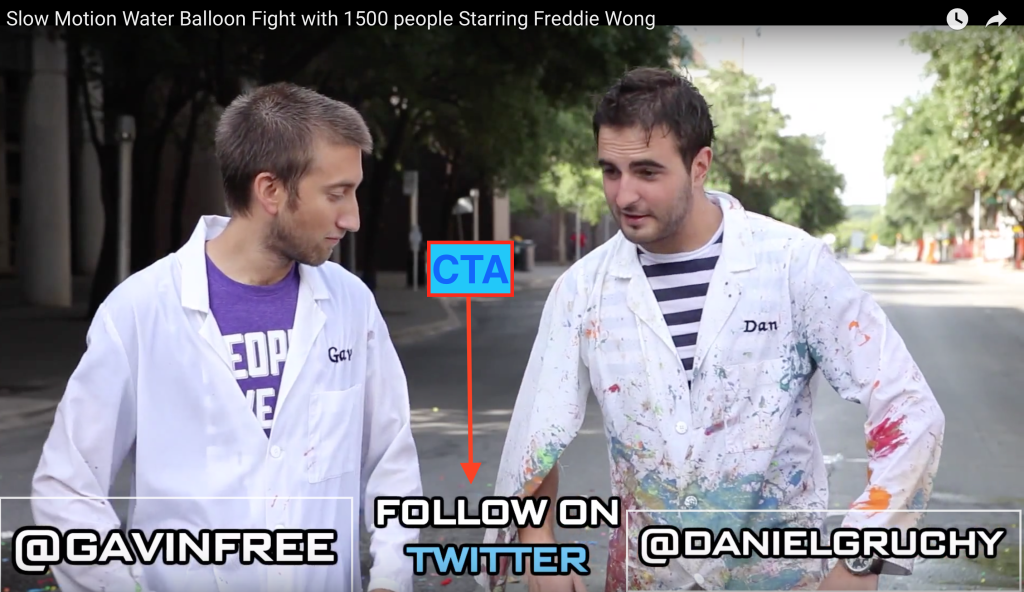 At the end of your videos, you can go into deeper detail about where else your viewers can find you on the web.
And don't forget to talk about your landing page at the end of your videos. The money is in your email list.
#2: Promote Your Products Within Your Videos
Some of your videos may present you with the opportunity to promote your products. You may be talking about a topic related to your product.
At that point, you have the opportunity to mention your product, and better yet, give your viewers a discount. The discount will boost your sales and result in more exposure for your product.
You can also create a video entirely dedicated to your product. You can promote your product for the entire video or create a massive tutorial with "ads" of your own product at certain points in the video.
Since they are your "ads," you must make sure you properly transition to product promotion.
I created a lengthy tutorial about writing more content. It is a 45+ minute video with a lot of free and useful content. At certain points of the video though, I promote the writing course that I created with Jerry Banfield.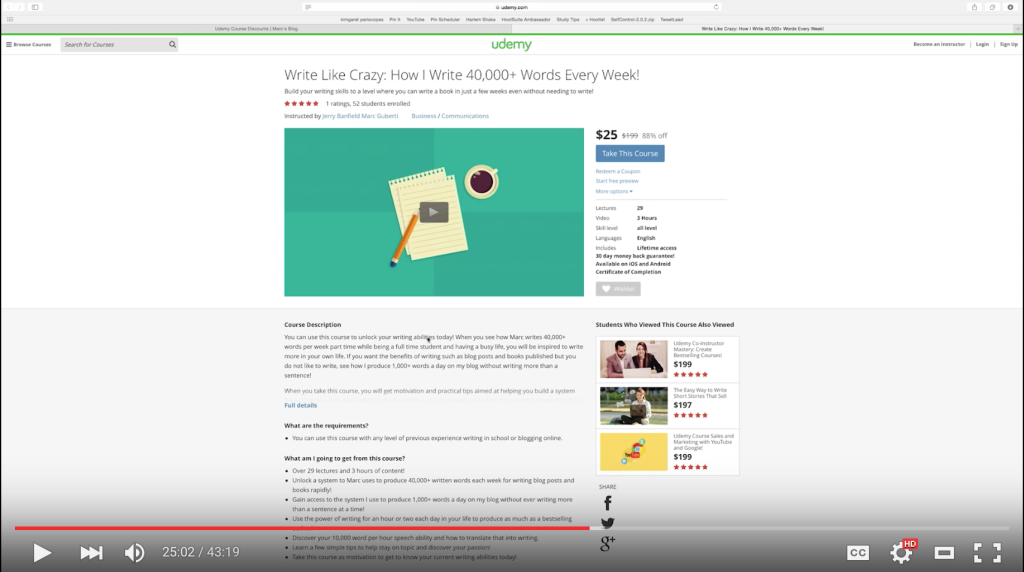 I promote the writing course several times throughout the video. Jerry Banfield, the person who I created the course with, has created free tutorials that exceed two hours for some of his other courses.
When you promote a product within the video, don't forget that discount. If you do not want to include a discount, then offer a free bonus.
You can introduce the free bonus by saying something like this: "Product A is worth $50, but if you buy it with this link, then I'll give you Bonus B for free."
#3: Promote Your Other Videos Within Videos
The most brilliant concept that explains going viral on social media is Brendon Burchard's Circular Viralocity. I did not take his course about it, but I did write a summary of what I think happens in a portion of the course.
The concept behind Circular Viralocity is that you use your social networks to promote each other so the people in your audience go from one of your social media accounts to the other social media accounts that you have.
It's like tweeting a link to your YouTube video and then having a link to your Facebook Page within the description of your YouTube video.
Keep that chain going for as long as possible, get enough people within that chain, and you've got Circular Viralocity. That's how it works in a nutshell.
Now let's apply this to videos (because the most successful YouTubers do this ALL OF THE TIME).
You have finished watching a video. The YouTuber takes the time to say where else you can find him/her on the web.
The next part is the most important part. For the last 5-10 seconds of the video, a few related videos created by the same YouTuber will show up. These videos show up before YouTube gets a chance to show you its selection of related videos.

One of the videos interests you and you click on the video. You watch that video to the end and see a new selection of related videos before YouTube's selections show up.
You click on one of those videos and the cycle continues.
When you use this strategy, you can get the same viewers to watch several of your videos in one go.
Most YouTubers who use this strategy only provide 3-6 related YouTube videos for their viewers to choose from. Why not offer more? The answer lies in the famous jam study conducted by Professor Sheena Iyengar.
Maybe you've heard a version of the story. She goes to the grocery store and offers samples of jam and analyzes the conversion rates.
To some shoppers, she offered 24 different flavors of jam. Many people tasted the samples and Iyengar got a 3% conversion rate (number of people who bought at lease one box of jam).
To the other shoppers, she only offered six different flavors of jam. Shoppers tried fewer samples, but more of them made purchases. For this part of the experiment, Iyengar saw a 30% conversion rate for the sales of her boxes of jam.
The less we offer, the better the conversion rate will be. My recommendation is to just include 3-4 related YouTube videos at the end of all of your YouTube videos.
If you offer your viewers too many options, you will overwhelm them.
#4: Create Anticipation For Your Upcoming Videos Or Products
One way to become successful is by analyzing the most successful people in the world. I'm talking about the people and brands who dominate our every day conversations.
Remember, to be the best, you have to learn from the best.
I am a big fan of the 1989 album and often watch the Shake It Off YouTube video. After some looking around, I came across one of the outtake videos for the Shake It Off video.
At the end of each of those videos, there is a teaser that builds anticipation for the next video.
Luckily for me, the videos were all up by the time I watched the outtakes, so my anticipation was quickly satisfied. I still have to wait over a year for Star Wars Episode VIII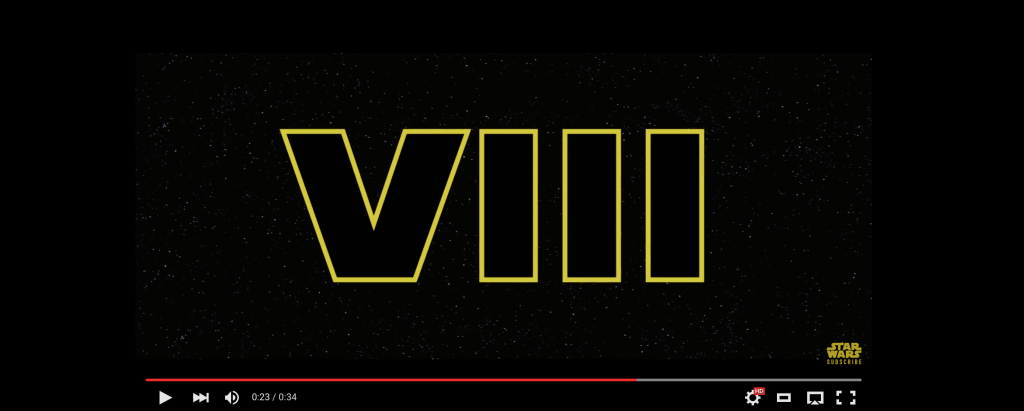 Sure enough, I watched them all. The first outtake I saw was captivating, and each one built upon the next.
At the end of your videos, you can create anticipation for your next video. Let your viewers know what the next video will be about, and better yet, when you plan on publishing that video.
As each teaser builds more anticipation, you will start to build a following based on that anticipation for new and better videos.
#5: Turn A String Of Videos Into A Product
All of the tips up to this point had a strong focus on marketing within your videos. However, what exactly are you marketing?
Yes, the platform you have built for yourself and your other videos.
But you are also marketing your products.
To market more products, you have to create more products. And one way you can create more products is by turning a string of videos into a product.
I do that all of the time on Udemy. I currently have over 20 training courses that are all a series of videos and PDFs wrapped together into a single product.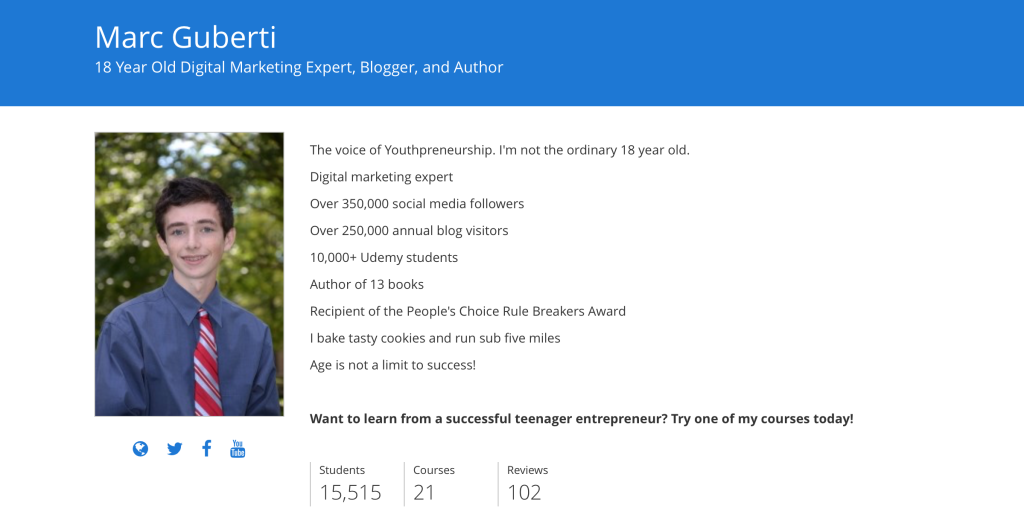 Why not make money with the videos that you create?
In Conclusion
Video will continue to be one of the best ways to spread your message and make revenue with your expertise. Video has lived up to the hype that it has received for several years.
The way we utilize video will continue to evolve. Our methods of communication will become more sophisticated.
Periscope gives us the option to do live videos. Blab gives us the opportunity to talk with people in a live interview (basically, Periscope with multiple people in the same live video).
What won't change is the impact video has had on the marketplace. If you don't create videos, then now is the time for you to start.
What are your thoughts about creating videos? How do you leverage marketing within your videos? Which of these tips was your favorite? Sound off in the comments section below.