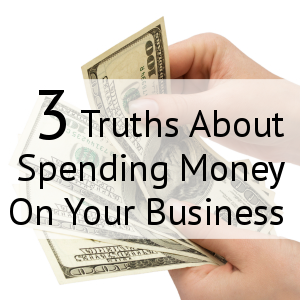 Money. There will be no other thing in the world that we are so familiar with but don't know much about. Money provides us with more purchasing power as consumers and business owners.
We use money to make investments, buy products, and all of that stuff.
But when you spend money on your business, money takes an entirely new dimension. The way you spend your money on your business can entirely make or break your business. It's that important.
As a Daymond John brand ambassador, I was lucky enough to get an early copy of Power Of Broke. It is a book that I highly recommend for all entrepreneurs.
In the book, Daymond discussed money in a way that fascinated me. I learned new things about money, its benefits, and the potential destruction that it can cause.
I combined the knowledge I learned from Power Of Broke with my own knowledge with spending money on my business. Most of the money I spend is for outsourcing.
However, I am also spending money on important tools like HootSuite Pro and Dropbox.
The fascination from Power Of Broke combined with my prior knowledge resulted in these three truths that I present to you in this blog post.
#1: Having Too Much Money Can Be A Bad Thing
Huh? That was my initial reaction when Daymond John introduced this idea in his book. We are raised in a world where the more money you have, the better you do. That's true for the most part.
The problem with having too much money to spend for your business is that everything about your business may suddenly become complex. The mission changes. There may suddenly be a stronger focus on making money than satisfying the customer.
When businesses have more spending power, the challenge is discovering the best way to spend the money. Sometimes marketing teams get it right. Other times they mess up.
Think New Coke, if you even remember what that is (I only know about New Coke from Daymond's book).
So don't live in the mindset that you need to have a lot of money to be successful. Sometimes money complicates the issue and shifts the business plan from a simple success to a complex collapse waiting to happen.
Part of it has something to do with whose hands the money is in 🙂
It is very possible to become successful with a lot of money, but it's not the only thing you need to become successful.
#2: Gradually Increasing Spending So A Profit Is Always Maintained
The amount of money I spend each month is dependent on the amount of revenue I will receive in that month. That's because I am focused on making a profit.
And in the end, the profit is all that really matters in the money-making game. Your business could be making $300,000 in sales every year, but if you spend $400,000 every year to keep your business going, then you're swimming in debt.
I'd rather be the debt-free person who makes $10,000 every year.
When my revenue increases, my spending also increases. With that in mind, my revenue always increases more than my spending.
That's because I view profit differently from most people.
Most people view making a profit as getting the scraps. These people think of profit like this:
Revenue – Expenses = Profit
With this equation, the profit barely gets any attention. It's simply the result after revenue and expenses are accounted.
Here is how I view profit.
Revenue – Profit = Expenses
Now expenses are the last thing I focus on. The amount of money I can spend is dependent on revenue and the money that I choose to keep for myself.
In this equation, profit receives more attention and plays a big role in how much money can actually get spent. This added attention discourages a negative profit and encourages the business owner to always maintain a profit.
Gradually increasing spending as your revenue increases boosts the likelihood of you securing a profit.
This tip would be incomplete without a big shout out to Mike Michalowicz for writing the book Profit First where I first came across this new approach to making a profit.
#3: Maintaining A Budget Will Inspire You And Teach You A Lot About Money
A focus on making a profit also comes with a focus on maintaining a budget. With the Profit First equation in play, you can't spend more money than you make.
That means your budget is a real budget. You can't go over it.
There will be times when that budget leaves you frustrated. And that's a good thing because the frustration challenges you to think outside of the box.
Maybe you have a budget of spending $500/month, and you are currently spending $490/month. You want to hire someone who can manage your social media accounts because you read one of my blog posts about outsourcing.
The problem is the person you want to hire will cost you $30/month. That can't happen since you would be over the budget.
What do you do then?
You look at all of the ways that you are currently spending your money.
How are you wasting your money? How can you spend less to get the same result you are getting anyway? Are certain opportunities you are pursuing not worth the cost (or not as good as the outsourcing)?
In other words, how can you squeak $20/month out of your current spending so you can hire the person to manage your social media accounts?
Let's say you manage to find $20/month that you were not spending properly and you hire the person to manage your accounts.
Now you are at the $500/month budget. However, you will get exposed to different tools, training courses, and opportunities that cost you money.
Especially outsourcing because once you successful outsource one part of your business, you'll want to outsource as much of your business as possible. The cost can add up to a lot.
No lie there.
So how do you spend money when your budget is at its max? The answer is that you make more money so you can expand your budget.
If you make $2,000/month and want to save $1,500/month, then that's how the budget is $500/month.
If you make more money, then you have the option to spend more money.
Imagine how different the budget would look if you were making $20,000/month. Let's keep everything in proportion and assume you would want to save $15,000/month.
Now the budget is $5,000/month. That's looking a lot better than the other budget. But the only way to reach that budget is by making more money.
Then think about what that budget would allow you to do. Imagine all of the time you would save and all of the opportunities you could now actively get involved in.
You'll become a hungry entrepreneur who will put in more work than most people as you charge towards success. Literally charge because no successful entrepreneur ever walks their way to success.
In Conclusion
When you spend money on your business, you are forced to make decisions. The dollars you spend on outsourcing cannot get spent on online advertising or anything else.
Every dollar matters. Whether you are trying to make a bigger profit from advertising or save time with outsourcing, you must consider all of the ways that you are spending your money.
Analyzing how you spend your money will allow you to make better decisions with what you do with your revenue.
And remember, it doesn't matter how much money you make. What matters is your profit.
Which of these truths about money do you believe is the most important? Do you have any other truths about money to share? Sound off in the comments section below.