The money is in your email list. It's a well-known fact that gets mentioned again and again on blogs like this one.
The importance of an email list has led to marketers all around the world trying to grow their email lists as quickly as possible. The thinking is that the more people on the email list, the better.
If you know how to promote your content and products to your email list, then yes, more is better.
So most marketers grow their email list by using some of the same tactics. Create a landing page and promote that on each social network. Have a subscription box on the blog's sidebar. Maybe some Facebook advertising if you're serious about getting leads.
Those methods work, but there are certain methods for getting subscribers that remain untouched by most marketers. These methods can result in a significant increase in subscribers because of the logic behind the methods combined with how your audience would react to these methods.
#1: Content Upgrades
I only write one blog post per week now. Every other blog post I put up is a video. This decision allowed me to save a massive amount of time. The extra time allowed me to pursue a new email list building idea.
Content upgrades!
Content upgrades are additions to the current blog post that your visitors can get access to in exchange for an email address. I first learned about content upgrades through Jeff Bullas' Blog.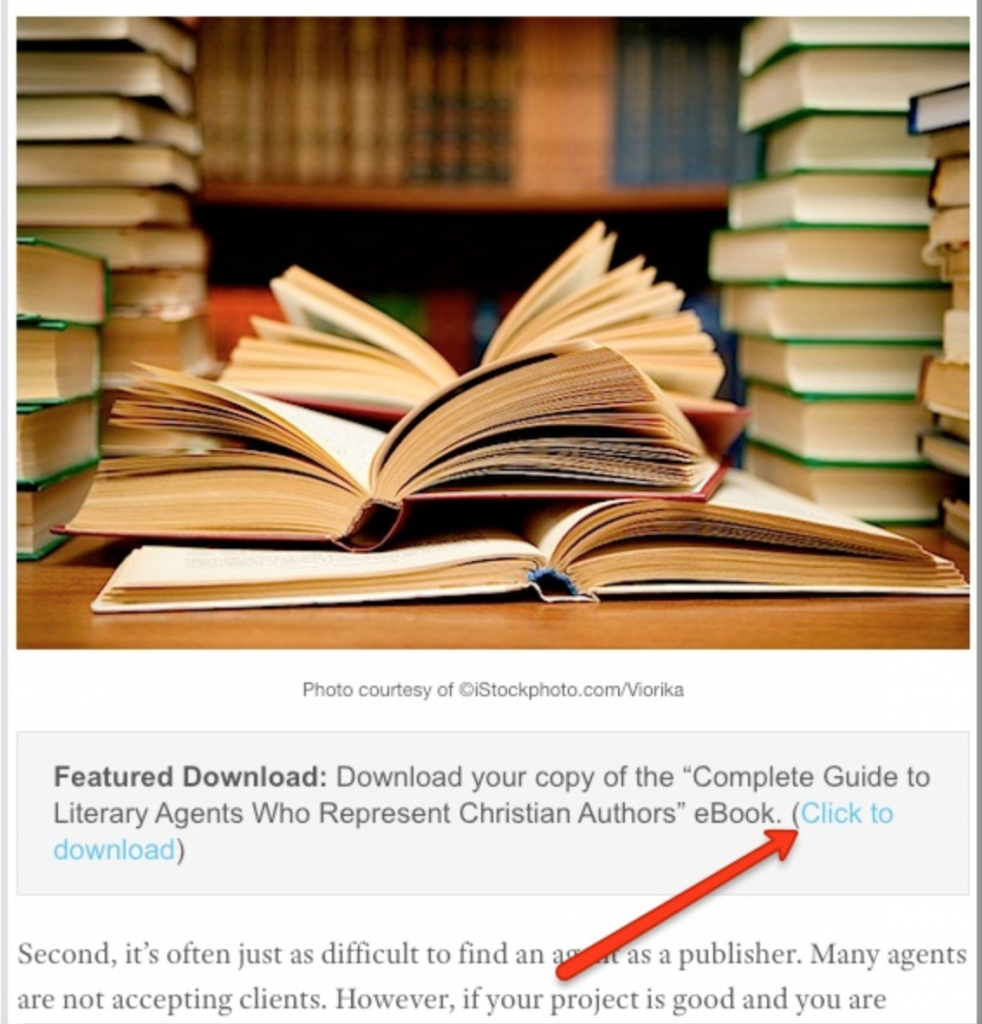 I remember reading the article a while ago thinking that it sounded like a great idea, but in the end, I didn't have enough time. I was also in the middle of my junior year of high school.
Outsourcing and video blogging reintroduced me to a lot of extra time. That's why all of my future blog posts will now include content upgrades.
In other words, EVERY blog post I write from here on is also a LANDING PAGE.
I am also working towards adding content upgrades to my most popular blog posts. And the conversion rates for content upgrades are amazing.
According to the article from Jeff Bullas' Blog, you can expect a 20% conversion rate from a content upgrade. Some content upgrades have over 50% conversion rates.
The reason content upgrades work so well is because they are hyper-targeted to the specific blog post that is being read at the time.
I recently started using content upgrades for my blog. Here's what I did for my blog post about avoiding the top five distractions.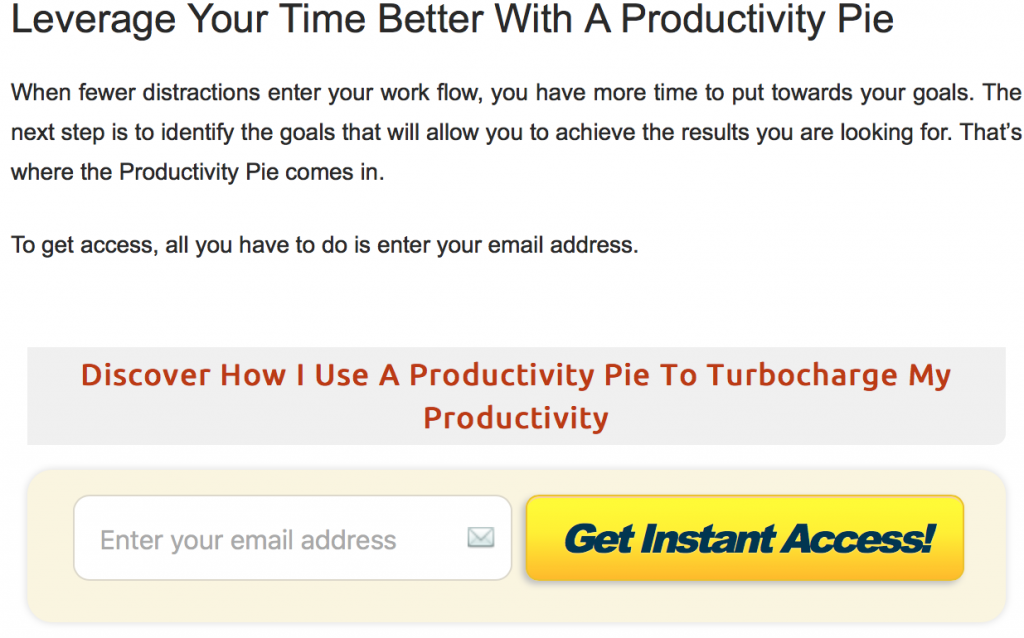 It's targeted and directly below the blog post. People don't have to click on a link and get redirected to a landing page.
Imagine what would happen if 20% of your blog visitors became subscribers. If you wanted to gain 100 subscribers per day, you would only have to get 500 visitors per day in order to get that many subscribers per day—assuming all of your blog posts came with content upgrades. And that doesn't even include subscribers from landing pages.
#2: Live Streaming
I am still exploring the possibilities of live streaming, but it is very exciting to think about the possibilities.
Live streaming apps like Periscope, Meerkat, and Blab give you the opportunity to interact with your audience live. You can answer their questions in real-time, and your audience will hear how you answer the questions.
One thing you can do with live streaming is promote your landing page. As you wrap up a live recording, you can mention a landing page related to what the live stream was all about.
This is where Blab outshines the competition. Blab comes with an interactive chat section that allows viewers to ask questions and engage with one another.
Within this chat section, you can insert the link to your landing page for everyone to click on. If you want to use something like Periscope or Meerkat, then you must state what the link is.
To make it easier for everyone to remember the link, you need to come up with a custom link.
For instance, https://marcguberti.com/2016/01/twitter-audience-remember-and-trust-you is a link that would be very difficult for me to say and very difficult for my audience to remember (where do the dashes go).
Having a link like marcguberti.com/twitter makes it a lot easier for people to access the same URL. It's much easier to remember that "Twitter" goes after the slash line instead of all of the mumbo jumbo after the slash line for the first link.
#3: Webinars
Promote your landing page in a webinar? No, no. You promote products in webinars.
You use webinar landing pages to collect email addresses.
There are some notable differences between a webinar and a landing page.
First off, the webinar is set at a specific time and date. The landing page you use to promote the webinar won't be good forever, so you have a stronger incentive to promote that webinar's landing page to as many people as possible.
The incentive will force you to get more creative with how you promote your landing page. However, the creativity and extra work with promoting a webinar isn't the only advantage to having a webinar.
The other advantage is that you can get a lot of sales with a good webinar. If you want to get high conversions for sales, host a great webinar with a call-to-action.
As an affiliate who has promoted many people's products, I generate most of my total commission on the day I promote someone's webinar with my affiliate link.
Webinars grab people's attention, and the audience can ask questions. At the end of the webinar, people can take immediate action and buy your product—if you provide the call-to-action.
Then, you can invest some of that money into growing your email list even more (i.e. Facebook advertising).
In Conclusion
Building your email list should be your top priority regardless of what niche you are in. Email marketing is the most successful type of marketing on the web.
Email marketing allows you to build the strongest relationships and generate the most sales at the same time.
Literally everything you do online should have the primary aim of getting you more subscribers.
What are your thoughts about growing your email list? Do you have any tips for us? Sound off in the comments section below.
My Email Marketing Strategy
Get the inside scoop on what happens within my emailing marketing strategy each time I get a new lead. I'll also reveal how anyone can get hundreds of new subscribers every DAY.
To get access, all you have to do is enter your email address.
What Really Happens Within My Email Marketing Strategy...
All you need to do is enter your email address to figure out.

Your information is 100% safe