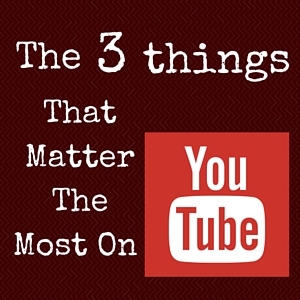 We've been hearing a lot about Periscope, Blab, and SnapChat. With the rise of all of these new social networks, the older social networks don't look as cool as before.
Take YouTube for example. Even though YouTube is still one of the top social networks on the web, the buzz-words like "sleek" would get used to talk about Periscope's live streaming instead of YouTube.
YouTube has been around for such a long time that some people believe at this point they have either missed the chance or the new social networks like Periscope and Blab are better to pursue.
While those new social networks are useful, it wouldn't be wise to exclude the older social networks within your social media strategy.
If you want to build a successful YouTube channel that dominates your niche, you need to know what makes a successful YouTube channel.
More specifically, you need to know the three things that matter the most on YouTube and how to amplify them.
#1: Subscribers
A large quantity of quality subscribers is the best type of audience to have on YouTube. Quality subscribers are people who are pre-determined to be interested in your niche.
These people are subscribed to YouTube channels related to your niche and want to watch numerous videos about your area of expertise.
Getting more subscribers comes down to crafting an appealing channel combined with the right marketing. Having an audience outside of YouTube helps, but it isn't required.
You can leverage other people's audiences via interviewing your niche's experts, commenting on other people's videos, and other means. But when you decide to leverage other people's audiences, the only way you will become successful with this method is to take a win-win approach.
Commenting gives you more exposure. Your comments will also give the videos more exposure and social proof. It's a win-win.
Interviewing other experts within your niche gives you more credibility and exposure (if the expert promotes the interview) and the expert gets more exposure as well. That's a win-win too.
There are many ways to get more subscribers. However, the key thing is to find a few methods that work very well for you and then capitalize on them.
#2: Minutes Watched
YouTube has made it a point to emphasize that they consider minutes watched before they consider the number of views your video gets.
Part of this is to combat spam. People could buy 100,000 views, and even if these people only stayed on the video for 10 seconds or less, they get counted as a viewer.
These bogus views make a video look better to a potential viewer. However, these same videos are not likely to show up high in YouTube's search results.
If you want to rank high, then you need to get people to watch as many minutes of your videos as possible.
There are two main ways to achieve this objective.
The first method is to create compelling videos that make someone naturally interested in watching your entire video.
So what makes a compelling video? For you, the playing field may be different. See what your competitors are uploading to YouTube and analyze what works. Then, as you create your own videos, take a look at your videos' retention rates so you get an idea of which videos are getting the most attention.
You don't want to look at a video's audience retention rate until it has surpassed 100 views. If you base your retention rate on eight views, then you don't have enough data to make a firm conclusion.
The second method still requires you to create a compelling video, but the length of your video is also a factor.
Retention rate plays a role in how much of the video someone actually watches, but the number of minutes watched is more important.
Sometimes, if I want one of my particular videos to do very well, I'll make it longer. I will come up with more case studies and key points to discuss. Basically, I do extensive planning leading up to the video while most of my other videos just take five minutes of planning.
My longest video to date is Write Like Crazy: How I Write 40K Words Every Week. It's a little over 43 minutes long.
With the help of advertising, people watched that video for over 378,000 minutes. As of my finding that statistic, the video had a total of 31,838 views. The average person viewed the video for 11 minutes and 53 seconds.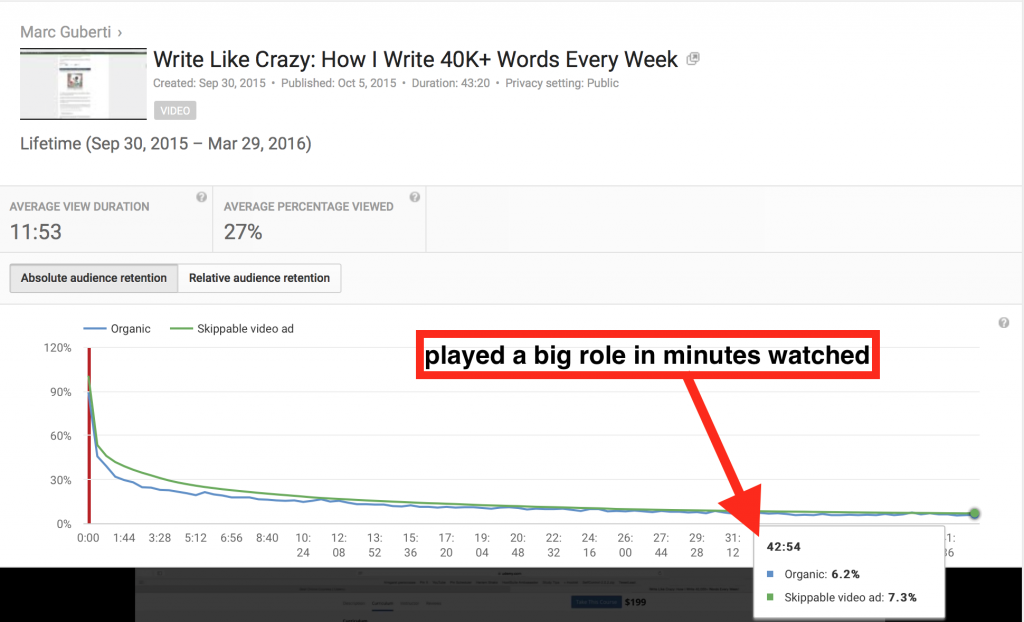 The first video I uploaded in a while, The 4 Core Beliefs Of All Highly Productive People, will rarely have a viewer who watches the video for 11 minutes and 53 seconds.
That video is only 8 minutes and 50 seconds long, so one viewer would have to watch the same video twice (or stop halfway) for that view to exceed 11 minutes and 53 seconds.
The average view duration for this particular video is 3 minutes and 22 seconds.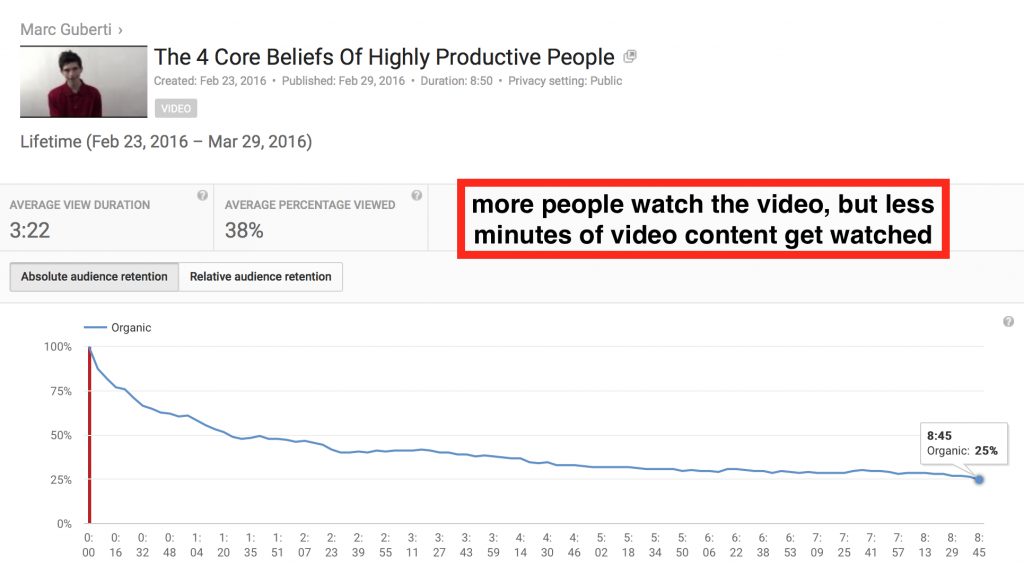 For the sake of math, let's say my Write Like Crazy video averages 12 minutes per viewer and my productivity video averages 4 minutes per viewer. If 1,000 people view each video for the average amount of time, here are the numbers:
Write Like Crazy: 12,000 minutes watched
Productivity video: 4,000 minutes watched
It doesn't matter that they both got the same number of views. What matters is that people spend more time watching Write Like Crazy than my Productivity video.
Even if the Productivity video had a 100% retention rate, Write Like Crazy still does better with the minutes watched category.
Make compelling videos, but also see how you can make them longer to get more minutes watched.
#3: Consistency Of Video Uploads
The more consistent you are with your video uploads, the more likely you are to get noticed by your subscribers.
The thing about uploading and publishing videos is that some of your subscribers have opted to get notified via email. So every time you publish a new video, an email blast gets sent to a large group of your subscribers.
Subscribers will remember who you are if you consistently upload YouTube videos. If you upload a YouTube video every week at the same time, then your subscribers will remember you.
Some of these subscribers will constantly check your channel to see what you came out with next. Subscribers like that will engage with your video and watch it. Those actions will cause your video to surge in YouTube's rankings and get more search engine traffic as well.
Your subscribers are the people who get the ball rolling. But in order for them to get the ball rolling, they must remember you, and you must upload videos consistently.
In Conclusion
In a world surrounded by new social networks, YouTube is still a powerful platform to build your audience on. Now that you know what matters the most on YouTube, you can now structure your videos and channel based on that knowledge.
The most important thing to do on YouTube is to provide value (obviously), but the three things that matter the most are designed to give you an idea of how to provide that value in relation to YouTube SEO.
What are your thoughts about creating a YouTube channel? Do you think creating and uploading the videos is worth it? Have any tips for us?
Sound off in the comments section below.