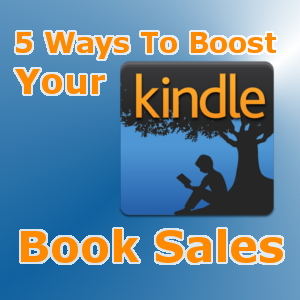 The goal of every self-published author is to get as many book sales as possible. They write several Kindle books and try a variety of marketing tactics to boost sales.
I have written over a dozen books and experimented with several marketing tactics. Some of the tactics worked while others were total flops. As I learned from my experiences and looked at other people's experiences, it became more clear to me what it meant to build a Kindle Empire.
Building a Kindle Empire is the art of writing numerous Kindle books and then promoting them like crazy. You only have to publish one book to discover that the people won't just come no matter how good your book is.
Some of the top self-published authors spend more time on the marketing side of the business than on the writing side of the business.
Some authors completely outsource the writing process so they can focus on the marketing.
Regardless of how often you write content for your books, you must spend a considerable amount of time marketing your Kindle books. In order to boost your Kindle book sales through marketing, follow these five tips.
#1: Have A Free Book Promotion
This tactic is one of the commonly discussed tactics for getting sales. The idea behind this one is that offering your book for free allows your Kindle book to rank well in the Kindle store's free category.
Some people who read your free version may decide to leave a review. To boost the number of reviews your book gets from the free promotion, do the following:
Engage with the people who say they bought your book. Ask them what their favorite part about your book is. As the conversation develops, ask for a quick review.
Include a link at the end of the book that leads your readers to the page where they can quickly post a review for your book.
The free promotion will lead to more visibility and theoretically more sales for your Kindle book when it's taken out of the free category.
However, the timing in which your book is taken out of the free category also plays a role in the number of sales it gets.
If you take your book out of the free category at the right timing (i.e. 3 pm eastern), you can get a lot of sales from the exposure your book has garnered from the free category.
It takes Amazon's system a while to remove your book from the free category once you cancel the free promotion on your own. That means all of the people in the free category can buy your book.
Of course, you won't get as many downloads, but now all of the downloads you get from here on are paid downloads.
#2: Price Your Book At $0.99 In The Beginning
The big publisher has numerous advantages over the small self-published author. However, one advantage the big publisher will never have is the price advantage.
You can easily price your books at $0.99 without worrying about losing money. A big publisher pricing any book at $0.99 per book is on the verge of big losses.
$0.99 won't lead to a big commission per sale, but you will get sales. As you continue raking up sales, you will climb up in the book rankings.
$0.99 is also the ideal price to charge for your book after you cancel its free promotion. Customers who look in the free section will see your book at $0.99. Some people will ignore your book, but others will think, "Well, $0.99 is basically free."
You'll only get $0.35 for the book sale, but as you get more sales, your book will bring in consistent revenue. Once your book has a solid ranking, you then have the option to slowly inch up your book's price to $1.99 and then the ideal $2.99 for the 70% royalty cut.
#3: Content Upgrade Autoresponders
Content upgrades are upgrades to your blog post that people get in exchange for an email address. Just as a quick example of a content upgrade, here's what I did with my blog post, 4 Ways To Use Blab For Your Business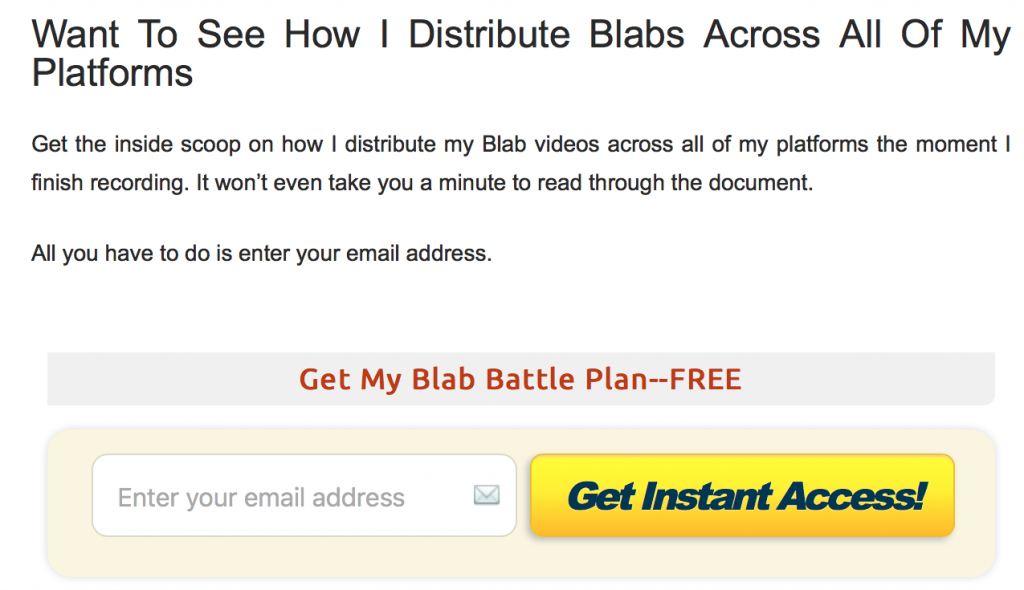 Content Upgrades get high levels of conversion compared to most webpages. While the typical blog post with a content upgrade experiences a 20% conversion rate, some of them have a conversion rate greater than 60%.
Imagine how many extra subscribers you would get if ALL of your blog posts included content upgrades.
That's what I'm trying to do on this blog. All of my blog posts from here on will have content upgrades, and I am adding content upgrades to some of my most popular blog posts.
You can make revenue with content upgrades by nurturing the relationship between you and your new subscribers and then promoting your product.
However, each content upgrade also gives you the opportunity to promote one of your books. In a content upgrade with a productivity theme, I can point people to my Outsourcing Domination book.
Of course, you may find yourself writing a blog post about something that you don't have a Kindle book for.
For that, you can create a pre-order sales page for your book. All you need for the pre-order page is the cover and description.
#4: Launch Team
Who says you have to promote your book alone. Some of the most successful books are built through launch teams. I was one of the ambassadors for Daymond John's Power Of Broke.
About 100 people were on that launch team. We got some goodies sent our way, but that was it.
Creating your own launch team doesn't have to be an expensive effort. You can simply provide a free copy of your book to anyone who becomes a part of your launch team.
You can ask the people within your launch team to leave reviews for your book when it comes out and to tell their audiences about it.
A launch team presents you with many options, and if you want a book to do particularly well in the Kindle store, then I highly recommend utilizing a launch team of some sorts. Even if that launch team just consists of family and friends.
#5: Look At What You Currently Offer
A trap some self-published authors fall into is looking at new books to boost their sales. They focus on producing more content and optimizing new sales pages that they forget about their current books.
You can make a small tweak to one of your older Kindle books to boost its sales. You can slightly change the description, the cover, or some other element of the book. One small change can potentially lead to great results.
For your books that are seeing a lag in sales, you can do a free promotion or a discount to give that old title some life again.
It's great to write new Kindle books and optimize those for success, but don't forget about what you have already written.
In Conclusion
Boosting Kindle sales all comes down to effective marketing. You can write as many books as you want, but if they are not marketed properly, then you won't get many sales.
Effective marketing allows your books to generate more sales, and as your new books generate more sales, your older books will get more sales too.
Some of your readers will be so delighted by their first experience that they'll want to read more of your paid content.
However, it all starts with effective marketing.
What are your experiences with Kindle marketing? Have any tips for us? Sound off in the comments section below.