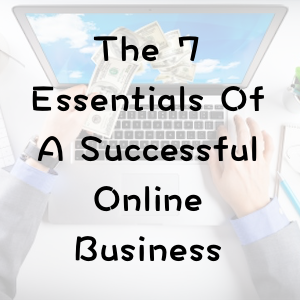 What makes an online business tick? It's a question I have been asking myself for many years. In fact, it's a question I continue asking myself today.
I am what people would call an expert, but the playing field is constantly changing. Live streaming is now hot. Buying backlinks stopped working a long time ago.
In the midst of a changing playing field, there are certain essentials that make up all successful online businesses. It took me a while to discover what these qualities are.
Through a lot of stumbling, I finally ended up discovering what these seven essentials are. The playing field will continue changing, but these seven essentials will be around for a very long time.
#1: Social Media
Every successful business has some type of social media presence. While few business owners can truly master all of the social networks, most business owners master a few social networks and use that knowledge to expand.
You don't want to approach social media with the intention of mastering every social network right away. The way to master social media is to master one social network at a time. I only saw social media success when I focused most of my time towards Twitter.
That's the main reason why Twitter is still my go-to social network. Since I mastered Twitter before I mastered any of the other social networks, my Twitter audience continued growing and I know how to interact with them.
It doesn't matter which social network you choose to master. What matters is that you choose a social network to master and then grow your social media presence.
Once you master one social network, you'll have the skillset to expand into other social networks. I first mastered Twitter. Now I have a strong presence on Pinterest, YouTube, Instagram, and Facebook just to name a few.
But it all starts with mastery of a single social network.
#2: Email List
The money is in the email list. It is the best method of communication you have with your audience for getting clicks and generating sales. Every successful online business owner has a big, targeted email list.
There are a variety of methods for generating an email list. Facebook ads, AdWords, and organic promotion are some of the key tactics.
However, the email list is the most important platform you have. That is why it is necessary to take your email list growth one step further.
The purpose of EVERY platform you create must be to grow your email list.
That means if you have a YouTube channel, one of your goals for that channel must be growing your email list. The same rule applies if you use live streaming, Twitter, Facebook, any other social network, or any other platform/opportunity.
Always think about growing your email list.
#3: Landing Page
The landing page is the page on your blog that you promote in order to get more subscribers.
If you plan on using YouTube to get more subscribers, promote your landing page at the end of your YouTube videos. But don't stop with YouTube. Use any of your social media audiences you have built up to promote your landing page.
Promoting a landing page with a free offer is how you get more subscribers. The more optimized that landing page is and the more traffic it gets, then the more subscribers you will get.
The main focus of a landing page is to get more subscribers. You don't want people to go on your landing page and then find a way to read your blog posts. That's why for all of my landing pages, I don't have a navigation menu.
The navigation menu would distract visitors with too many options and result in fewer subscribers.
The landing page's only mission is to get the visitor's email address. If you don't have a landing page yet, you can create one with either Optimize Press or LeadPages. Both of these tools are awesome, so no matter which one you choose, you'll have awesome landing pages at your disposal.
#4: Product(s)
Every successful online business features a few products. The training course or book is the most popular route that online marketers pursue. Creating your own book or training course is easy with an outline, and it doesn't cost much money to create the product.
Depending on how you create the book or training course, it may not cost you a single penny.
That makes it easier for you to achieve an ROI. More importantly, it is these products that you must promote to your email list in order to make money.
You can also leverage affiliate marketing to boost your sales. Affiliate marketing is the act of you promoting someone else's product. However, you need to create your own product eventually, and offering your product as a free bonus can dramatically boost your affiliate sales.
In a split-test, affiliate marketing legend Matt McWilliams discovered that including a bonus to one of your products for a price similar to the affiliate product could result in a 650% increase in sales.
So even if you rely on affiliate marketing for your income, it wouldn't hurt to create your own product. You'll make more money when you promote your own product, and you will get more affiliate sales by offering your product as a free bonus.
#5: Mentor(s)
If you are a newbie and don't do anything I have mentioned in this blog post, then you must start here. Having mentors will make a HUGE difference between success and failure.
The right mentors can arm you with new knowledge and present you with more business opportunities. I have had several mentors who have been critical to my success.
And yes, reading blog posts from experts in your niche helps, but I'm talking about mentors who know you by name and offer advice specifically tailored towards you.
I have a few mentors like that. They know more than me in certain areas, and when the path gets a little fuzzy, I'll email one of my mentors and ask for advice.
I'd rather get the advice right away then continue for weeks, months, or even years to discover the same knowledge that I could have received just by taking five minutes out of my day to write an email to one of my mentors.
You need to have mentors. Even if you are successful right now and don't have a mentor, your success will only be amplified with the aid of a mentor.
#6: Resources
If you want to become successful, you must analyze successful people and learn from them. When analyzing successful people, one thing you should pay attention to is the resources that they use.
What social media tools are they using to get better results in a shorter period of time?
HootSuite Pro and ManageFlitter (RAM actions) are the two main tools that I use to continue expanding my social media presence.
These tools do cost me money as do the other resources that I use for my business. However, they save time while providing better results.
I don't want to go too much into the time concept because that's the next thing that you must have to build a successful online business.
#7: Time
The importance of time is right up there with the importance of having a mentor. Every minute you spend doing one thing is a minute that you can't spend doing anything else.
So one must prioritize. You look at how you are using your time, focus on what is bringing you the best results, and then focus most of your time and energy there.
However, certain things get in the way. Scheduling social media posts, creating or finding pictures for your blog posts, and email outreach are some of the things that may get in the way of that one opportunity that brings in the most results.
Becoming more productive will allow you to use your time more effectively. However, there is one rule that even the most productive people can't escape.
There's only 24 hours in one day. And most of that time is spent eating, drinking, sleeping, and doing other things necessary for survival that have nothing to do with the business.
While this is a rule that affects all of us, there is also a workaround—outsourcing.
You can hire other freelancers to help you pursue your goals. By allocating the right tasks to freelancers, you will take the workload off your shoulders. I used to do several tasks each day that I have now outsourced to my freelancers.
I save a little over two hours each day. Those extra hours add up, and those extra hours are the reason I can get more stuff done.
In Conclusion
Building a successful online business is NOT harder than ever. There are different platforms constantly emerging, but the basic storyline remains the same. Have persistence, have mentors, have the desire, and put in the work each day.
Maybe a few years from now, something completely new is superior to live streaming. However, these rules for online success will remain intact and continue to serve as an effective guide.
How do you define online success? Do you have any tips for us? Sound off in the comments section below.