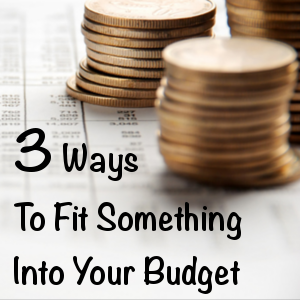 Let me know if this has happened to you:
You discover a tool that can help you grow your business. You do some research and decide it's an awesome tool that can increase your productivity. You're all in.
But when you go to purchase the tool and see the price, your jaw drops. It will cost you at least $200/month.
You REALLY want this tool, but you simply don't have room in your budget. Your only hope is to create a void in your budget so you can afford the $200 expenditure.
But how? Here are three ways to make it happen:
#1: Side Hustle
When your income increases, so does your budget. Once way to increase your budget on your own is to side hustle.
Continue to do what you're already doing: working at your current job or building your online business. But start side hustling for the extra money to buy that $200 tool.
Side hustling lets you make quick revenue from part-time work. Some side hustlers soon find their hustles can even offer a full-time income.
If you discover your side hustle is earning you more revenue than your current job, by all means, consider switching over. But for our purposes, we only need to make enough cash to buy that $200/mo tool.
Freelance work, affiliate marketing, and consultation sessions are three side hustling ventures you can easily pursue. And here are 99 more ways your can side hustle for extra cash.
UPDATE: Are those 99 side hustle ideas not enough. Here are 25 additional side hustle ideas.
Choose an activity that won't require too much of your time and lets you turn over a quick revenue. The best part of side hustling is the fact that it's all done on the side.
Many people think they don't have enough time to side hustle. But that's a limiting belief. The reality is that we all have far more time than we realize. The way we utilize our time determines how much we actually get done and how we view our capabilities.
#2: Reduce Your Business Costs
If your budget is maxed but you still want to squeeze in an extra $200/mo, start reducing your business expenses.
The more business tools you invest in, the less often each gets used. Make a list of all of the add-ons you've bought for your business and analyze the utility of each. You may have completely forgotten about some of the things you're spending on each month.
I hire several freelancers to help me out with my business. Even with all of their help (which does add up to a lot), I still find myself busy. So busy, in fact, that I often keep paying my freelancers without stopping to determine whether their projects are still in line with my current goals.
As my goals change, so too does the freelance activity I need to meet them. I had made the mistake of paying for work that was no longer relevant, and it took me some time to figure out what, and who, I should cut.
Money down the drain. Just because a freelancer is doing a great job does not mean he/she is helping you meet your objectives.
Pausing contracts with freelancers whose services no longer align with your current activity cuts recurring fees and lowers your expenses.
To optimize the use of your available resources, set performance parameters that reflect your efficiency goals and offer incentives when those goals are met.
Track the ways you're spending your money and ask yourself if every dollar in your budget is actually moving your business forward in relation to your current goals. More ways to reduce business costs include:
Renting unused physical space in your office.
Consolidating your bank accounts.
Comparing insurance providers for the most competitive rate and asking your current provider to match it.
Don't take on unnecessary debt.
Cut marketing costs by doing more in-house.
Increase social media use and reduce traditional marketing.
Use efficient time strategies with free productivity apps and software.
Focus on quality (the best way to please customers and increase your bottom line).
Maximize your current employees' skills.
#3: Get Better Results With What You Already Have
Let's assume your blog gets 50 visitors a day and earns about $300 per month. You make the money because out of those 50 monthly visitors, six of them will buy your $50 training course (and you make 100% of the profit).
But if you need room in your budget for extra $200/mo, you'll need to increase your conversions rates. Your blog in this example gets a total of 1,500 monthly visitors, and with six customers, your conversion rate is 0.4%.
But if you optimize your blog to increase your conversion rate to 2%, your monthly customers will also increase — you now have 30 people paying for your training course.
Suddenly you're making an additional $1200/mo, more than enough to start investing in that $200/mo tool!
You can also add another $50 course to diversify your products. People who wouldn't have bought your first training course may find the second course is more in line with their needs.
People often focus so much on growth that they forget to monetize their current offerings.
In Conclusion
Always keep track of how much you are spending. Putting money into your business can lead to numerous results. But it's easy to get so caught up in day-to-day operations that you don't even realize you are no longer making a return on certain investments.
When you do make the realization, it can create miscommunications and misunderstandings. Set goals and expectations for each expenditure. And frequently check back to see if they are being met.
Many times you'll get exactly what you wanted and more. But your expenditures should always reflect your goals. And as your goals change, so will the areas in which you spend.
The lag time between changing a goal and acknowledging how that change affects your spending is one of the main reasons why people continue to make unnecessary expenditures. My own lag time has decreased over the years, but it still exists.
The greater that lag, the more money you lose.
Recurring fees are the most damaging. They may be paid automatically and are easy to forget about, especially when each is fairly low. But those minimal fees add up, and your budget will soon be screaming for mercy.
So if you want to buy that awesome $200/mo tool, make room for it by eliminating unnecessary spending. Even better? Review your spending patterns frequently, even before you want to invest in something new and find yourself scrambling to make room for it in your budget.
How do you maintain your budget? Have any tips for us? Sound off in the comments section below.