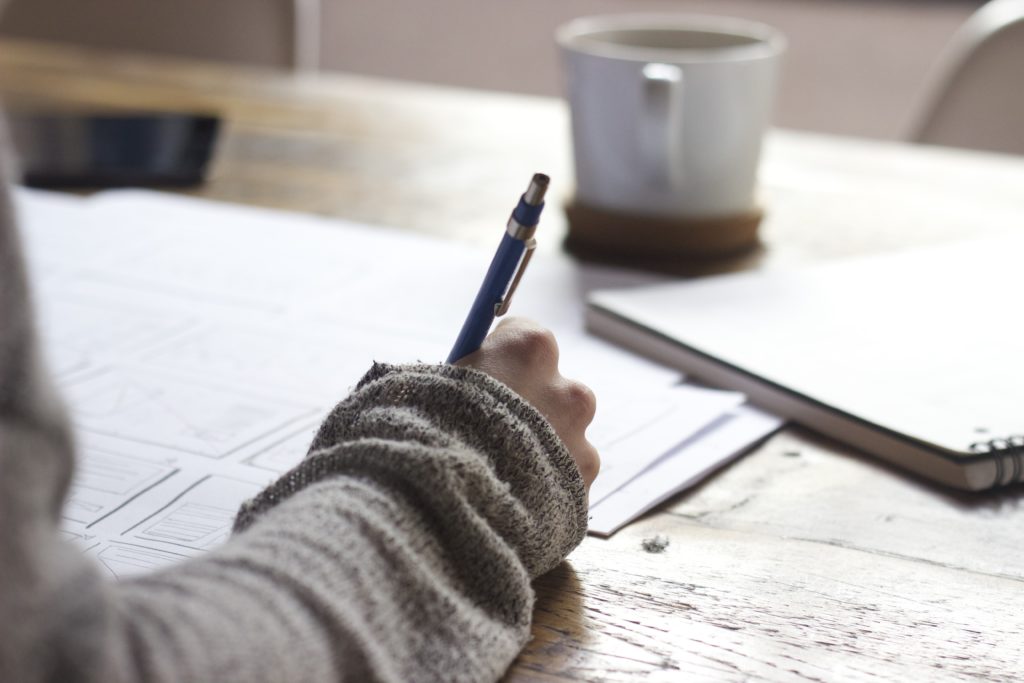 This is a guest contribution from Andrew Howe.
Content creation has never been an easy thing to do. In the digital era, it has become even harder to write compelling and valuable content as the digital world is a bottomless sea of content.
Most niche blogs publish new content on a regular basis which means having fewer topics to discuss. It seems there is nothing new under the sun.
While blogging is getting more competitive, there is no way out for content marketers. Writing valuable content is a must. And most of us would agree that writing on the same topic over and over again takes time, effort, and inspiration.
Plus, being a blogger means having more things to do which include analyzing competitors, communicating with clients and readers, growing income, and creating content.
The sum up?
If you're not inspirited, the writing process would take even more time, and it seems to be a closed circle.
A logical question appears. How can we write valuable content while being pressed for time?
First, you should know where to find time for writing.
Second, it's important to understand the role of high-quality content for your website growth before we move forward. So, what does valuable content give your site?
Improves SEO ranking
Boosts traffic and, therefore, increases sales
Helps to build brand authority
As we can see, valuable content is beneficial for your site, so you'd better know how to create it.
First things first:
If you know how to manage your time wisely, you're able to write a lot daily without sacrificing the quality of your content and your personal life. Thus, there is no better way than increase your productivity and start being more efficient.
However, writing daily is not just about having time for it or having enhanced writing speed; it's also about being full of ideas that rock.
The more great ideas you have, the better. Knowing what to say gives you an opportunity to keep on writing without taking pauses to wait for your muse to come.
Thus, you need to be interested in the topic you're discovering and have a lot of stats and facts to prove your thoughts. This is another actionable way how to write 2,000 words a day without being about to burn out.
Content marketing plays an important role in your business growth. If you know how to create high-quality content, it's more likely you know how to attract and hold your audience's attention.
While everyone says that creating valuable content is a must, it's important to find out what makes it!
What makes content valuable?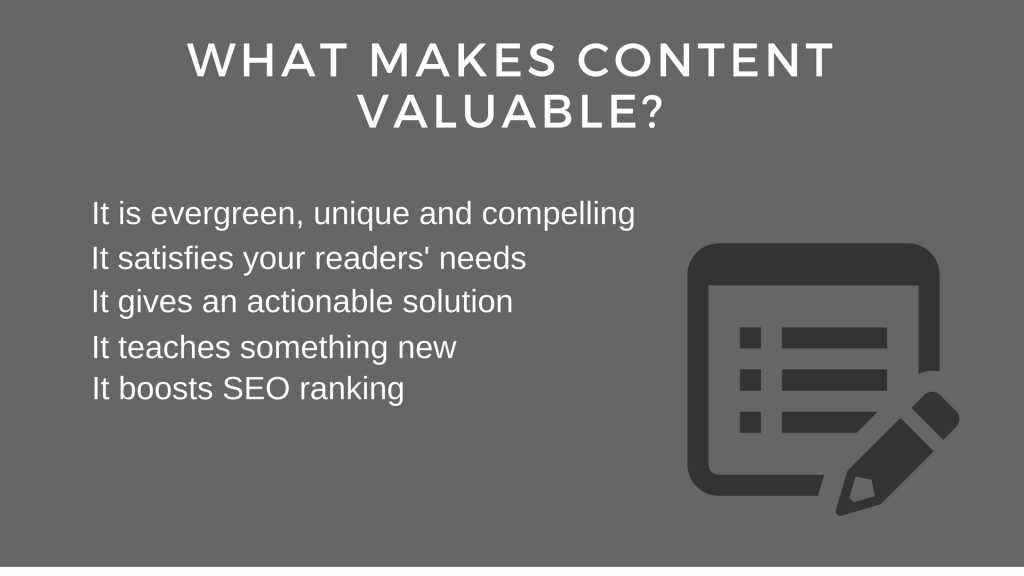 Evergreen, unique and compelling
Satisfies your readers' needs
Gives an actionable solution
Teaches something new
Boosts SEO ranking
Once you understand what is valuable content, it's time to check out some methods how to write high-value blog posts.
The simple takeaway? The quality of your content matters. Here are some ways to write valuable content while being pressed for time.
#1: Be An Expert On The Topic
Although the number of writers is growing rapidly, just a few of them put quality over quantity, forgetting that the level of wateriness gives you nothing but a bad reputation.
If you want to grow as a writer whose readers value him, you need to be an expert in your niche. Thus, don't miss the chance to do in-depth research in order to collect all facts and data, read a lot about the topic of your article and, therefore, find out what you can add.
Obviously, the easiest way to be an expert on the topic is to write about the field of your interest, your passion. The more interested you are, the easier to know all tiny details about the topic.
#2: Create An Outline
Writing a lot is hard, but it can be easier if you follow some guide. There is no better way to keep on the right track than use your outline where you've put down your brilliant ideas in a logical way.
A good outline gives you structure and logic, organizing your thoughts flow from A to Z.
If you believe that writing an outline is just wasting of time, give it a try. Once you create it, you can see how much time it helps to save. Although it seems simple, most writers skip this part of the writing process, relying on their practical experience. Your outline is a basis of a good article.
#3: Work On Your Drafts
No matter how good as a writer you are, you might have a big number of drafts that you haven't use for publishing on the web. For many reasons, most of us pass on the idea to work on these drafts in order to find it a better home. However, it can help you save time and efforts.
It's hard to predict when the next brilliant idea will strike you, but you can always come back to the ideas that you have already had! Look at your drafts, analyze the reason why it wasn't a good fit, and work on the gaps. Maybe a new handy article just needs some proofreading.
#4: Focus On One Article
Most bloggers work on different articles at the same time. Although it may seem like a good idea in order to write more, more often than not it gives you nothing but a burnout. Shifting writing several articles is a way to sacrifice the quality of your content and, therefore, get a negative feedback from your clients and readers.
To write more, you need to complete the current assignment, no matter how much time does it need. Be strict with yourself, and never start doing another task until you complete the current one. It's better to write one good article than produce a lot of mediocre publications on the web.
#5: Use Tools And Apps
Living in the digital era, we have a big number of opportunities to  make the most out of it, and using tools and apps is a great way out when it comes to writing. First of all, it helps you save time. For example, you can paste your text and check it for common typos and grammar mistakes and then proofread it more carefully. Plus, there are different tools that help you on every stage of content creation: headline generators, grammar and style guides, editing and proofreading apps, games for improving writing speed, etc.
#6: Find A Team To Join You
There is no better way to save time on writing than find a team of talented people to join you. You need to be focused if you want to write, edit and proofread your text like a boss, and it takes a considerable amount of efforts to do it. However, you can find freelance editors to help you or hire a team. If you're on a tight budget, there are some forums that offer part-time jobs and you can hire professions from time to time in case of emergency.
#7: Draw Inspiration From Your Readers
A good blogger writers for the audience to provide solutions to the problems the readers might have. If you pay attention to your readers' feedback, you can find insights what to write next. Many readers leave comments asking for further information, and it can become a new idea for your blog post.
No matter how much free time you have, there is nothing better to boost productivity than being motivated. Thus, you need to draw inspiration from one of the resources to keep on writing valuable pieces.
Inspirational Resources for Bloggers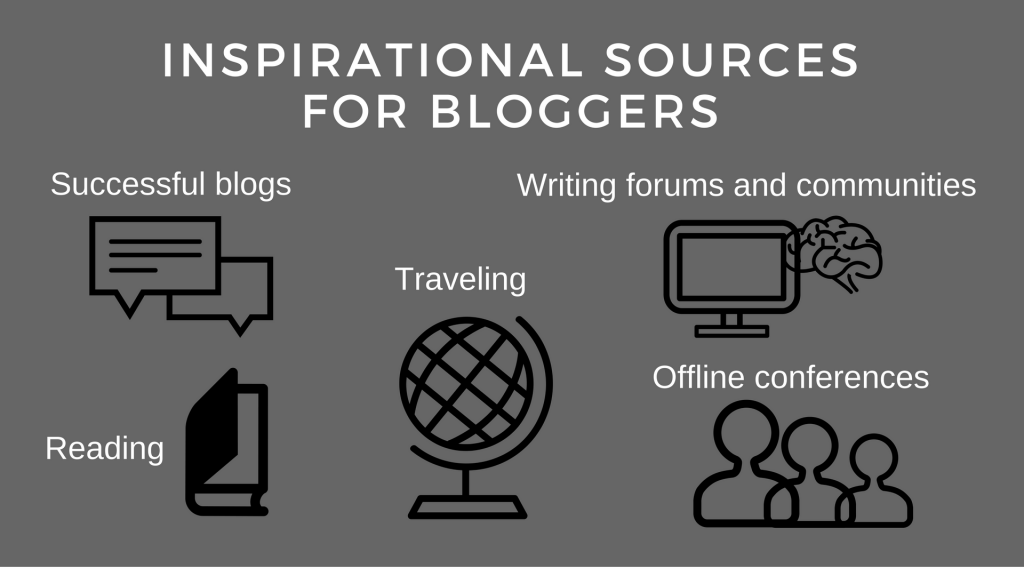 It's easy to feel discouraged at certain points within your blogging journey…especially when you are pressed for time. To combat feelings of discouragement, I have compiled a list of inspirational resources you can use to refuel your motivation.
Successful blogs. I bet that every blogger draws inspiration from other blogs that have a big number of visitors and interesting content. Don't spend much time on reading mediocre blogs; focus on your personal top list of the best blogs.
Writing forums and communities. All bloggers face obstacles, and they need to do their best in order to overcome these problems. Being a member of a writing forum or community gives you an opportunity to find support and actionable ways out once you have some problems in the blogging niche.
Reading. Well, it's hard to write good content if you don't read. Reading enriches vocabulary, develops creative thinking and creativity, and gives you insights!
Offline conferences. What can be better than meeting other bloggers in person in order to share experience, knowledge, and tips! Moreover, there might be master-classes to learn something new.
Traveling. What I love the most about blogging is that you don't have to sit in the office to write content. There are no limits, and you can go whenever you want to write! Traveling can teach you a lot and boost inspiration, so don't skip writing while going somewhere to explore new edges of the world.
Writing valuable content is an important task for every successful blogger who wants to stand out from the crowd. Your audience doesn't take care about your time, so it's you who should know how to keep on writing, no matter where your muse is, or whether you have time for it. Luckily, there are some good ways how to write high-quality content.
Do you have your secrets about writing valuable content if you're pressed for time?
About the Author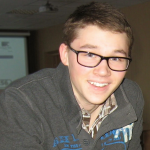 Andrew Howe is a content writer at Edubirdie who loves everything in the digital world. Also, he has crafted AdverbLess tool to help people improve their writing skills.