I don't know why, but for my latest performance reports, the start of the month seems slow and then I speed up at the end of the month. This performance report was no exception.
I believe it's because the approaching deadline for my next performance report makes me put in more work. That way, my performance report looks much better when I finally write it. It's like how a lot of people begin pursuing their New Year's resolutions in November.
Anyway, here's my performance report:
CMSS
My Content Marketing Success Summit is my primary project from now until the All-Access Pass cart closes. Organizing a summit is a lot of work, and my feelings about the summit change day by day. I'll go from, "I love this summit," to "This summit is unbearable!"
If I didn't set a deadline and a target, I probably wouldn't be doing the summit. But I set those two things so the fun continues.
The goal is to get over 50 speakers for the summit. Right now I have a little over 20 committed speakers and a little over 10 potential speakers who are interested. I've interviewed seven of those speakers already which means I've got at least 43 interviews to go.
To get some inspiration and learn at the same time, I watched the video of a conversation between Chandler Bolt and Navid Moazzez.
They talked about Chandler's summit which got him an extra 30,000 subscribers and over $300,000 in revenue. When I set a target for the number of speakers, I intended on surpassing the number of speakers Chandler had for his summit (it was either 47 or 48).
Here are some important things I got from the video. If you want to organize your own summit, these points are important for you:
Chandler carved out two weeks of his calendar to interview almost every speaker
He only had about two months of preparation
As you get more speakers on your summit, you can use those speakers' credibility to land more speakers
The hardest part is setting up the autoresponder, getting the landing page to convert well, and basically everything that you have to do about two weeks before the summit
Summits are so much work, but they are so worth it when you're finished and get to look at the results.
Nashville
My mom got a speaking engagement at Tennessee and my brother and I got to go with her. We arrived at Tennessee early enough to do some sightseeing. We went to the Country Music Hall of Fame, the Grand Ole Opry, and other fun places.
This trip was great for me because it allowed me to connect with music in a new way. If you saw my YouTube video on my New Year's resolutions, you'll know that music was an important one for me. I've played the piano almost every day since getting home from Nashville. I might start playing the guitar soon.
And for anyone wondering, my mom CRUSHED her speaking engagement. It was fun to watch.
ECA360
My mom got another speaking engagement at ECA360, an event for fitness and health lovers. She helped my brother get a speaking engagement at the event as well. He talked about mastering social media and Facebook advertising for fitness and health businesses (by the way, he'll also be speaking at CMSS).
She would have gotten me a speaking engagement, but my athletic schedule is the dominant schedule (I have no complaints about that. I enjoy running and being with my teammates). It turns out I got some free time, but I learned this too late for the event organizer to squeeze in a session for me.
The result was that my brother would talk for about an hour and 15 minutes and then have me talk about something else for a solid 15 minutes. I am very grateful he gave me that window of opportunity, and I spoke to the best of my ability: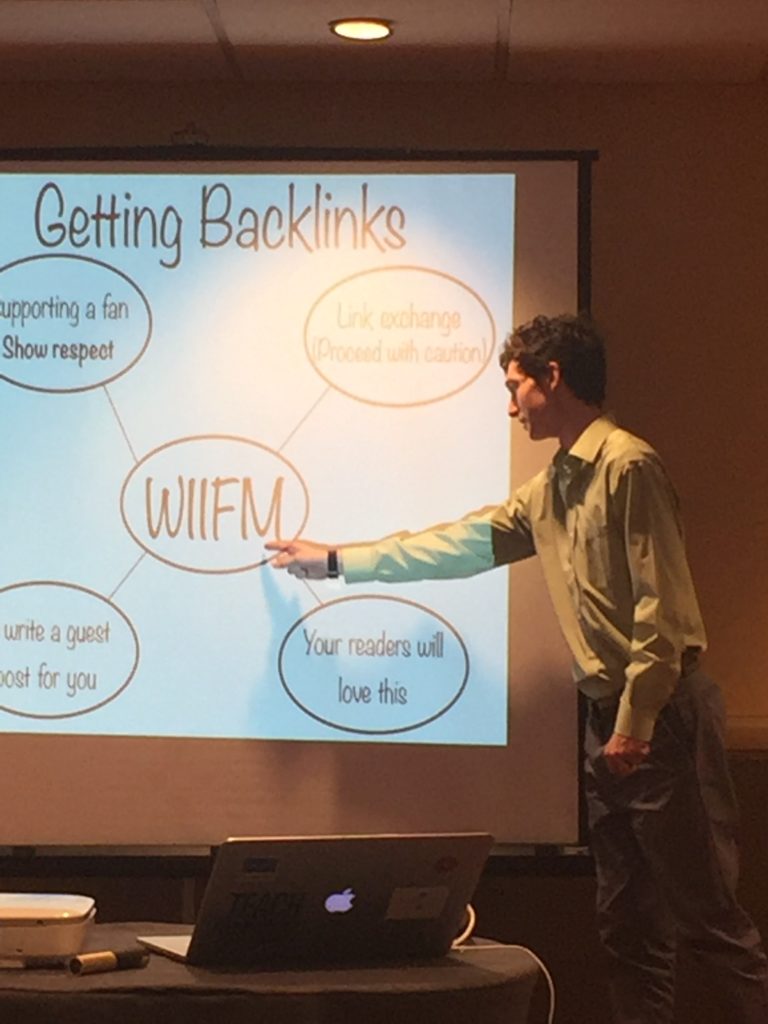 In the end, my brother and I got swarmed by the attendees. It was a very exciting time.
Ray Edwards' Affiliate Competition
Ray is the copywriting grandmaster I told people about for the first three weeks of March. He's a guy I continue promoting because his information is life-changing (this isn't leading into a pitch. The March promotion is over).
This was by far my most successful launch, and I surprisingly placed 11th in his affiliate competition. Usually I hover at the backend of the Top 30, so this was a big jump for me. It turns out I just missed an affiliate mastermind (including a free hotel room at a resort) but 1/5th of a sale, but I'm not mad about it.
First, I don't know when the mastermind will be, and my schedule is tight. If the mastermind got scheduled for October, it would have been difficult for me to go because that's when championship meets start. At the same time, the Top 10 was such a strong cast (some of them were my role models), that it would have been extremely difficult to say no to the affiliate mastermind. I convinced myself that this is for the best.
But that didn't stop me from thinking, "How can I get Top 10 for the next competition?"
One of the beauties of life is that we don't excel when everything goes our way. We dramatically boost our performance when big setbacks arise.
I didn't think, "This is such an unfair world. I should have gotten in the Top 10!" Competition is competition, and sometimes there are very tough losses. For instance, Michael Phelps won his 7th gold medal by a finger tip (0.01 seconds to be exact). While this further cements Phelps' legacy as a swimmer, what about that guy who finished in second place (Milorad Cavic for anyone wondering)?
0.01 is much closer than 0.20.
Here's how I'll rank better for future affiliate competitions (and get more prizes)…
More Summits
My upcoming Content Marketing Success Summit will NOT be the only summit I run in 2017. That I have already decided. What I haven't decided on is how many summits I'll run after CMSS. The truth of the matter is that after June, there are only seven months left in 2017.
And with vacations included, I really just have six months left. I will organize 1-2 summits from the end date of CMSS to the end of the year. While I haven't stuck with all of my New Year's resolutions, I am adamant about surpassing 100,000 email subscribers by the end of 2017. Hosting multiple summits is currently the best way I know of achieving this milestone.
The larger audience I'll have as a result of summits will help me in future affiliate competition. I'm not growing an audience to win affiliate competitions, but I won't deny that a bigger audience will help me in that area.
My LinkedIn Profile Got A Massive Facelift
My LinkedIn profile is probably my one piece of digital property that I forgot about more than anything else. It shocked me when, just last week, I saw that my Yugioh Philosophy Blog was listed as my website. While I did create that blog, I rebranded several years ago.
I went to work updating my profile and had a mentor review it (this individual will also speak at CMSS). Here I was thinking my new LinkedIn profile was a work of art, but my mentor smashed it and let me have it. He wrote a long email discussing what was wrong with my LinkedIn profile while saying some of the things I did right.
I love receiving this type of criticism because it helps me grow. My mentor isn't one of those guys with a chip on his shoulder. He's helping me improve my LinkedIn profile. As of this performance report, I haven't made the updates yet, but I will in the near future.
My Blog Got A Facelift Too*
For a few days, my blog became the hub for all of the world's viagra related needs. Take a look at what I offered on one of my landing pages: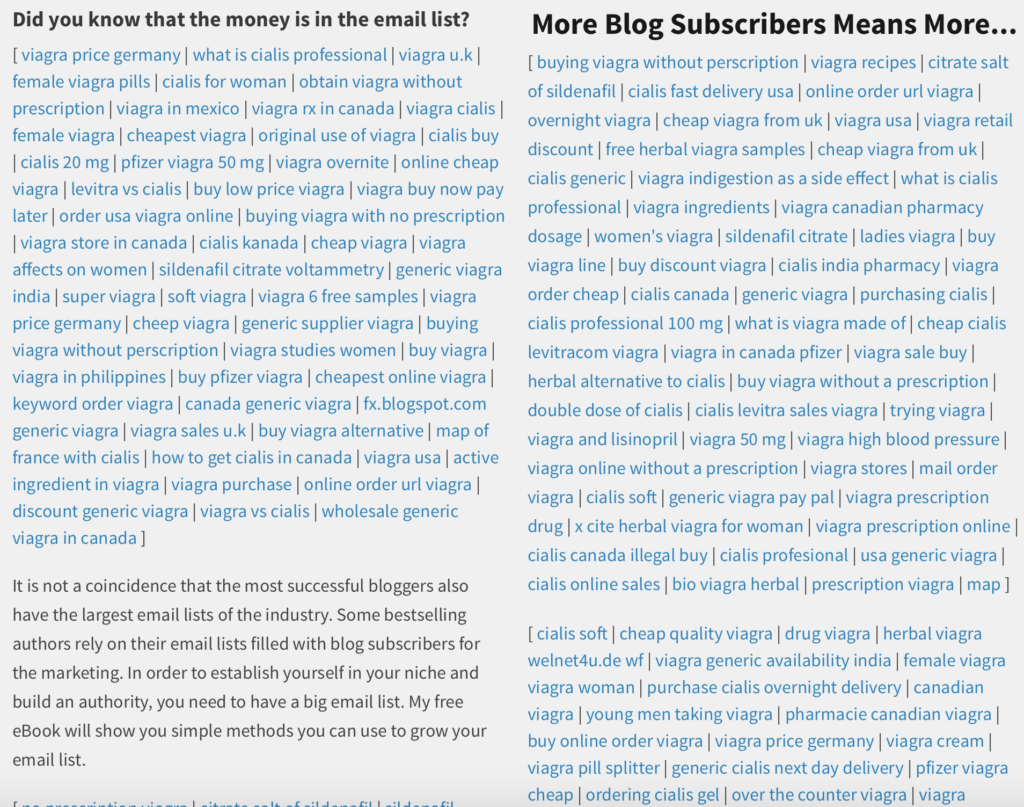 Maybe you didn't know that the money is in your email list. But hey, now you know viagra prices in Germany. Oh, and more blog subscribers means more viagra so be careful what you wish for 🙂
My site got hacked by people in Italy and Romania. Now they're fixed so if you want viagra advice, this is no longer the right blog for you 🙂
Books I Read
Relentless by Tim Grover
The Go-Giver by Bob Burg
The Power Of Full Engagement by Jim Loehr and Tony Schwartz
Do You Talk Funny? by David Nihill
Switch by Chip Heath & Dan Heath
The Obstacle Is The Way by Ryan Holiday
Most people would be happy with six. I'm more focused on the fact I didn't read four (part of this attitude comes from Relentless).
March's Blog Posts
How To Surge Your Blog Traffic
7 Secrets To Find Your Target Audience
10 Ways To Get More Video Views
How To Write 10,000 Words In Less Than 12 Hours
March's Podcast Episodes
Episode 31: How To Master The Mindset And Tactics Of All Successful Salespeople With Anthony Iannarino
Episode 32: A Deep Dive Into Copywriting With Ray Edwards
Episode 33: Exploring The Billionaire Mindset With Preston Pysh
Episode 34: Kim Garst Unleashes Mind Boggling Live Video Insights
Episode 35: How To Persevere Against Any Obstacle With Lance Allred
I got to talk with a lot of great people this month. However, I am toning back to 1 episode per week due to my upcoming summit.
Review Of March 2017 Goals
#1: Host #CMSChat—this did not happen. I will pursue this in April or May but definitely before the summit starts. However, the odds of me getting this hashtag to trend on Twitter are dramatically shifting in my favor. Just last week, there was a day when only one political topic trended on Twitter…so I'm liking my chances!
#2: Interview 20+ People For CMSS—I interviewed seven people but have over 20 confirmed times and dates. I am happy with my progress in this area, especially when I heard that Chandler interviewed everyone within two weeks.
#3: Contact 100+ Potential Speakers—I originally thought I had easily contacted over 100 speakers, but just for my readers, I decided to take a break from writing and check my inbox. It turns out I only contacted 65 potential speakers for CMSS. The conversion rate (likelihood of a potential speaker committing) is much lower than the conversion rate for a podcast due to the promotional aspect of a summit.
April 2017 Goals
#1: Contact 150 Potential Speakers—a bigger goal will result in a greater output. I need to get those final speakers committed by the end of April.
#2: Contact 50 Potential Summit Sponsors—I won't start contacting sponsors until I feel more confident about getting 50 speakers committed for the summit. The other important thing about confirming the speakers is that I can then start contacting potential affiliates.
#3: Master The Intricacies Of CMSS—This basically means creating an affiliate program, setting up the autoresponder, and perfecting the website
#4: Have blog content scheduled past May—this is possible with my new publishing strategy. I do a video, turn the video into a transcript with Rev, and publish the edited transcript on my blog. I haven't tried this method for any of my blog posts yet, but I will in the near future. Also, I only plan on publishing 1 blog post per week due to the nature of my larger projects.
#5: Make CMSS easier—The summit takes up a large portion of my time, attention, and energy. While I am confident that this summit will positively change the trajectory of my brand, I wish I had more time to pursue other things. This is why I will look into ways to reduce my workload. Looking for my ways to reduce the CMSS workload while getting great results will make it easier for me to host multiple summits in 2017 and beyond.
In Conclusion
Most of my work in March had no immediate impact on my business. The same will be true for April and May. June is where I get to see all of my efforts pay off.
I need a bigger team of freelancers. That I know for sure. It's time for me to expand.
What are your thoughts on this performance report? Have any questions for me? Sound off in the comments section below.