April has been an exciting month of knowledge acquisition and summit progress. There are many moving parts with my summit which I'll discuss in this performance report.
50+ Speakers Confirmed For CMSS
Back in February, I set the goal to get 50+ speakers. People I knew suggested I only set the target for 30+ speakers as this is the first summit I am organizing.
I am happy to say that I have 50+ confirmed speakers for CMSS.
With the speakers confirmed (of course, I will not close the doors, but I am not as actively searching), I can now advance to affiliate recruitment and sponsorship proposals.
The goal is to get 50+ affiliates for my summit and many sponsors as well. The best tactic working for me is having speakers and affiliates refer other affiliates for a commission.
My Next Summit
I know that CMSS will be a very successful summit. While I am still focusing about 80% of my time towards this summit, I am in the beginning stages of planning out my next summit. I am anticipating a September summit focusing on mindset and productivity hacks.
Just like CMSS, I will get 50+ speakers for this summit. Unlike CMSS, I will have more knowledge, the summer, and the freelancers who help me make CMSS a success to make the prep work easier.
I see myself getting hundreds of thousands of email subscribers by organizing successful virtual summits. Virtual summits are a lot of fun as you get to interact with top influencers, build your audience, and make revenue at the same time.
The Unveiling
As CMSS has been the main focus for the past three months, I'm giving it special attention in this month's performance report. There's a little more than 30 days before we get started with the sessions, so I thought now would be a good time to drop the curtain.
If you want a head-start to registering for the summit, you can head over to the CMSS site.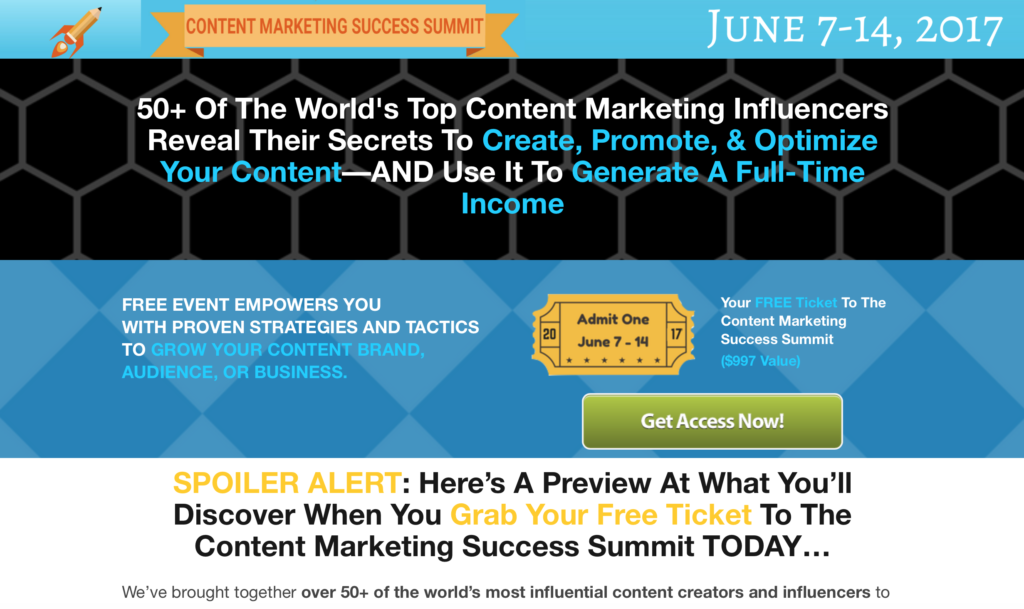 It took a while to optimize the landing page, create the sales pages, email sequences, and everything else associated with the summit. I will share a video with all CMSS attendees detailing how I put the entire summit together. I honestly can't remember most of what I did to reach this point because there's still so much left, but I'll recollect everything for that video.
Books I Read
No Excuses by Brian Tracy
The Millionaire Mind by Thomas J. Stanley
High Hanging Fruit by Mark Rampolla
Pre-Suasion by Robert Cialdini
Be Obsessed Or Be Average by Grant Cardone
Habit Stacking (2017 Edition) by Steve Scott
A Long Way Gone by Ishmael Beah
I Don't Make Excuses, But…
March and April have been two trying months for me. They've been that way for different reasons. I didn't tell anyone (except family and friends who knew) unless the issue at hand involved a scheduling conflict.
My theory is that I'll ramble on about the excuse and somehow legitimize my inefficiency. The moment you try to rationalize a lack of work or a poor result through any means, you are setting yourself up for failure. Stop rationalizing why you didn't act and start acting. I always underplay any painful moments I experience in my life so these events don't consume my every day thinking.
I will make a rare exception to show you what is possible if you don't make any excuses.
On April 28th, I was a speaker at the first annual Small Business Symposium held in Connecticut. The attendees loved it and asked me many questions at the end. I co-presented with my brother (he did the first half), and we both enjoyed ourselves. We both presented on SEO and I chose to tackle the blogging side of things.
Here's the part of the story you don't know about. The day before, I got very sick and threw up a few times early in the morning. I would get a headache if I stared at my computer screen too long, so I didn't have the day before to look over my presentation (a crisis for the typical college student. While I am an entrepreneur, I still go to college and am well versed with completing homework the night before). This was the final of a series of illnesses that I had battled for the past two weeks.
Why do I bring up this struggle?
I still crushed my presentation. Up until the presentation, I had virtually no energy (my networking game leading up to the presentation was nonexistent). It didn't matter how much energy I had for the rest of the event. I knew that I only needed to tap into my remaining energy for the time that I was presenting.
And I didn't tell anyone. I didn't go slower than usual and ask for sympathy because I threw up on the day before. I didn't look for shortcuts.
Even if your excuse seems insurmountable, it's only as insurmountable as you make it. While some would say bravo, I wish I did a little more. I wish that I listened to an audiobook while throwing up. That way I could have attached a sense of productivity to my pain.
That speech went well because I didn't mentally go easy on myself even though I threw up the day before. When it comes to me serving my audience, a mess up is a mess up, regardless of the context.
Review Of April 2017 Goals
#1: Contact 150 Potential Speakers—this was not necessary as I just wanted 50+ speakers. Since I had a good number of speakers going into April, most of my remaining speakers came through referrals.
#2: Contact 50 Potential Summit Sponsors—I didn't contact a single sponsor.
#3: Master The Intricacies Of CMSS—OH YES, but there's still more to do.
#4: Have blog content scheduled past May—I barely have content scheduled in May right now. I am going to post 1-2 blog posts per week because I need the time for the summit and promotion.
#5: Make CMSS easier—it's easier, but there's still much to be done.
May 2017 Goals
#1: Contact 50 potential sponsors—the initial revenue from sponsors will help me pay for expenses which will get significantly higher as the summit comes close (June 7th is the start date). You can contact me marc@marcguberti.com if you are interested in being a sponsor for CMSS.
#2: Contact 50 potential affiliates—the more affiliates I have behind my summit, the more reach my summit will achieve. My speakers and affiliates have done a great job at referring other affiliates, and I am in the midst of directly contacting successful affiliates. I currently look at affiliate competitions and my current audience (people like you) to recruit affiliates for my summit.
#3: Completely plan out the summit marketing—I am so excited about so many things about the summit. The way I market this summit will be one of my favorite parts. I have some colossal marketing strategies for my summit that I haven't seen ANY summit owner do (and I had to do a lot of research on summits to learn how to run a summit). My only hint is that it doesn't start on June 7th. The best way to figure out my colossal marketing strategy is to join my summit and see how I market it.
#4: Have blog posts and podcast episodes complete past June—With the new publishing schedule of 1 new blog post and 1 new podcast episode per week, this goal is very possible. I'll take a page from John Lee Dumas' frame of thought and do all of the blog post related videos in one day and send them to Rev. I still need to figure out when I'll do podcast interviews without conflicting with CMSS interviews.
#5: Confirm 10 speakers for my next summit—This would be a true cherry on top. The next summit will likely focus on productivity and goal achievement. Interviews will be closer to the 30 minute side as this makes it possible for me to interview more people quicker (while getting some great insights). I need to get these interviews done over the summer because I currently don't know my college schedule for the fall semester. If I go this route, I'd do it VERY slowly and gradually so I don't forget important elements for CMSS.
#6: Read 15 books—I am more likely to realize this goal in June since school and CMSS interviews will conclude in May. However, I'll have significantly more time to read books after the first week of May. I have already bought five books on eBay (Amazon doesn't take PayPal which is my preferred method) in preparation for reading 15 books this month.
#7: Identify a good coach—In No Excuses, Brian Tracy talked about the importance of spending a percentage of your earnings on expanding your education. I am anticipating a significant increase in revenue from my summit, and with that, I will have to spend more of it to expand my education. I will hire a coach to keep me accountable in a specific area and help me grow faster. The area I focus on is to be determined. Depending on how well my summit performs, I may hire two coaches.
#8: Plan out a second podcast—The Breakthrough Success Podcast is here to stay, but it's getting a new friend. I am following an approach of a weekly interview on my current podcast combined with a new podcast filled with daily soundbites where I share some of my insights. I have no set release date.
In Conclusion
The trend for several performance reports remains potent in this one: the summit has taken up a priority of my time. Now I finally get to see the reward from my hard work (yay!)
My first summit will give me the firepower I need to propel my brand even further. I can pay for the top coaches and expand my business even more. For a long time, I thought I could do everything myself. I am increasingly learning that this is not the case.
It's why I hire people to edit my videos, find great pictures for my content, manage my social media accounts, and more. I will be hiring more people very soon, but I am at the stage where I need to hire coaches to help me grow beyond what I can do alone.
What are your thoughts on this performance report? Have any questions? What are you working on? Sound off in the comments section below.