September was my first full month of school, so I'm back to juggling school work with growing the business. I feel more prepared for this semester than I've felt in the past, and I used this month to set myself up for a strong 2018 finish.
Here's what happened this month…
My First Audiobook
I am happy to announce that I launched my first audiobook in September. A few people asked me if I could turn Content Marketing Secrets into an audiobook. And while this took me months to pull off, I finally have the audiobook up on Audible.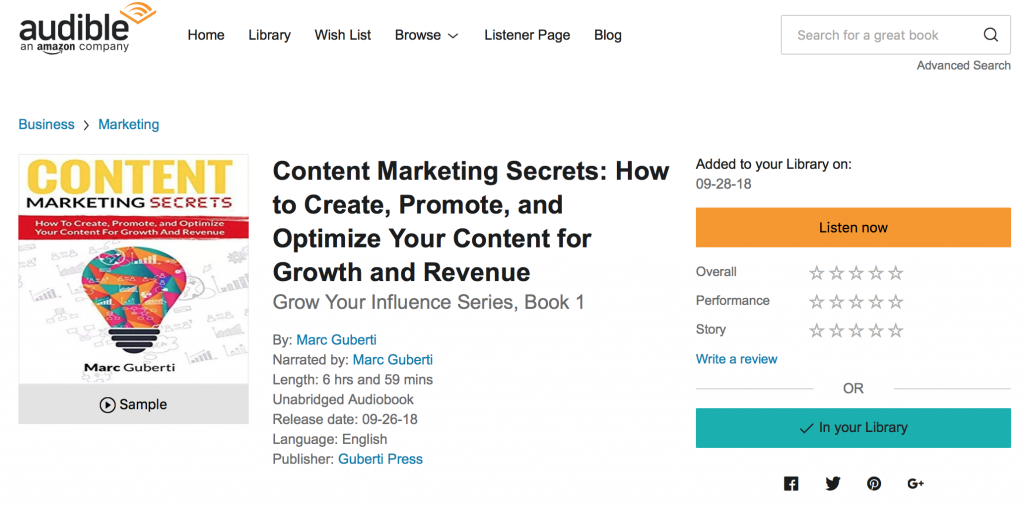 The book came at literally just under 7 hours. I attribute it to fast narrating towards the end, but I am happy with the audiobook I put out for you.
I had a lot of fun producing the audiobook. Reading word for word what you see on your screen can be entertaining. However, it did get tedious at time as I completed the entire audiobook in one week.
With that said, I did get to include some exclusive content in the audiobook because I inserted some of my 2018 expertise in a book I originally released in 2017. Audio editing isn't my strong suite, so I handed that baton to my incredible audio editor. 
Audiobooks are going to keep growing year after year as more people listen to content as they travel, shop, drive, and do other things where reading in the traditional sense isn't an option.
You can also expect an audiobook for Podcast Domination which comes out on October 16th.
Podcast Domination Timeline
I put the finishing touches on Podcast Domination this week. The hard work is over. Here's what I still have to do:
Narrate the audiobook (I count this as editing since you get to see all of your mistakes when you narrate).
Format the finished book for KDP and CreateSpace
Tell my assistant to create the CreateSpace cover
I'm getting all of this done by October 5th. One reason for this deadline is that I need to submit the book's contents to KDP before October 12th. If I don't do that, then all of the readers who pre-ordered their copies will get a notification from Amazon saying their pre-orders were cancelled, and I won't be able to offer another book for pre-order for the next 365 days.
That's why I aim to get everything done earlier than I need to.
Podcast Domination is the first book I put up for pre-order. My normal approach would have been to create the sales page 1-2 nights before and then start promoting it. Podcast Domination has already gotten dozens of pre-order sales which wouldn't have been possible with my previous strategy.
I plan on making all of my books available for pre-order in the future. The looming deadline and customers eagerly waiting for your book to release also boosts my motivation to spend more time working on the book. 
With a virtual summit and bundle on the way, I don't know what my next book will be on yet. However, I may announce the pre-order date for my next book by the end of the year.
Content, Content, Content
At my core, I am a content creator. I enjoy creating content and turn as much of my marketing into content creation as possible. For instance, when I create a Breakthrough Success episode, that's marketing. I get to build relationships, learn new things, and provide my audience with content all at the same time.
I want to provide you with more content. That's why I'm making a conscious effort to publish more blog posts, create more YouTube videos, and release the Breakthrough Business Mentor Podcast this month (I also mention that podcast in Podcast Domination, so I better release it soon 😉 )
My goal is to provide you with more value. Even with my school schedule, I'll have more free time now that the baseball regular season has concluded. Yes, I will be watching the Red Sox throughout the postseason and into the World Series, but now the MLB Fantasy season is over (one of my few hobbies outside of the business and working out).
I know my two best seasons for productivity are the summer and winter. Summer because I have much more time available and winter because there's no baseball for me to watch.
More FB Lives
I aim to do at least two Facebook Lives each week in the Official Breakthrough Success Group. The great thing about these FB Lives is that I announce them in advance and have a set time to create the content.
One observation I recently made in one of my interviews is that I've interviewed over 400 people for my podcast and summits, and yet I've probably done less than 100 videos during that same timeframe.
It's easy to show up when you know someone's waiting for you. When you've got your role models expecting you to show up, you find a way to show up. 
That's not the story with solo videos. To remedy the issue, I decided to conduct more FB Lives and tell everyone in the group about those live videos.
If you join the group now, you'll be able to see some of those videos including two of the expert interviews I've published.
My 3 KPIs
KPI stands for Key Performance Indicator. These are the stats that I care about the most. Previously, I mentioned that I had five goals for the rest of the year.
That's no longer the case. Now I only focus on three things:
Email list growth (Goal: 16K subscribers by the end of the year)
Breakthrough Success Group (Goal: 3K members by the end of the year)
Revenue: (Goal: private)
If a project doesn't help me with any of those three goals, I won't pursue it. I am narrowing my focus on these key indicators so I can focus on the things that will lead to the most results.
Ultimately, revenue is my most important KPI. Without revenue, you don't have a business. With more revenue, you can spread your message, impact more people, and support more assistants on your payroll.
I also have a desire to become a real estate investor, but I'm not aggressively pursuing it yet. I'm in the learning and research stage, and that's on the back burner in relation to the other goals I'm pursuing.
In Conclusion
I'm providing more value while narrowing my focus on the few areas that matter the most. That sentence sums up my September.
What were your thoughts on this Performance Report? Do you have any questions for me? Sound off in the comments section below.