By far, the biggest thing that happened to me in April was Breakthrough Success turning into a radio show. 
Episodes are now on AM and FM radio stations across the country. Here are some of the places where you can listen to the show…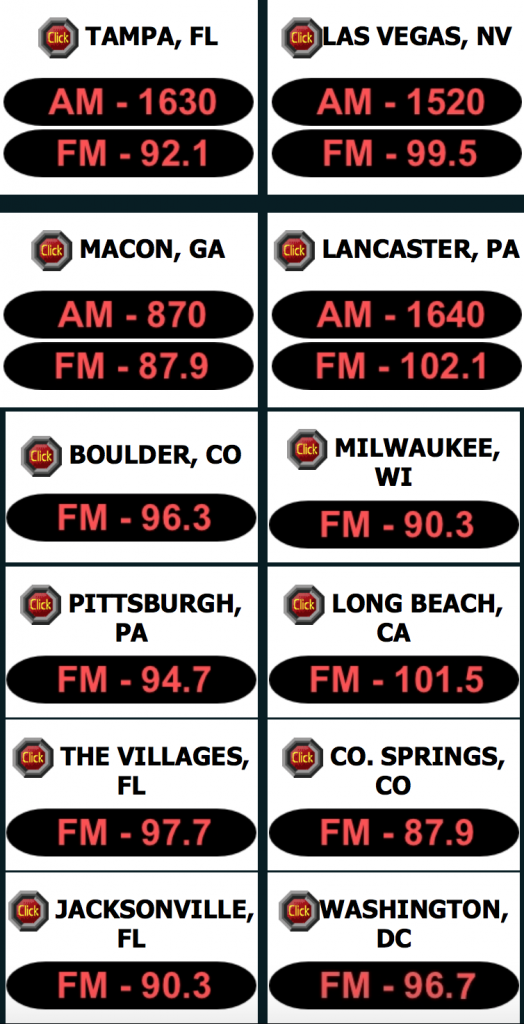 I am already starting to attract sponsors and sponsored guests for the show, and it could be a big part of my income a few months from now and possibly top my affiliate income.
Here's the other stuff that happened in April.
Tracking Income And Investments
I have been adamant about tracking my income since leaving the New Media Summit. I had tracked my investments on a spreadsheet and now do the same with my income.
The great thing about my spreadsheets is that if I plug in a number for one source of income, my total income for the month is automatically updated.
BTW: I'm actually thinking about offering my income spreadsheet as a free gift so you can also track your income each month. Let me know if you are interested.
One thing I enjoy is having some reliable income streams that I can count on each month. My membership sites and dividends are my two preferred reliable income streams.
That doesn't mean I'm saying anything bad about any other income streams. Books and sponsorships also make up a good part of my income, but you have to work on book sales and sponsorships each month. 
You always have a guaranteed amount of money you'll make each month if you keep the same number of members on your membership site or keep all of your stock assuming there are no dividend cuts.
I currently look at both of these spreadsheets every day and track the compounded growth of my dividends. The way my portfolio is set up, my dividend payment increases by 9% annually just from reinvestment (assuming I don't put in an extra penny and dividend payouts stay the same). I also like to invest in companies that have grown their annual dividend by 10% or more in the past few years. 
My goal for dividend investing is to have the option to live off my dividend income within the next 10 years. I'd have to put more money in, but the earlier I put it in, the more power the compound effect will have. 
I track these stat more than any other because the bottom line of a business comes down to money. If you don't make money, you don't have a business. It's then just an expensive hobby.
The Advanced Affiliate Marketing Summit
At the beginning of the year, I set the goal of organizing 10 virtual summits. I quickly realized this was a mistake and scrapped most of them so I could focus on this one: The Advanced Affiliate Marketing Summit. 
This summit comes out in June and will showcase at least 30 speakers. Affiliate marketing has been a great income stream for me and believe affiliate marketing can be a great income stream for anyone.
I'll have more details about the summit as we get closer.
I'm Going All-In On Webinars Soon
You can learn many things by paying attention to what others are doing. I was recently part of a webinar Steve Olsher hosted where he helped attendees get booked on podcasts on the spot.
One important thing (for me) about this webinar is that it was on Zoom.
Zoom is where I conduct the majority of my Breakthrough Success interviews, so I am very comfortable with that platform.
Once school ends (less than 1 week from now. I'm in finals mode),  I will upgrade my Zoom account and host more webinars.
Advanced Influencer Mastermind members will get access to many of these webinars, and I'll do some free webinars for the entire community. 
Once my business does well enough with webinars, I will consider setting up an Ever Webinar for an evergreen product. Right now, most of my virtual summits are evergreen so this would be a step in the right direction for my evergreen model.
Online Advertising
One of the biggest myths about online advertising is that you set up the ad once and then just let it ride.
Whether it's Facebook, Google, or Amazon ads, you need to continue monitoring them to continue making money.
That's why I'm going to spend more time on those three advertising platforms. I already know Amazon very well and will master Facebook soon. Google Ads are the last one I'll focus on.
To find this extra time, I'll delegate more tasks within my brand. Delegating the tasks that produce decent results allows you to focus more on the tasks that produce great results.
In Conclusion
I looked more deeply at my income streams and am going to focus on the ones that show the most promise.
Part of that focus is committing more time to online advertisements and monitoring the ones I already have set up.
What were your thoughts on this performance report? Do you have a question for me? Sound off in the comments below.