Summer break is kicking in which means tons of extra productivity on my end. I am making big expansion plays which I'll talk about in this report, and since I only have one semester left of college (wow, it's coming to an end), I'll soon have a full year that I can truly dedicate to my business.
These three summer months represent allow me to fully embrace the hustle of entrepreneurship, and I am set for the challenge. Here are some of the things I did in May…
Growing The YouTube Channel
Seeing my channel at a flat 3,050ish subscribers for an entire year was not something I was happy about.
To be quite honest, looking back, I am appalled at how little time I spent growing my channel. The results truly show for themselves…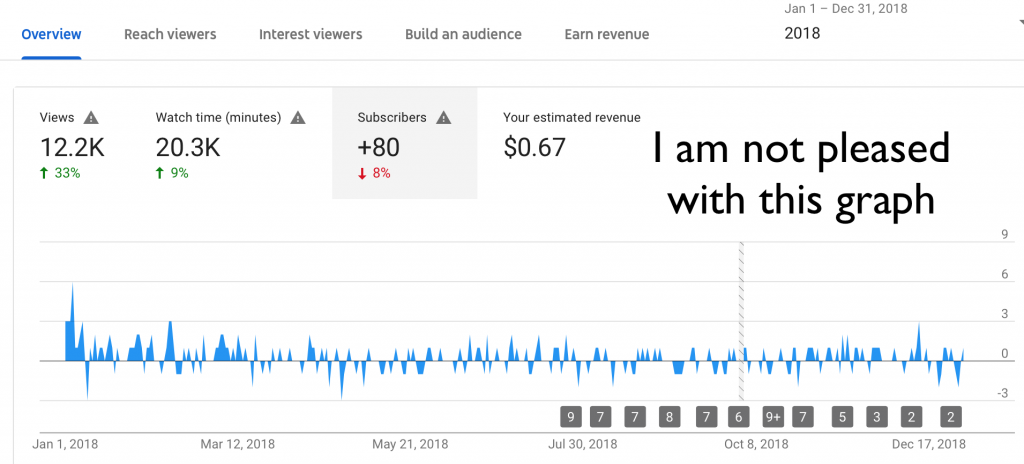 No sugar coating at all. Part of a monthly performance report is admitting when you mess up. But that was 2018. 
2019 I'm going all-in on YouTube. I publish at least one new video every day on my YouTube channel and am in a bunch of Facebook Groups.
Not only did we finally get past 3,100 subscribers (I know people would focus on a number like 3,000…but considering I spent over a year there, 3.1k is the big milestone for me), but we are rapidly moving onward.
Twitter & Instagram Too
YouTube isn't the only social network I'm focusing on. 
Twitter and Instagram are also receiving more of my attention.
With Instagram, I'm working towards 3 posts per day (quote, tweet, and something else) and will build from there.
On Twitter, I'm taking the opposite approach. 
While tweeting once every 15 minutes has worked wonders for a long time, that strategy is not what it used to be. I've also been tweeting some articles that were outdated because they were in my CSV file.
The new plan for Twitter is to promote my new content full force while still tweeting some of my evergreen content once per hour. That way, I don't overwhelm people's Twitter feeds but still give them the value of my evergreen content.
People still don't spend too much time on Twitter in one sitting and could miss a 4pm tweet if they logged in at 4:05pm. However, data doesn't lie and tweeting once every 15 minutes isn't as bountiful as it once was.
Taking this approach will also make scheduling the content much easier. Now I can schedule tweets up to two weeks in advance instead of 2-3 days in advance (you can only have 350 scheduled messages at a time in HootSuite).
I'm also growing on Twitter the manual way. Many Twitter marketers were upset that the company stripped tools like ManageFlitter of their growth capabilities, but I now follow people on Twitter who I believe can benefit from my content.
The pursuit for the 500,000th Twitter followers is still alive 😉
Advanced Affiliate Marketing Summit
We are finalizing the opt-in page for the Advanced Affiliate Marketing Summit. I am super excited about that summit. Some of the affiliate marketing experts who were there during the early stages of my journey will be speakers.
Nothing much to say about this for now other than be ready for June 17-20 🙂
Profitable Public Speaking Podcast
After a few months of planning, the Profitable Public Speaking Podcast is finally out 🙂
A few awesome guests have been on the show so far. I've learned a lot about public speaking through this podcast already and will be detailing my journey to 20 stages in 2020 each Thursday.
I got busy towards the end of May (also the reason this report is coming out late), but come late June and I'll be sharing new episodes each Thursday about my journey and some ways you can get more public speaking opportunities.
In Conclusion
May was a great month. It was the first month in a while of no school. June, July, and August are all clear, and based on what I've already done in June, it seems like my productivity and results are going to spike up.
This is the last summer that I will view as a break from school. Next fall is my last semester so 2020 will be a year of full focus on my brand.
What were your thoughts on this performance report? Do you have any questions for me? Sound off in the comments below.