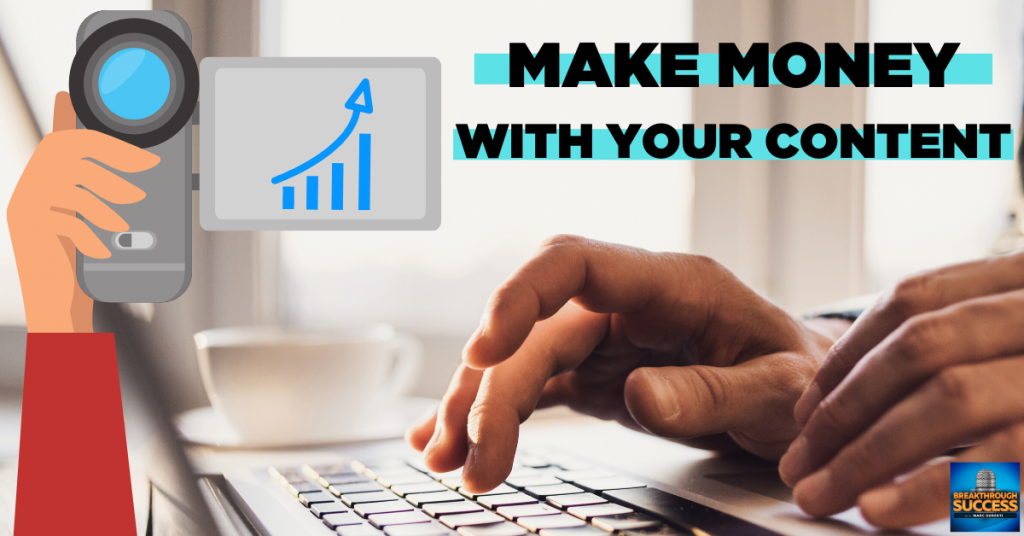 Content takes a considerable amount of time to produce.
Not only is it about producing the piece you're currently working on, but it's also about consistency.
Creating the next blog post, video, or podcast episode after you just finished the one you were working on.
If you're going to invest so much time into creating content, you might as well make money from it.
That's why I decided to write this post so you can learn how to monetize your content. Here are the strategies you can use to make money with your content.
#1: Rewrite Your Limiting Beliefs
Before we can go into strategies, we have to address mindset.
So many people know exactly what they have to do to achieve a certain goal. You might be reading this post about content monetization while knowing exactly what you need to do to take that next step.
It's one thing to know how to do something. Doing it is completely different.
The reason most people don't make money with their content is because they have limiting beliefs. They doubt themselves and their abilities when results don't come right away.
Most people on this boat either give up way too early or binge on a bunch of $1,997 training courses without getting results.
Inspirational speaker and decorated veteran Ryan Matthews came on Breakthrough Success to discuss how we can break our limiting beliefs.
Determine what your limiting beliefs are, write them down, and think about how they came up.
Many people are raised under the false idea that money is the root of all evil. If you agree with this idea, you won't want to make more money. You won't want to follow the strategies in this article that will help you make more money.
You have to discover the root cause of the limiting belief and flip it. A better way to view money is that the inappropriate use of money is the root of all evil…and you can do good with your money if you properly utilize it.
You can build up your investments so you don't have to worry about anything from a financial standpoint. Now that we have addressed the mindset, we'll go into some of the juicier strategies you were likely expecting from a blog post like this one.
#2: Invest In Quality Content
The most successful content creators continuously reinvest their earnings into their content…especially when they have a proven system.
Some content creators invest $1,000s into creating better content once they see their model is working.
At the beginning of your journey, you should invest mostly with your time. Investing money in an unproven concept is the equivalent of gambling. You might get lucky, but I'd rather rely on data for my decisions.
Raitis Purins, the Head of Marketing at Printful, recently came on Breakthrough Success to share how we can master the key content pillars.
Raitis mentioned how Printful continues to invest in its content with a team of 20 content writers. If you can make $100+ from every piece of content you produce, would you invest $50 to create more of those resources?
Would you invest $500 into each piece of your content if it gave you the potential to make $1,000+ from each of those pieces of content?
You may not have those types of resources. In that case, you can enlist the help of guest bloggers and interviewing people for your podcast. Both are great options regardless of whether you have the funds to invest in content creators or not.
If you invest in quality content, you'll start to grow your audience. Growing your audience expands on your monetization potential.
#3: Understand The Entire Funnel
The funnel doesn't start when someone enters their name and email address to join your list. The funnel starts at the very moment someone comes across your content.
Through your content, you get to convey certain ideas that you present to certain people.
The funnel starts at the first point of contact. Understanding this is vital for turning readers, viewers, and listeners into customers.
What questions do your potential customers have? What problems are the experiencing? What type of information are your potential customers looking for?
Are you creating your content with those questions in mind?
I coach people on how to grow their businesses and have created products on the topic. Teaching people about content monetization through my free content increases book and training course sales where I go deeper on that topic.
If you want a deeper understanding of the entire funnel and how you can use your content to steadily attract new customers, you will benefit from a Breakthrough Success episode I recently did with Anthony Sarandrea.
He shared the strategies he used to build a customer base through free content…and how you can do the same.
#4: Be Your Own News Outlet
While it's a nice bonus if people share your content with their friends, you can't rely on that strategy for growth.
If you want to grow and eventually turn that growth into revenue, you need to be your own news outlet.
Author Bridge Media founder Helen Chang explained on Breakthrough Success that authors and other creatives have to continue promoting their work to build up momentum.
You can't just create a piece of content, promote it once, and be done with it.
You can't expect everyone to know about an award that you won for your business. Let people know by being your own news outlet.
And when you take a deeper approach where you view your platform as a news outlet, you take it more seriously.
There's a different sound to the Side Hustle Paradise versus Side Hustle Paradise Media/Corporation.
Changing the way you see your work will change the level of effort you put into it.
When you see yourself as your own news outlet and own that role, you'll start doing more of the things that will help you gain more visibility and revenue.
#5: Choose 3 Priorities Each Day
There are plenty of things you can do for your content brand at any given moment.
To avoid getting distracted and make sure you do what matters the most, identify 3 priorities each day and address those first.
That's the advice Mike Arend from Infinite Success Academy provided on our Breakthrough Success episode.
When you choose 3 priorities, it forces you to stay focused on what matters. As you continue to grow your platform, create/promote offers, and figure out which ones work the most, you'll have a better understanding of which priorities you need to focus on.
If you want to make more money with your content, consider joining us in the Content Marketing Plaza. You can use the coupon code GROW to save $100 on your purchase.