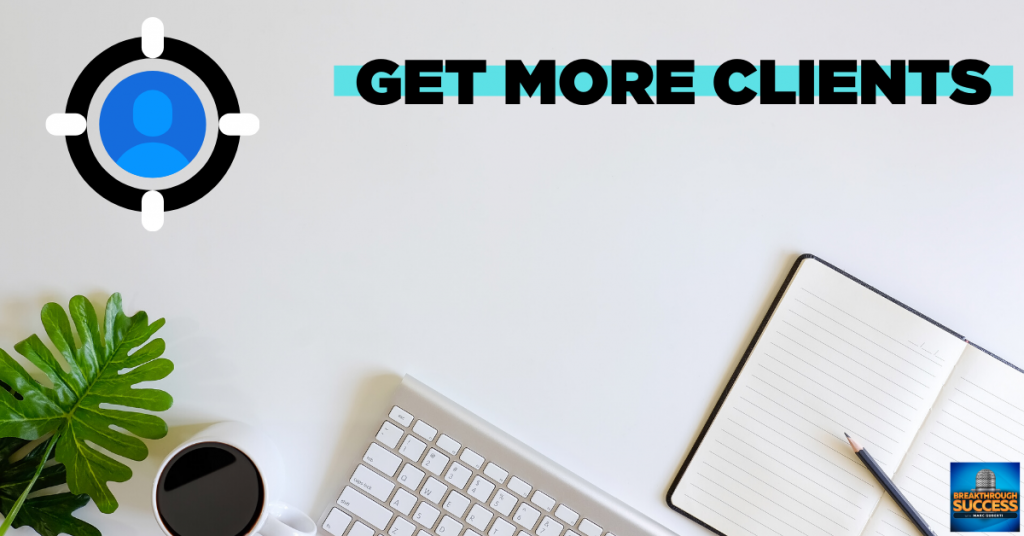 Clients are essential for any business. They pay you each month and allow your business to survive and thrive. It's no wonder why so many businesses want to get more prospects and turn them into clients.
For someone just getting started, the entire process of finding potential clients and pitching yourself can seem challenging. It's only natural to feel intimidated by the process because it may be something you haven't done too often, and there's a lot of rejection along the journey.
Getting clients is a numbers game. The more people you connect with, the more prospects you have. A higher conversion rate will result in more prospects becoming clients.
So how do we get more clients for our businesses? I'm pulling a few strategies we've recently learned through the Breakthrough Success Podcast to help you with this goal.
#1: Put A Heat Map On Your Site
Internet marketing is a big piece of the client attraction puzzle. You can only jump on so many sales calls and do so much prospecting. Content marketing does the prospecting for you.
Combine that with organic growth and running ads, and you can be on the verge of massive success.
However, people's experiences on your site are a big factor that will determine how many people become clients.
And from a client attraction standpoint, you want your visitors to take specific actions. Rather than read your content and then go away, you want your visitors to read your content and then join your email list.
Internet marketing specialist Laura Burton mentioned a few internet marketing strategies in our episode. One of those strategies was incorporating a heat map on your site.
A heat map lets you know where people are hovering their mouses and where they are clicking.
If most of your visitors are hovering around an area that doesn't feature an opt-in, you can modify your website so the opt-in is in the popular region of your website.
That way, more people see your free offer and proceed to join your email list.
#2: Go To More Events
When you go to to the right events, you connect with like minded people…
…and while COVID-19 has thrown the entire event planning world in limbo, there are several virtual events and Facebook Groups you can join.
Virtual events are easier to attend as you can attend them from the comfort of your home. However, you should consider attending in-person events in your industry when restrictions are lifted and when you feel ready.
International speaker Cami Baker shared with me that she's attended 1,000s of events in her industry. She's done this by attending big-name events in her space as well as the smaller ones in her area.
At her peak, she had some days where she attended 3-5 events. While it's a lot of scheduling work and driving, Cami attributed this strategy to attracting a steady stream of clients.
You don't have to attend 3-5 events each day, but finding an event in your area each week can make a big difference…and with virtual events on the rise, finding an event that fits your schedule is now much easier.
#3: Do A LinkedIn Power Hour
Rainmaker System Matthew Clark helps people get 2-5 high value leads each day. While he shared a variety of strategies on our Breakthrough Success episode, one strategy in particular stuck out…
…a LinkedIn Power Hour.
Every day, spend 60 minutes connecting with 60 people on LinkedIn. Not all of them will accept your connection request, but for the ones who do, you can start a dialogue.
My personal recommendation is to offer a free resource first rather than making a quick pitch about your services or to jump on a call.
I receive too many of those types of requests each day to count, but anytime someone offers me a free resource first in exchange for my email address, I'm more likely to engage with that person.
Lead off with value as you connect with 60 people in 60 minutes. If you turn the LinkedIn Power Hour into a daily habit, you'll connect with…
420 people every week
1,800 people every month
21,900 people every year
If you can turn 1% of those people into clients, you're business is set.
#4: Set Up Daily "Client Attraction Routines"
Our habits make or break us, and our routines fuel our habits. Whether you know it or not, you've got routines that you live by.
If you don't know your routines, you're at risk of adopting some bad habits and not accomplishing your goals.
This is where Daily Client Attraction Routines like the LinkedIn Power Hour can come in handy.
Creating A Brand founder Alex Sanfilippo and I jumped into a deep conversation about building routines over on Breakthrough Success.
While most people think about the morning routines, it's just as important to think about the evening routines. Alex mentioned during our conversation that the evening routines determine the success of the morning routines.
If you don't end strong, you have a more difficult time reclaiming momentum.
While the LinkedIn Power Hour may not be your cup of tea towards the end of the day, you can do something like the LinkedIn Quick 5.
Instead of connecting with 60 people in 60 minutes, connect with 5 people in 5 minutes towards the end of the day. It's an easy task that will set you up for a productive morning.
The evening routine you should start incorporating now is to write all of tomorrow's goals the night before. The reason people don't stay on task is because they don't know what the tasks are. They don't know which tasks they should perform first or which ones are the most important.
The evening routines are critical for starting each day strong. When you start any given day on a high note, it carries over for most of the day.
#5: Change Your Self-Image
All of your actions, the changes in performance, and your mindset are based on your self-image.
If you feel confident in your abilities and self-image, you're more willing to expand your comfort zone, try new things, and grow.
If you don't feel good about your self-image, you'll feel like you're doing potential clients a disservice, you can't get additional clients and should just be grateful for the ones you have, and you won't grow.
Leadership coach Robert MacPhee joined us on Breakthrough Success to share how self-image relates to our comfort zones. A strong self-image makes it easier to grow while a weak self-image makes it more difficult to grow.
If self-image is holding you back, figure out why. Go deep and ask yourself the question why a few times.
Why am I feeling this way?
I am feeling this way because X
Why does X make me feel that way?
Because…
And build from there.
Another great activity is to conduct daily affirmations when you wake up and before you go to bed. If you want to become a millionaire, write down "I Am A Millionaire" every morning and evening in a notebook.
If you continue to write that daily affirmation, your subconscious mind will start to believe it. Then, you'll start doing things that millionaires do to accumulate their wealth such as attracting more clients and investing instead of spending.
I'd love to hear from you which strategies you currently use to get clients for your business. If you want to listen to additional Breakthrough Success episodes that will help you with personal development and business growth, make sure you subscribe to the show on your favorite podcasting app.