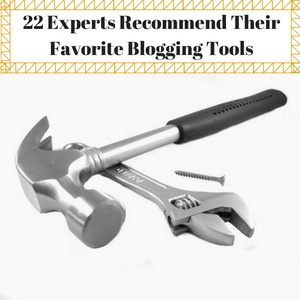 Wondering what blogging tools the experts like to use? I recently contacted 22 experts and got their takes on what the best blogging tools on the web are.
What I like about these tools is that there is a perfect blend of well-known blogging tools and blogging tools that you will learn about for the first time.
I know I definitely learned a lot by hearing about these experts' favorite tools, and I am sure you will too.
Andrew Choco is the VP of Marketing at a digital agency, Directive Consulting. Directive Consulting is a Google, Bing, Moz and Unbounce partner.
#1: Answer the Public: This tool allows you to search a keyword and then gives you the questions that people are searching involving that specific keyword. This is great for thinking of topics and prompts to blog about.
#2: Grammarly: This is a popular tool, but one that is really helpful for making sure your blog post has perfect grammar and sentence structure. It's like spell check but on overdrive.
#3: Small SEO Tools: Plagiarism Checker: This is a great tool for making sure your content isn't crossing the line into plagiarism, even if it is by accident. It's always best to be safe than sorry, and this is a great way to ensure our content is original!
Eric Brantner is the founder of SleepZoo.com. He runs several blogs in a variety of niches. Some of them have been featured in USA Today, Time, MSN, TechCrunch, Fortune, and other top publications
#1: CoSchedule: This is by far my top tool. I use it to plan out content, assign to writers, edit, and share via social media–all in one place. It has streamlined our content marketing dramatically, cutting out hours of work and allowing us to tremendously increase content production and sharing across all our sites.
#2: Yoast: You have great content, but you need to make sure you've optimized for keywords to get found in Google. Yoast provides a detailed checklist to help you do just that.
#3: MailMunch: Before using MailMunch, my mailing lists were pitiful. Hardly
anyone signed up. Now, I created pop-up forms with MailMunch and my lists
have grown exponentially.
Using this platform, you can plan out content, assign content to writers, edit, and share via social media–all in one place. It has streamlined our content marketing dramatically, cutting out hours of work and allowing us to tremendously increase content production and sharing across all our sites.
Peter Kim is a marketing strategist who specializes in social media management, SEO, and blogging.
#1: Buzz Sumo: Buzz Sumo is great for discovering popular content to see
what you're up against as you're about to start your next blog post and
it's also great for discovering influencers for content marketing.
#2: SEMRush: This tool just about does it all from keyword research to
competitor research. The new SEO Keyword Magic tool they've built has made
it even easier to put together a winning blog post.
#3: SEO Yoast Plugin: This is the best tool to make your posts SEO friendly
especially if you're putting together evergreen content that'll continually
bring organic traffic to your website.
Mike Kawula is the CEO of Social Media startup Social Quant, a top ranked Twitter tool by HubSpot that helps you find the most relevant followers on Twitter that will interact with your business.
#1: Warfare Plugin: Warfare is an amazing social shares tool that really helps drive traffic. It has a ton of features, one is counting how many Tweets you get, which many have removed. Warfare also allows you to customize what graphics will be shared and the text, which is super helpful.
#2: Post Planner: Post Planner has a ton of great features, but one of my favorite is their requeue share feature. When you write a good piece of evergreen content, you should make sure that it is continually shared on all Social networks occasionally. Remember people on Twitter for instance are moving fast and can miss your content and if you're increasing Twitter followers daily, then you'll want them to see your previous content. Post Planner makes this easy and highly affordable.
#3: Social Quant My last tool I'd recommend is Social Quant. Social Quant helps you get more Twitter followers, but relevant Twitter followers who will engage with your content. Remember it doesn't matter how often you share your content if you don't have a following, thus Social Quant makes it easy for you.
Always remember with Content Marketing the Marketing part, and these 3 tools will help with that!
Rob Boirun is the CEO of Reviewster Network, a network that specializes in tech, software, and app reviews.
#1: EagleStats: For those that are worried about using Google Analytics on their blogs there is another free service out there that offers just as good stats if not better for bloggers. Look at EagleStats. I really use it for the real-time geo-location stats it offers.
#2: WP Distraction Free Editor plugin: For WordPress bloggers I recommend getting the WP Distraction Free Editor plugin. This is basically feng-shui for your editor. Makes working on your posts a aen-like experience if that is even possible.de
#3: Buzzsumo: This is a great inspirational tool if you need blogging ideas or if you get stuck on a topic you are writing about. This gives you up to date topic ideas that people are actively looking for. So if people are looking for it, may as well write about it.
Nicholas Tenhue is currently UX and Product Strategy lead at Genospace. He is also an alumnus of Microsoft Ventures, Founder and former President of EIT Digital Alumni. He also holds a dual MS in ICT Innovation from UCL and KTH.
#1: LSI Keyword Generator: Using latent semantic indexing keywords is great for getting high-quality SEO content out there. You just typing your main keyword and LSI Keyword Generated gives you a set of related terms to weave into your article. Magic.
#2: Title Capitalizer: We all want to get that title case lettering right for that engaging title we spend so long thinking up. Simply copy and paste your title and let Title Capitalizer takes care of the capitalization rules for you.
#3: Pixabay: It's hard to find genuine and eye catching stock imagery for blog posts on the web. Pixabay is a free community curated photo site where all photography is free for commercial use.
Sanjay Nasta is the CEO of Microassist, Inc., a learning and application development and delivery company focused on digital accessibility for all. He is a frequent contributor to the Learning Dispatch and E-Learning Council.com.
#1: Twitter Lists: I use Twitter Lists to find great information to share with my audience. For example, when writing about Digital Accessibility I peruse what the thought leaders are talking about on my Twitter list.
#2: iAWriter: To write my blog posts I use a iAWriter. It is a simple markdown editor that makes sure I'm not distracted. It keeps the formatting simple, and exports clean HTML.
#3: Canva: For quick graphics for blogs I use Guy Kawasaki's favorite tool Canva. The results are good enough that every now and then my graphic designer complements me…Shhh…don't tell her the secret.
Angela Zade is a content marketing executive with over two decades in traditional and digital marketing. Today, she works as a Digital Marketing Analyst with seoWorks
#1: Grammarly: I like to think I am a grammar genius, but even I miss a typo or two. Grammarly highlights any and all grammar mistakes automatically no matter where you are typing online. It's spared me from humiliating missteps on countless occasions.
#2: Fotolia: I'm a firm believer that visual images take a plain article much further when you add compelling and relatable images. Fotolia is a paid, stock photography site so the blogger (i..e. me) never has to worry about being slapped with a copyright suit for using a photo without permission. Plus, I almost always find an image I am happy with and it's shopping cart is extremely user-friendly. The only downside is that the images are rarely compressed for web publishing, so the blogger has to compress those prior to uploading into an article.
#3: Textbroker: Let's face it, as an SEO'er….sometimes you have more clients than you can blog for at once. Either that, or you have a client that's just not glamorous enough to inspire you to crank out a quality piece. Say, writing about garage doors, for example. Textbroker is a reasonable writing service that you can submit ideas to, and pay someone else a cheap price to write it for you. Granted, if you select authors with a quality rating less than 4 stars, you can bank on having to copyedit the text yourself. Nonetheless, it can save a blogger quite a few hours of labor when managing multiple SEO clients.
Brett Farmiloe is the Founder and Managing Partner of Markitors, a data driven digital marketing agency for small businesses.
#1: Google Autocomplete: At a loss for what to write about? Google Autocomplete will automatically suggest blog post titles with moderate search volumes to keep you creating content that will drive organic traffic.
#2: Canva – Readers make a decision to read a post within a second of landing on the page. Creating a compelling image using Canva compels a visitor to stay a little longer.
#3: Yoast SEO WordPress Plugin: Real-time suggestions on how to improve the readability of a post helps a blog become more digestible for internet reading.
Tamas Torok is an Inbound Marketer at Momentum, a content promotion platform.
#1: IFTTT: This tool simply connects the APIs of different applications and services. These connections are called recipes. You can partly automate your workflow and save tons of time and energy every single day. I connected my Twitter account to Buffer so once I tweet something, it will be automatically added back to my Buffer schedule.
#2: contentmarketer.io: This tool makes sending outreach emails much easier. You can schedule and send personalized outreach emails via your Google account. Followups can be also automatized, so I don't have to track my progress in a messy excel sheet. It also provides different email templates tailored to your outreach
campaign.
#3: Canva: If you're not a designer, but still want to create awesome visuals for your
blog post, then Canva is a handy tool for that. Without using Photoshop you
can create pretty nice visual explanations and images for your posts by
using its drag and drop editor.
Bonus: Momentum.ai: This is a content promotion platform, helping me to decide what content and when to share on Facebook to maximise its engagement and drive more traffic to my blog. It's even more useful when I want to spend my limited content promotion budget smarter since it predicts which post has the highest potential to get more engagement. I don't have to take a deep dive in Google Analytics to choose what post to share.
Marcus Miller is the head of SEO & Digital Marketing at the UK Agency Bowler Hat. He has worked in the SEO industry since 1999 and currently has a monthly column on Search Engine Land. He was also featured in the top 50 digital marketing influencers and brands this year.
#1: Your Customers: a little unconventional maybe but your customers and prospects should always be your best blogging tool. Your idea generation should be based on clearly helping your customers relieve their pains and achieve their goals. I am going to suggest something radical here but how about talking to your customers and getting their input – turn this or the questions you are commonly asked into content and you are on the right track.
#2: Google: the best tools are often the ones overlooked by the masses. Google provides a range of advanced search operators to allow you to really dig into a topic. Find a gap in a given subject? There is a great blog post. Find a difficult question without a good answer? There is a good blog post. I am an SEO at heart and I have always pushed the concept that difficult answers make for easy links – build out that content no one else has or can and it will fly.
#3: answerthepublic.com: I love this tool. Pop in a keyword. Get a list of common questions. Want to tap into what your customers, prospects or marketplace is thinking then drop your main keyword in the box. Simple, common sense content that you can use to really add value and help your audience and at the end of the day – that is exactly what your blog should aim to do.
Ryan Scollon is an SEO Consultant & Blogger at a company called Bowler Hat, located in Birmingham, UK. He writes blog posts for both the company blog and his personal blog focused on marketing and his own experiences.
#1: Canva: It is a great tool for people like myself who struggle to make high-quality imagery for posts. With a range of templates and icons, you can design pretty much anything you want ready to upload to your blog post. The best bit…It's free!
#2: Yoast SEO: This is a great tool to make simple SEO tweaks such as page titles and meta descriptions. It is fairly easy to use and can really make a difference to your blog post rankings if you know how to use it properly.
#3: Portent Title Maker – As I sometimes struggle to come up with a catchy title, I rely on the title maker tool by Portent. Simply stick the subject in the box and click away until you find the right one for you.
Caitlin Bolnick is on the Founding Team at VentureApp which connects high-growth businesses to top vendors, saving them significant time and money in the process.
#1: All In One SEO: this is an amazing free plugin for WordPress that helps to optimize your blog for SEO. It allows you to submit your sitemap to Google and Bing, can automatically notify search engines about changes to your blog, and allows you to manage your SEO keywords, title tags, etc. per post. If you are a beginner in SEO, you can simply install it and have it run, but if you are an expert you can customize everything directly through it.
#2: Max Buttons: This is an excellent tool if you are looking to create ready-to-go buttons for strong CTA's. This might seem simple, but when it comes to prompting user's actions on a post, a strong button can help drive the point home. The tool is free and you can completely customize the look of the button to match your brand. They also have a Pro version which has pre-made packs and allows for social sharing and use of icons for only $19.00
#3: List Builder by Sumo Me: Sumo Me has quite a few excellent tools for growing and optimizing your blog, but the one specifically that we've been using and love is their list builder. It's super simple, but it is a pop-up that you can completely customize for use on your blog to capture readers' email addresses. It's one of the only pop-up plugins that is mobile optimized and it automatically integrates with a ton of email providers, so that you can immediately begin messaging people who provide their contact information. We're currently using their free version, but they also have a pro version that removes the Sumo Me branding and allows for A/B testing and more.
Dave Hermansen is a 13+ year ecommerce veteran. He has been featured in national media several times as an e-commerce expert.
#1: BuzzSumo: Many people are familiar with BuzzSumo which shows you what the most shared articles/videos are for any given seed word or phrase. We use BuzzSumo to find those hot articles but aren't really concerned with the social buzz. Once we know that an article has been shared a lot, we want to also see if it has been linked to a lot. That's where the next tool comes in – Link Thief.
#2: Link Thief: Our own proprietary tool, Link Thief, is normally used to discover and organize the best backlinks to the top 20 pages for a targeted keyword phrase. It can also be used for finding all of the backlinks to a specific page. Once we have discovered a hot article with BuzzSumo, we will feed that URL into Link Thief to see the number of backlinks it has received. If it has received a lot, we write our own similar article. If the hot article was Tips to Keep your Dog From Barking, ours may be Tips for Making Sure your Dog Stays in your Yard. Then, we contact the places that linked to the hot article, letting them know about our article and that their audience may like it.
#3: Hootsuite: There is no better tool out there for discovering content ideas and for automating social sharing than Hootsuite. Find the RSS feeds for a few dozen blogs that constantly write about your general niche (you can most easily find RSS feeds by viewing the source code of a page and then doing a CONTROL +F and searching for RSS or feed). Add an RSS feed reader stream to Hootsuite and those blogs' RSS feeds. You'll never miss the latest posts from the blogs you want to follow. Share some of them with Hootsuite's auto scheduler and save the best ones as ideas for your own blog articles (and, of course, use Link Thief to see which ones have received backlinks).
Danielle Hutchins is a public relations specialist for FreightCenter. She shapes public perception of FreightCenter and increases awareness of its services and goals. She create and share engaging content that positions FreightCenter as a thought leader in the transportation logistics industry.
#1: Asana: This a project management tool that our marketing, development and enterprise teams use. While I write a majority of our posts, I usually require resources from other employees. For example, I might need a quote from our software support specialist on technology integration, or a unique image designed by our creative director. Asana allows me to organize the blogging process by assigning tasks and due dates to everyone involved from initial brainstorming to final approval.
#2: Hemmingway Editor: This tool checks writing for readability. All you
have do is copy and paste your text into the editor and it highlights
sentences that are hard to read, that have a simpler alternative or that
use passive voice. You can even edit and format your text in the tool.
#3: Google Docs: My blog posts usually make it through several pairs of
hands before it's ready to be published. Google Docs makes it easier to
share edits and track changes along the way. And, it's so much easier to
share a Google Doc link than to attach a Word document every time. Asana
even integrates with Google drive so I can easily upload my docs right from
the Asana task.
Brandon Harig serves as the dominant branding and marketing arm for The CP Lawyer. He has worked in PR and agency operations aimed at helping businesses engage consumers online for over 7 years.
#1: Google Alerts: This tool is shaped around key terms you determine that are relevant to your personal brand or organization. Users can receive a daily summary of topics published for inspiration or sourcing. Google Alerts can be a great way to kick the slump caused by writer's block while also posing as an opportunity to find new authorities and perspective.
#2: Non-Obvious, Clean Visuals: You don't need to spend thousands of dollars each month to have high-quality images capture a reader's attention. PicJumbo and StockSnap are two exceptional resources for strong offerings that can make your blog look professional and dynamic without a budget. Services like iStock and ShutterStock also have a weekly image available -just be sure to check their use
Smartphone Voice to Text Features – are you a better speaker than a writer? Remove the block between your thoughts and fingertips by using your smartphones voice to text feature to dictate a blog post. While you may have to email it to yourself to clean up auto correct or grammar, it's a great way to get ideas down and build upon conversational ideas you can't seem to capture while typing
Asaf Darash is CEO and Founder of Regpack, an online registration system used by more than 4,000 organization worldwide including the NFL, Goodwill and Stanford.
#1: Buffer: This tool has been great to help automate blog publicizing on social media and just generally reducing the time I spend on setting up posts to go out. It has also allowed me to continue promoting the post, not just in the short term but months out to keep it circulating.
#2: Yoast is a wonderful plugin for WordPress, where my blog is hosted. It ensures I have a focus keyword to target, and that the title and meta description are exactly how I want them.
#3: Google Docs is the best and FREE tool to collaborate on post drafting. I can have my staff review it for grammar, go in and add comments, etc and it's all saved in the cloud so I can access it anywhere!
Alex is the Creative Director for Brolik, a Philadelphia-based digital agency. He believes bold, beautiful design should go hand-in-hand with human psychology and good usability principles to make sites that are both awe-inspiring and easy to use.
#1: Google Trends: It's important when writing a blog to know what people care about. Using Google Trends you can get a good idea of popular search terms as well as the vocabulary that people are using around the subject. The result is a pertinent topic infused with search engine optimized keywords.
#2: FoxType: Users have short attention spans. They want to get to the point as quickly as possible. FoxType is a useful tool for quickly editing and simplifying copy. Their concise tool is particularly useful as a good reminder of when to keep it simple, stupid.
#3: Stock Up: Breaking up large blocks of copy with high quality images is a great way to make a blog more engaging. Stock Up aggregates over 13,000 photos from 27 different stock photo websites all for free!
Alex Barsha is the CEO of Third Temple which specializes in digital marketing and web development.
#1: Google Keyword Planner: This tool is perfect for optimizing the content of your blog. Upon your entering your current keywords, it will suggest other terms you might use. It will even show you how often those terms are searched.
#2: Trello: If you produce a large amount of content, Trello is could help you tremendously. Trello is basically an optimizer for your workflow. It helps you visualize who is doing what and prioritize projects.
#3: Medium: This tool is perfect for those who wish to publish their content with little else to distract from it. Both the user interface and the reader interface are clean and without distraction.
Max Robinson is the co-founder of Aims Media Glasgow, a digital marketing and web design agency based in the United Kingdom.
#1: Dragon Dictation: I'll use this tool in the car when I'm driving to work and just spouting blog ideas. So when I get into the office I can take a look at the notes and try to create something!
#2: Easy Clock: I'm constantly dealing with other bloggers who are located in different countries than I am, and trying to find a time when we are both available for a Skype call can be tricky. So I use the Easy Clock plugin for Chrome to try and match up our schedules.
#3: PayPal: It's important to get paid! I use PayPal as I've never had any problems with the platform and find it really easy to use. I tend to pay for services like graphic design and translation using PayPal as most other bloggers use it too. Max Robinson, Aims Media Glasgow http://www.aimsmedia.co.uk
Anatasia is the Content Manager for SEMrush, a tool that helps you crush it on Google. She is a frequent contributor to major digital marketing publications.
#1: Faqfox: You can use this tool to get ideas for guest posts. Just type in your targeted keyword and the URL of the website on which you'd like your content published. FAQ Fox will then generate a list of articles from the website that include your keywords, plus it will estimate the amount of interest in this topic or show you some "white spots."
#2: IFTTT: With this tool, you can easily automate quite a bit of your content workflow. One smart idea is to use it for content curation by creating recipes like "if a particular keyword appears in your feed, then save this post to Evernote."
#3: Headline Analyzer from CoSchedule: Coming up with a compelling headline
can be a real headache. This tool provides you with detailed and insightful
analysis of your headlines and suggests optimization tips such as to use
certain keywords, content lengths or sentiments.
Three-time entrepreneur Simon Slade is CEO and co-founder of SaleHoo, an online wholesale directory of over 8,000 prescreened suppliers.
#1:
Coschedule Headline Analyzer
: One of my favorite tools for blogging is the Coschedule Headline Analyzer. It helps me identify which titles will perform the best and gives me a preview how those titles will look in both mobile and web inboxes.
#2:
Infogr.am
: Another one I love is Infogr.am, which helps me create a chart or infographic using my own data. This makes it easy to diversify my content with engaging visuals.
#3:
Hemingway
:  This blogging tool ensures that my writing is clean, simple, and easily digestible. It breaks down run-on sentences and suggests simpler alternatives for overly complicated words.
In Conclusion
Choosing the right blogging tools impacts your writing, traffic, visitor experience, and everything else associated with blogging. The tools you choose can make or break you. Some can propel you months or even years ahead.
Not all of these tools are the right ones for you. Focus on the blogging tools that fit your needs and focus on mastering those tools instead of trying to become mediocre at all of them.
Which of these blogging tools was your favorite? Would you like to recommend a blogging tool? Sound off in the comments section below.