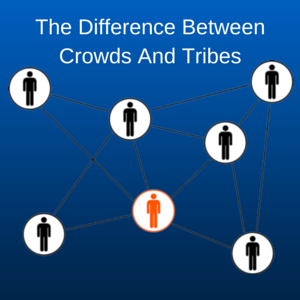 Esurance has a crowd. The $1.5 million brought together over 250,000 people. Those 250,000 people were a lot more interested in the giveaway than car insurance. Right when the giveaway ended, over 100,000 people gradually unfollowed Esurance, and Esurance continues to get unfollowed by the masses to this day. Esurance could have had a tribe, but they didn't give anyone a good enough reason to stick around after the giveaway.
Twitter, Facebook, and any other social network is also a crowd. They happen to have millions of tribes connected together, but all of those tribes added up equal a crowd. You can't engage the entire crowd so it is up to you to decide what types of people are the right ones for your tribe. Those are the targeted members of your audience.
Seth Godin has a tribe. In fact, he has a big one. He wrote a book called Tribes (go figure) as well as other international bestsellers (some have been translated in over 30 languages). Seth Godin is the #1 marketer in the entire niche, and hundreds of thousands of people buy his books and read his blog posts. These are targeted people who can easily communicate with each other and enjoy what Seth does. Some refer to him as the Superman of marketing.
Crowds and tribes are two very different groups of people. It is better to have a small tribe than it is to have the big crowd. A small tribe can grow overtime just like Seth's tribe, but a crowd like Esurance's crowd gets scattered.
Are you building a tribe that matters or a crowd to make yourself think that you are popular?