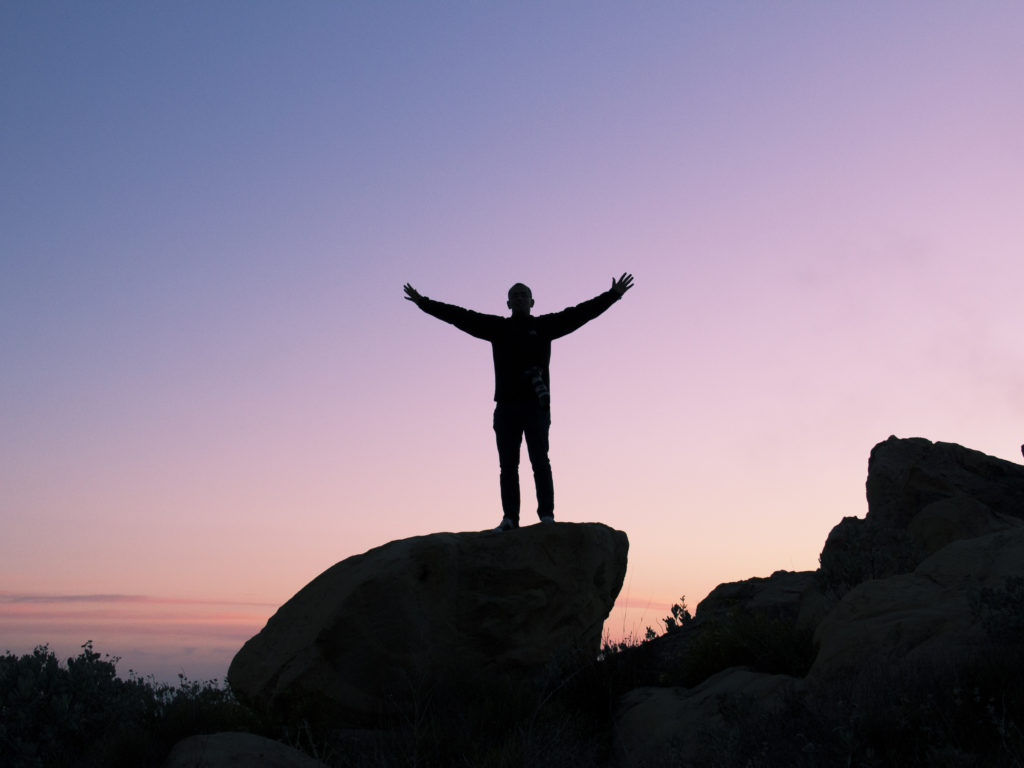 Dramatic changes happened in this month. I'm jumping straight into the recap in this performance report, and will be brutally honest about my flaws and successes.
The Question That Opened My Eyes
I received this question from one of my Twitter followers: "Would you please share that how did you become such a great influencer?"
I'm happy to share the answer in a future blog post, but the point I'm making here is that reading the question was like getting drenched with a bucket of cold water.
I was so absorbed in future projections that I almost never took the time to appreciate anything I had done in the past.
For instance, I never stopped to think I'm providing my freelancers with a source of income. And some of them depend on that income for their livelihoods. Now I realize that if I slack off, or am slightly off, I'm potentially letting everyone down.
In our pursuit of the future, we often fail to acknowledge the beauty of what we've already accomplished. But we can use this acknowledgment to keep us going and motivated to achieve our goals.
Maybe this part of the Performance Report was your version of the eye-opener. Maybe you'll hear someone say, "How do you do that so well?"
Everyone's eye-opener will come sooner or later. I hope you're open to yours now. Take time to appreciate what you've done and celebrate the small wins.
Publishing 1 New Piece Of Content Every Day
I love becoming as efficient as possible. I think of ways to write content faster so I can move on to other tasks. While some of these ideas (content batching and writing blog posts on my smartphone) have worked wonderfully, others (writing less content and ineffective communication) have been disastrous.
At one point I was publishing one new blog post every 12 hours. But then I developed a bad habit of publishing one blog post every week (and was emailing my subscribers even less frequently). That changes now!
I got so focused on revenue generation (still important) that I sacrificed content creation, something I hold dearly. Under the new schedule, I'll publish new blog posts on Tuesdays, Thursdays, and Saturdays. I want to provide more content because I love it.
I have also updated my Publishing Calendar to reflect these changes. On Wednesdays, I'll publish an episode from my Breakthrough Success Podcast.
That leaves Mondays, Fridays, and Sundays on the table. I'm still thinking of ideas and might return to publishing YouTube videos. But if you have an idea of what you'd like to see from me on those days, let me know in the comments.
How Am I Making Revenue Then?
I mentioned that I got so focused on revenue generation that I sacrificed content creation. But as I began to expand the time I spent creating content, I faced another problem.
How do I continue making revenue? I can get the traffic, but if I sacrifice revenue, then eventually I can't financially support my brand. Here are the streams I'm utilizing:
#1: Virtual Summits—I am happy to say that I have landed 50+ speakers for the Productivity Virtual Summit. Tom Ziglar, Grant Cardone, and Dan LeFave are some of the many superstar speakers you'll learn from. I love virtual summits because I provide top value content, a product, and I get to learn a lot about productivity.
#2: Books—I am in the process of writing a book that details how your content brand can absolutely crush it. I'm publishing it in late October or early November.
#3: Affiliate Marketing—I promote some of the top products and tools and receive a commission for each sale.
#4: Funnels—These funnels will lead people to various training courses, upsells, and downsells.
#5: Coaching—I'll teach you what you need to know and keep you accountable. Contact me marc@marcguberti.com if you're interested.
The important thing about these revenue streams is that after the initial work, these are set-and-forget systems that bring in revenue. At this stage, all I have to do is check the stats and tweak things here and there to boost optimization.
I have intentionally chosen to focus on set-and-forget methods of revenue generation (with the exception of coaching) so I have more time to create high value content. And as the content brings in more visitors it will result in more revenue from my set-and-forget systems.
As I make more revenue, I'll outsource more of the parts that I can't forget about (i.e. recruiting affiliates).
TSMD Still Needs The Royal Treatment
I did very little for TSMD this month even though I was all-in the previous month.
The reason I haven't been taking action is solely because I don't like the prep work for videos. Although I love thinking up ideas and completing the videos, I don't enjoy doing the lighting, editing, descriptions, and uploading.
Even though I've outsourced editing and uploading, it's still a pain in the neck. My solution is to do more live videos so I can skip many of these cumbersome steps. My brother religiously incorporates videos into his brand, so I'll pick his brain before proceeding.
Books I Read
Extreme Productivity
Millionaire Real Estate Investor by Robert C. Pozen
48 Days by Dan Miller
Born To Win by Zig Ziglar
#AskGaryVee by Gary Vaynerchuk
Double Double by Cameron Herold
15 Secrets Successful People Know About Time Management by Kevin Kruse
Execution by Larry Bossidy and Ram Charan
View From The Top by Aaron Walker
You Were Born Rich by Bob Proctor
Win by Frank I. Luntz
Ego Is The Enemy by Ryan Holiday
Live It by Jairek Robbins
Scrum by Jeff Sutherland and JJ Sutherland
7 Strategies For Wealth & Happiness by Jim Rohn
July's Blog Posts
How To Turn Content Creation Into Content Marketing
4 Ways To Improve Your Social Media Strategy
Improve Your Content Marketing Strategy Using The Buyer's Journey
How To Freelance Without Losing Control Of Your Blog
5 Hacks For Writing Blog Posts Faster
Decoded: Make Thousands From Your First Virtual Summit
July's Podcast Episodes
E45: Are You Winning The Brand VS Wild Battle With Jonathan David Lewis
E46: Penniless Immigrant Now Living The American Dream With Nitin Chhoda
E47: Creating A Positive Impact On The World Through Our Businesses With Hamilton Perkins
E48: Open The Door To Happiness And Szen With Gary Szenderski
Review Of July 2017 Goals
#1: Have 10 Streams Of Income: I didn't want to spread myself too thin, especially with the uptick of content creation. Once I have more set-and-forget streams of income, I'll work my way towards 10 streams.
#2: Hire 3 New Freelancers: I hired one new freelancer and rehired another freelancer. It could have been better. The next freelancer I hire will most likely be a revenue generating freelancer instead of a time saving freelancer.
#3: Stop Over-Monitoring "Useless" Info: Mission accomplished.
#4: Conduct All 50+ Summit Interviews: I didn't conduct all 50+ interviews this month, but I interviewed an overwhelming majority of the summit speakers in July.
#5: Host Weekly Webinars: This was a disaster as I didn't even attempt it. I'll change things up by hosting one webinar before I commit to hosting several webinars.
#6: Recruit 100+ Affiliates: It was initially difficult to recruit affiliates because I couldn't find productivity-related products that offer affiliate programs similar to mine.
But I found my niche with JLD's Freedom and Mastery Journals. Since then, I've contacted many affiliates and got several YESes. I plan on sending an email out to my entire list very soon.
August 2017 Goals
#1: Set Up A Strong Set-And-Forget Revenue Stream
The strongest form of a set-and-forget revenue I have is the Content Marketing Success Summit set-up. The only problem is that the summit is now over and it's harder to promote a past summit.
I will use all of the order bumps and upsells I created for that summit to create the Set-And-Forget revenue stream. I'll also modify my 27 Ways To Get More Retweets set-up to boost the revenue potential.
#2: Contact 1,000 Potential Affiliates
I want the Productivity Virtual Summit to dwarf my Content Marketing Success Summit. I'm focusing more of my time, attention, and energy on recruiting affiliates.
#3: Finalize The Street Team For My Upcoming Book
Because contacting 1,000 affiliates and finalizing a street team in the same month makes sense 🙂
#4: Finish Writing My Book Draft
I need to finish the book draft so I can start receiving early praise for the book.
#5: Finish The PVS Portal
For CMSS, I interviewed the last speaker four days before the summit was launched. During this time, videos were still getting edited and the portal wasn't finalized. None of the CMSS order bumps or upsells were ready.
This time, I am finalizing the entire summit so I can focus more of my time on order bumps and upsells. My strategy for virtual summits is to offer as many order bumps and upsells as possible (even if I haven't created them yet) to force myself to take action. I also have all of the necessary order bumps and upsells for a future funnel.
In Conclusion
I wrote more content in July than I have in any other month in 2017. That made me happy because I enjoy every moment of content creation. You'll see a lot more blog posts from me in August, and I look forward to increasing that number in September and October as well.
The Productivity Virtual Summit and my upcoming book are the two main projects I'm working on now.
What were your thoughts on this performance reports? Have any tips for us so we can achieve our goals? Do you have a question for me? Sound off in the comments section below.