July was a fun month filled with productivity. If I could repeat my level of productivity for a given month, I'd pick this one. Everything seemed to fall into place. Here's the recap.
Podcast Movement
If you've listened to some of the Breakthrough Success episodes, you may know that I've been very excited about attending Podcast Movement for the first time. It exceeded my expectations and I left with 12 pages of notes in a Google Doc. 
I got to meet with a lot of new people and meet up with people face-to-face who I'd previously only seen on the web. John Lee Dumas, Pat Flynn, and Mark Asquith were some of the many people I got to meet at Podcast Movement.
I also got this nice pic with Chandler Bolt. I've promoted his Self-Publishing School course for a while and re-read his book anytime I'm about to do a new book launch. Overall, the event was a big success.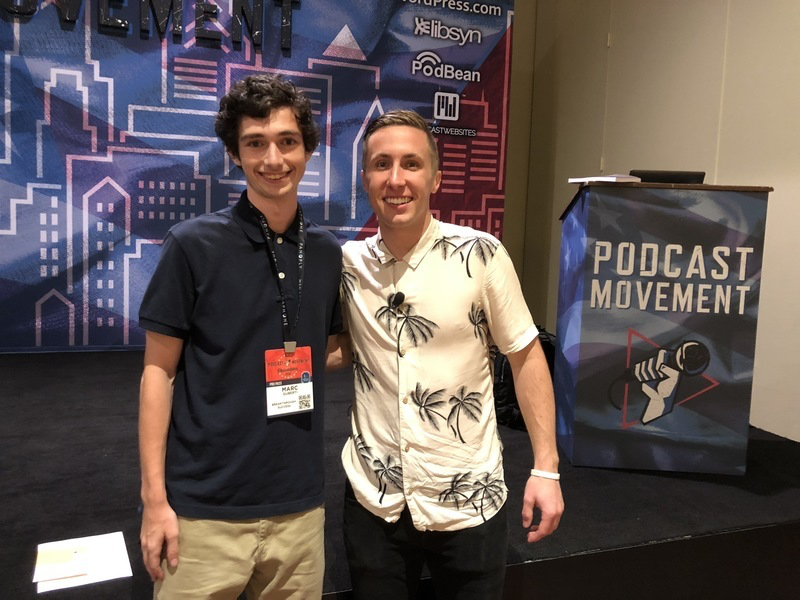 I also had the honor of speaking at Podcast Movement's Ignite where I went through 20 slides in 5 minutes in front of 300 people. In Ignite presentations, there is an automatic slide transition every 15 seconds giving you very little room for error. Delivering that Ignite talk helped big time with networking at Podcast Movement because I kept on running into people who saw me deliver that presentation.
Milestones
July was also a record breaking month for me in monthly downloads for Breakthrough Success which includes the 20,000th download for the show. Back-to-back record breaking months is a great sign for the show, and I am very grateful for everyone who's taken the time to listen to some of the episodes. 
We'll be hitting the two year anniversary for the show on August 31st, so this positive momentum is coming at a great time. Meanwhile, my blog is at a little over 963,000 views so we'll definitely hit 1 million all-time views by the end of the year.
While I am happy with the milestones, I want to provide you with insights you can take away from each Performance Reports. When I looked at the data for my podcast, I saw this:
Before November 1, 2017 (Legacy): 5,851
After November 1, 2017: 15,032
I'm looking at these numbers on July 31, 2018. From August 31, 2016 to November 1, 2017, Breakthrough Success episodes were downloaded a grand total of 5,851 times. That's a span of 428 days.
In the span from November 1, 2017, to July 31, 2018, Breakthrough Success episodes were downloaded a grand total of 15,032 times over those 273 days. Add those up and you get to 20K all-time downloads.
I got 3X the total downloads in almost half of the time. Over 7,500 of those previously mentioned 15,000 downloads came over the last three months.
Want to know how I did it?
I hired my first podcast coach. That's very close to May which is when my podcast had its first 2,000+ download month. He told me a few things to do, and I did them. I've been more active on Instagram, reaching out to every guest when their episode is published, and a bunch of other things too. 
Hiring the right coach will make a big difference for your business.
Email List Growth Goal: 1,500 New Subscribers This Month
I set this goal for July but didn't get it done. However, I did a bunch of things in July that would prepare me to getting 1,500 new subscribers in August. Based on my strategy, I wouldn't have achieved the goal in July because the initiatives that would help me reach the goal weren't taking place in July. 
Hence, I'm setting the same goal for August because some of the things I brainstormed last month will come into fruition in August. Perhaps I'll hire a coach to help me grow my email list. I know a bunch of tactics already, but as I've seen with my podcast, hiring a coach will make a big difference even if you know what you're doing. 
I (Sort Of) Hired Another Virtual Assistant
I promise the sort of part makes sense. 
I didn't hire a part-time assistant to work with the rest of the team. However, I have been using Fiverr to delegate some tasks that I couldn't do on my own. I recently hired someone to create a new back cover for Content Marketing Secrets, and it's a dramatic improvement.
I also hired someone to create a logo for my upcoming Wealthy Author Summit The virtual event starts on November 7th and concludes on the 15th. You'll hear mixed stories about Fiverr, but I believe it's a great place to find people who can help with your work. 
August 2018 Goals
#1: Listen To 50 Podcast Episodes
In the past, my learning goals have been focused on reading books. While I will continue reading books, I only plan on reading four this month. 
The big learning goal for August will be listening to 50 podcast episodes. While some will be under 10 minutes and others will be over 30 minutes, I anticipate an average episode length of 20 minutes.
#2: Prepare 3 New Podcasts
In September, only three Breakthrough Success episodes will get published each week. My next bold move in the podcasting space will be hosting more shows—3 more shows to be exact. 
The first podcast will be a daily show where I share my best advice. The second and third podcasts are currently under the curtain, but I'll be joined by a co-host for both of them. 
#3: Over 3,000 Downloads For Breakthrough Success
In July, Breakthrough Success surpassed 2,800 downloads. For August, the team and I are aiming for over 3,000 downloads in August. With a few small changes in the social media strategy, we'll achieve this goal. Out of all of the goals, this one will probably be the easiest to achieve. 
#4: Diversify My Blog Traffic
Right now, I get the majority of my blog traffic from two places (while my email list generates considerable traffic, I'm not counting it here):
Those two traffic sources consistently attract hundreds of people to my blog every day. I need more traffic sources that will attract at least 100 daily visitors to my blog. 
The plan is to significantly boost at least one new source of traffic each month for the rest of the year. Here are a few of the possible traffic sources that will get me 100 daily visitors by the end of the year.
Pinterest: This social network is easily the lowest hanging fruit. I currently have over 45,000 Pinterest followers but am not as active as I should be. I now have a Pinterest picture format for all Breakthrough Success episodes which is a big win that I'll be testing in August. At this point, I'm less focused on getting more Pinterest followers and more focused on driving more of my existing followers to my blog.
Facebook: Even though I am not very active on Facebook, I've seen consistent traffic come from it. While it could be my page's old posts getting some attention, I believe it's more likely people sharing my content with their communities. While it may take a while for me to see the effects of Facebook from a traffic source standpoint, I am cultivating a community on Facebook. More on that in Goal #5.
Instagram/YouTube: Both of these social networks are nice-to-haves based on where I am. While I'm finally active on them both again, it can take a while before they both bring in 100 daily visitors to my blog. 
#5: Get 300 People In My Facebook Group
One of the main themes I got from Podcast Movement was building a community. I've built a massive audience, but I can do better with the community part. That is why I recently launched my new Facebook Group, Breakthrough Success. 
I'll be active in the group a few times each week sharing some insights on what I learn from guests before their episodes get published and some tactics you can use to achieve your breakthrough. I want to build a healthy community in the Facebook Group.
My first goal for the group is to reach 300 members by the end of August.
#6: Get 120 Pre-Order Sales For Podcast Domination
I set up the preorder page for Podcast Domination at the start of Podcast Movement.  That gave me plenty of opportunity during the event to talk about the book and start building a street team around it.
While I am focusing more of my time on my upcoming Content Marketing Bundle due to the approaching deadline, I am focusing some of my time on Podcast Domination.
With some light promotion to people in my network, I've been averaging three preorder sales per day. The required 4 sales per day for hitting my goal isn't too much of a boost from what I'm currently doing.
Having a preorder goal is getting me more committed to driving book sales, and this commitment will allow Podcast Movement to become one of the top books on Amazon.
If you want to help me with my goal, I'd greatly appreciate if you preordered my book while it's $0.99.
In Conclusion
July was probably the best month I've had in 2018, and I feel very strong about August. There is a two week vacation in there, but I still believe in my ability to accomplish the goals I've set for myself.
One of the things I want you to notice about August's goals is that most of them have a numeric target. There's no confusion regarding whether I accomplish the goal or not.
What are your thoughts about this month's Performance Report? Do you have any questions for me? Sound off in the comments section below.