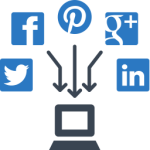 Social media has been proven to be a powerhouse for many people's business strategies. Social media is the primary way to grow your blog's traffic, connect with customers, and interact with others. However, not everyone is getting the desired amount of traffic from their social networks. While some people get hundreds of daily visitors from their social networks, others struggle to get five daily visitors from their social networks. What's the difference? Chances are the people who are not getting as many traffic and customer connections on social media are going by these four misconceptions.
Do everything you can to be like a celebrity. When people think of a celebrity, they think of someone with over 1 million followers who is only following 100 people. However, there are only two reasons these celebrities have reached that point. Either the entire world knew about the celebrity before Twitter or these people bought fake followers. In fact, most celebrities with millions of real followers also bought millions of fake followers to make themselves look bigger than they really are. Chances are you won't get this status. It is a status rewarded to a select few with a lot of popularity. I wanted to get the celebrity status but quickly found myself stuck at 1,667 followers. After deciding to follow other people, my follower number, blog traffic, and sales soared. It's okay to follow other people even if that means following thousands of other people. Some of the people you follow may become your next customers.
Send out a random number of posts at random times every day. By sending out a random number of posts at random times every day, the responses you get from those posts will also be random. You may send out a post at 7 pm, but your followers may be logged in at 6 pm. That means you lost people by sending the post at the wrong time. I always schedule tweets with HootSuite so I am able to tweet once every 20 minutes. Some social media platforms work differently, but on Twitter, I am able to send out one tweet every 20 minutes without annoying people. If you are not ready to send out one post every 20 minutes, what you need to do is schedule your posts when most of your followers are on the social network. Facebook Insights allows you to see when most of your fans are on Facebook, and Tweriod allows you to see when most of your followers are on Twitter.
Not posting about yourself enough. There are numerous articles on the web that suggest only tweeting about your blog 20% of the time. However, that is not nearly enough times to get more visibility. If your blog posts are valuable, then your followers will not care about whether you only tweet about or only share links on Facebook that go to your blog posts. If your blog posts are valuable, and your followers are the targeted people who would enjoy reading those blog posts, you can share them more often. I share my blog posts on Twitter about 90% of the time.
Automating all of your posts. Some of the people who schedule their social media posts do that just so they don't have to log into the social network. However, automating all of your posts prevents you from interacting with your followers. Asking a question at the moment is an easy way to get more feedback. One of the answers may teach you something new. In addition to asking questions, you can thank people for sharing your blog posts or buying your products. There are plenty of ways to interact with your social media followers, but regardless of how you interact, interaction is essential towards your success on social media.
Were you deceived by the misconceptions? Please share your thoughts below.