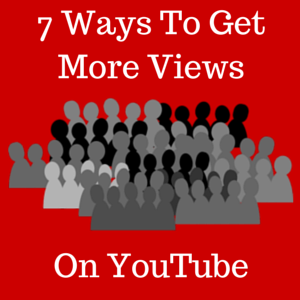 YouTube is a powerful way to get your message and expertise out to the public. However, no one gets to know about your message and expertise if you aren't getting YouTube views. As you get more views, more people will know about your message and expertise, and as a result, you will get more subscribers, sales, and followers on other social networks.
These are the 7 ways to get more views on YouTube so more people can know about your message and expertise:
Publish videos consistently. If people know when you will come out with a new video, they will know when to go back on your channel to see a new video.
Have a lot of videos. The first video may be good enough to get a subscriber, but your subscribers won't be replaying that first video all day long. You need to publish new YouTube videos as frequently as possible so your subscribers and viewers have more options.
Feature your other YouTube videos during the final seconds of your other YouTube videos. After watching a video, the process of looking for another video to watch from the same person can lose the attention of some of your viewers. At the end of every YouTube video, you will see more options. When one of your viewers sees another option, that can result in you losing another view. When you are finished with your video, include links to 6 of your other YouTube videos at the very end. This will give your viewers easily accessible options. When the options are easy to find, your viewers will view more of your videos.
Tell them who you are. When people view your YouTube video for the first time, they won't know who you are. They don't know your name or anything about what you do. Start all of your videos by telling everyone who you are.
Comment on other people's videos. By commenting on other people's videos, you will build more backlinks for your YouTube channel. Those backlinks will result in you getting more viewers.
Create a video that answers your viewers' questions (FAQ). Ultimately, it is your viewers who decide how many tweets contain a link to your video, how many friends get to know about it on Facebook, and how many people get to see your video on Pinterest. By creating a video that answers frequently asked questions about your expertise, your video is more likely to be shared.
Use a channel trailer to get more subscribers. If the channel trailer does a good job at explain who you are, your message, and your expertise, more people will subscribe to your channel. The channel trailer automatically plays so it will be able to rake up views, and people will have to click the pause button in order for the video to stop playing. As the video plays, some of the viewers will continue watching the trailer until they ultimately subscribe to your channel.