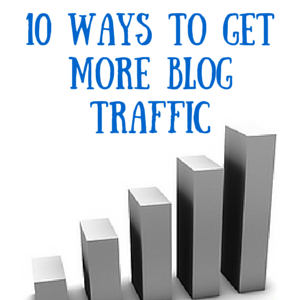 Getting traffic is essential towards the success of any blog. You need people to see your blog in order to get more sales, more subscribers, and more visibility. For all new bloggers, getting traffic is a challenge. There are some blogs right now that have been around for a long time but still aren't getting a lot of traffic. Some bloggers want to go from 100 visitors every day to 1,000 visitors every day and keep on growing. Regardless of where your blog stands, here are 10 ways to get more blog traffic.
Post regularly and consistently. Writing 2 blog posts every day increased my traffic by 50%. Before that, I only wrote 1 blog post every day.
Utilize SEO in your blogging strategy. There are a lot of things that you need to know about SEO. Here are two articles that will help you increase your blog's SEO.
Share your blog posts on your social networks. Your audience of followers won't know about your blog until you tell them about it.
Guest post on other blogs. Guest blogging will allow you to establish yourself as a quality writer. When people see you as a quality writer, they will visit your blog. In addition, writing the guest post gives your blog an extra backlink if you include it in the guest post or in your bio for the guest blog.
Talk about your blog posts on YouTube. People will be able to see you and hear your voice as you describe your blog post. At the end of the video, you should promote your blog by telling others about it or having your blog's URL on display.
Answer questions on Yahoo! Answers And Wiki Answers. You can establish yourself as an expert of your niche, and you can add a link to your blog at the end of the answer.
Use Help A Reporter Out. Help A Reporter Out (HARO) is one of the ways to get people to write about you. As more people write about you, you will get more backlinks and visibility.
Have a product. You can use your product to promote your blog or have coupons that are exclusive to your visitors (which will encourage more people to join your blog). Having a product will also establish yourself as an expert.
Include a link to your blog in your email signature. The people you email could be your friends, clients, or other people who you happen to know. They would be interested if you showed them your blog.
Add social sharing buttons to your blog. This will allow your visitors to share your blog posts on their social networks, and this will result in an increase in traffic.
What are your tips for increasing traffic to a blog? Which of these tips was your favorite?