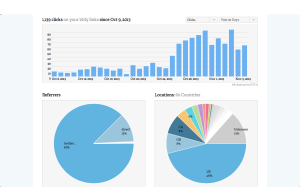 Bitly is the best place to get your links' statistics and store those links in a database for free. However, many people only use Bitly to get a shortened URL, and most people do not know all of the statistics that Bitly offers. While it is important to get a shorter URL and track your links, it is also very important to know what Bitly's statistics mean for you.
I have used Bitly to track my blog's growth for several years now. I use Bitly's statistics to identify which links get the most clicks and which links do not generate as many clicks. By using this strategy, I identify which blog posts should still be tweeted and which blog posts should be replaced by another tweet. In order to change your strategy by using Bitly's statistics, these are the 5 things you need to look for.
Daily clicks for all of your links. How many clicks do you get every day. Bitly shows you how many clicks you got for up to 30 days. You can see when your clicks rose and fell. By figuring out when your clicks dramatically change, you need to identify what you did that day to get the change. If not sending out any tweets for the day resulted in a 50% decrease in clicks, then you need to send out more tweets. If sending out twice as many tweets resulted in a 50% increase in clicks, then you need to schedule more tweets.
Daily clicks for your individual links. These statistics allow you to discover what kind of content your followers and visitors like. If one of your blog posts gets clicked on 10 times more than the others and got promoted just as much as your other links, then you need to continue tweeting about that blog post. If one of your blog posts gets no clicks while your other ones average 20 clicks each, the blog post that got 0 clicks needs to be taken out of your social media strategy.
See what time of day your links get the most clicks. Did you know that you could see how many times your links got clicked in the most recent 24 hours? Whether you want to see how many clicks your link got at 6 am or 3 pm, Bitly allows you to see both. Seeing what times your links get clicked the most on can help you figure out when most people click on those links.
The referrers. Out of all of the clicks I get from Bitly links, 87% of those clicks are from Twitter. By identifying the referrers, you can identify your biggest source of traffic as well as other sources that you need to improve on.
The countries that people live in. Using this statistic will allow you to identify which country contains your largest audience. In addition, you can share links that favor the countries that you get the most visits from. If most of your visitors are from the U.S., tweet once or twice a day about American facts, culture, tradition, or anything else. If most of your visitors are from India, share some things related to India. Those links will probably get clicked on more than some of your other links.
Those are the five things to look for in your Bitly statistics. What are your thoughts on the list? Do you have any additional statistics that you look for in Bitly? Please share your thoughts and advice below.